Coming Soon...
Sunday, Sep 26
All Day
Seasons In the Woods 8th Annual Craft Faire is September 25 & 26!!
All Day
Our Sunday Edition with Local Features, Local Specials & More Every Sunday All Day Long!
All Day
Make Sure Stevenot Winery & Tasting Room is on Your Visit Itinerary
09:00 AM
Murphys Certified Farmers' Market 2021
Wednesday, Sep 29
All Day
Make Sure Stevenot Winery & Tasting Room is on Your Visit Itinerary
06:00 PM
Overeaters Anonymous (OA)
Thursday, Sep 30
All Day
Make Sure Stevenot Winery & Tasting Room is on Your Visit Itinerary
04:00 PM
The 2021 Certified Farmers' Market San Andreas is Open Weekly Thursdays 4pm to 6pm!
Friday, Oct 1
All Day
Make Sure Stevenot Winery & Tasting Room is on Your Visit Itinerary
Saturday, Oct 2
All Day
Join the CWA's 28th Annual "Calaveras Grape Stomp" at Murphys Community Park! (2019 Photos & Vi
All Day
The 46th Annual Lumberjack Day is October 2nd, 2021!
All Day
Make Sure Stevenot Winery & Tasting Room is on Your Visit Itinerary
Sunday, Oct 3
All Day
Our Sunday Edition with Local Features, Local Specials & More Every Sunday All Day Long!
All Day
Make Sure Stevenot Winery & Tasting Room is on Your Visit Itinerary
09:00 AM
Murphys Certified Farmers' Market 2021
Wednesday, Oct 6
All Day
Make Sure Stevenot Winery & Tasting Room is on Your Visit Itinerary
06:00 PM
Overeaters Anonymous (OA)
Thursday, Oct 7
All Day
Make Sure Stevenot Winery & Tasting Room is on Your Visit Itinerary
04:00 PM
The 2021 Certified Farmers' Market San Andreas is Open Weekly Thursdays 4pm to 6pm!
Friday, Oct 8
All Day
TuCARE's Annual Natural Resources Summit is October 8th! "Making Our Communities Fire Safe"
All Day
Make Sure Stevenot Winery & Tasting Room is on Your Visit Itinerary
Saturday, Oct 9
All Day
Make Sure Stevenot Winery & Tasting Room is on Your Visit Itinerary
Advertising
Find out how to Advertise with us!
---
Announcements
The SNAC Family Thanks You for Shopping Locally!! Your Outdoor Footwear Destination!!
Posted by: thepinetree on 09/26/2021 10:20 AM
Arnold, Murphys & Sonora, CA...Since 1994, Sierra Nevada Adventure Co. has been providing the community with Gear For Wild Environments! We started 26 years ago in downtown Sonora after outgrowing our mail order business, The Eddy Mart. Now it's evolved into 3 stores. Sonora - 173 So. Washington St. 209-521-5621 Our Climbing & Backpacking headquarters. Arnold - 2293 Hwy. 4.209-795-9310 Specializes in Rentals of flatwater Kayaks, Stand-up Paddleboards & Canoes in the Summer & Skis, Snowboards & Snowshoes in the Winter. Murphys - 448 Main St. 209-728-9133 Offers a great selection of Men's & Women's Clothing & Footwear for wine tasting! All store stock everything you'll need to get your Disc Golf game on!


Shop, Click & Deliver with Express Purchase from Sonora Ford
Posted by: thepinetree on 09/26/2021 10:32 AM
Sonora, CA...Sonora Ford COVID-19 - Update...As our communities continue to feel the increased impact of Coronavirus, we feel it is important to share with you what we are doing to help keep people safe and healthy. Please be assured we have protocols in place, and are following CDC and local public health official's recommendations. As part of our protocols, our dealership has heightened its cleaning and disinfecting procedures to maintain a healthy environment for our customers and staff. In addition, we've instructed anyone who is not feeling well to stay home out of an abundance of caution.


Read More
Shop Local at Middleton's Furniture & Appliances! Serving Your Essential Shopping Needs Since 1955!
Posted by: thepinetree on 09/26/2021 10:35 AM
Angels Camp, CA...Middleton's is Open Normal Hours During the COVID-19 Crisis for their Community. Browse Online, Call In Your Order & Get Fast, Free Delivery! When people buy from us, they don't just get an appliance, piece of furniture or electronic; they become a member of our family, a family that is there for one another for the life of the product. Whether you want to stop by to learn more—or plan to purchase a major appliance, furniture or electronic—we will treat you like family and assist you every step of the way to find a product that fits your needs, budget, and lifestyle.


Read More
Pumpkin Patch, Harvest Fair & Final Angels Camp Farmers Market of Season Tonight!!
Posted by: thepinetree on 09/24/2021 01:31 PM
Angels Camp, CA...Don't miss out on this fun filled Friday night- the last Angels Camp Farmers Market of the season!! Featuring: Pumpkin Patch- locally grown and harvested by the Wayward Homeschool Non Profit cooperative. Facepainting by @sierra.sparkles.facepainting. Wonderful raffle baskets and prizes!! Live Music by The Fabulous Off Brothers. Snowshoe Brewery featured in the Market Bar with quality local brews. An array of great local wines @vina_moda @aloria.vineyards.wines @vendagewinery @ironstonevineyards @vinometate. Over 25 pop up vendors featuring locally curated goods!!! Sponsored by local community businesses and organizations, and hosted by the Angels Camp Business Association.


Read More | 0 Comments
Journey Revisited Tonight at The Town Square at Copper Valley!
Posted by: thepinetree on 09/24/2021 02:06 PM
Copperopolis, CA...Journey Revisited dedicates themselves to replicating the sound of classic Journey through their spectacular live performances. These exceptional musicians cover all the fan favorites from Don't Stop Believin' and Wheel In The Sky to Any Way You Want It, Lights and many more — and they do it without pre-recorded backing tracks or digital vocal enhancements. Journey Revisited delivers the organic live sound of the album-oriented rock era, just the way you remember it.


Read More | 0 Comments
Angels Food and Sierra Hills Markets Weekly Ad Sept 22 ~ Sept 28
Posted by: News_Desk on 09/22/2021 11:29 AM
Angels Camp & Murphys, CA…Our Weekly Meat, Produce, Deli, Cheese and Bakery Specials! Angels Food and Sierra Hills Markets Weekly Ad Sept 22 ~ Sept 28. Shop Local ~ Buy Local Quality Food and Hometown Service!


Big Trees Market Weekly Ad & Grocery Specials Through September 28th! Shop Local & Save!!
Posted by: News_Desk on 09/22/2021 11:32 AM
Arnold, CA…Big Trees Market is working hard to keep the shelves stocked for you! They have also implemented enhanced safety, cleaning and social distancing procedures in the store. These include plastic shields between staff and public in the checkstands. Click on an image below for full sized version.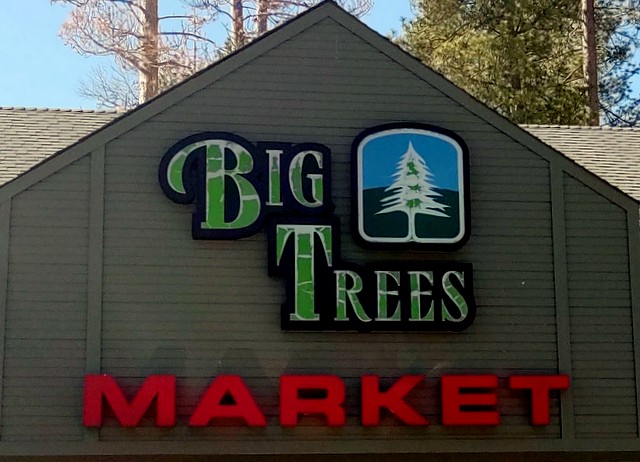 Sender's Market's Weekly Ad & Grocery Specials Through September 28th! Shop Local & Save!
Posted by: News_Desk on 09/22/2021 11:44 AM
Mountain Ranch, CA…In 1950, we started out as a family operation with Erich's father and mother, August and Freida Sender, in a century-old adobe building. The upstairs was home to the Sender family, and the first floor included groceries, a meat market, a bar, and a small eating place called Opa's Smokehouse. On Christmas morning in 1968, the old store was destroyed by fire. But in June 1969, Sender's Market, Inc. was opened. Since that time, there have been many changes, including remodeling, expansion, and the addition of many employees. That's also when we added the truss plant and purchased Sender's Market Ace Hardware in Valley Springs. Today, we're still family owned and still working hard to stock everything from pantry essentials to power tools. Whether you've got questions about the perfect cut of meat or the right kind of paint, our helpful, knowledgeable staff has you covered. Click on images below for larger versions


Fall into These Great Deals this September from Black Sheep Winery!
Posted by: News_Desk on 09/22/2021 11:47 AM
Murphys, CA… Black Sheep Winery arrived in Murphys with the 1984 harvest. From that first harvest we produced our 1984 Amador Zinfandel. The wine was styled in a big, bold way like nobody else could do. That's what makes us Black Sheep; we're different from the rest of the flock. We feature small batches of limited release wines handcrafted from high quality grapes grown in Calaveras and Amador Counties. We produce about 2,500 cases of wine per year, specializing in Zinfandels and Rhone varietals.


Taco Tuesday at Bistro Espresso with Daniel Kushnir!!
Posted by: thepinetree on 09/21/2021 04:27 PM
The Bistro serves fresh, made-to-order American cuisine and BBQ. We serve fair trade, organic espresso drinks and coffee and a variety of beers & wines. Open daily for breakfast. #TacoTuesday the Bistro Summer finale with Daniel Kushnir! ⏰ 6-8pm - come early and stay late! Corn hole games will be out! Be sure to save room for dessert at the Bistro Creamery!


Read More