Coming Soon...
Wednesday, Dec 6
01:00 PM
Fellowship Wednesdays at VFW San Andreas
Friday, Dec 8
All Day
Farm Stand & Bakery Every Friday & Saturday at Outer Aisle on Hwy 4
Saturday, Dec 9
All Day
Farm Stand & Bakery Every Friday & Saturday at Outer Aisle on Hwy 4
04:00 PM
2nd Saturday Paint & Sip: Winter Jay with Painting in Harmony at Above the Rush Wines
07:00 PM
Saturday Night Live Music!
Sunday, Dec 10
All Day
Our Sunday Edition with Local Features, Local Specials & More Every Sunday All Day Long!
03:00 PM
Petroglyphe Gallery Holiday Open House
Wednesday, Dec 13
01:00 PM
Fellowship Wednesdays at VFW San Andreas
Thursday, Dec 14
07:00 PM
Studio 4 Dance Theater Presents "The Holiday Showcase 2023" at the Bret Harte Theater
Friday, Dec 15
07:00 PM
Studio 4 Dance Theater Presents "The Holiday Showcase 2023" at the Bret Harte Theater
Saturday, Dec 16
All Day
Farm Stand & Bakery Every Friday & Saturday at Outer Aisle on Hwy 4
07:00 PM
Saturday Night Live Music!
Sunday, Dec 17
07:00 PM
Studio 4 Dance Theater Presents "The Holiday Showcase 2023" at the Bret Harte Theater
Angels Camp
---
Calendar
08/05/2023
-
Independence Hall Annual Flea Market First Weekend in August
Ebbetts Pass Community Center aka Independence Hall is having our annual flea market on Saturday, August 5th and Sunday, August 6th. Hours are: 8-4 Saturday and 9-3 Sunday. There will be food trucks along with hundreds of items to purchase.
Clothes for men, women, children, and babes; housewares and small appliances; crafts and linens; books, games, frames and pictures; furniture, tools, lots of kids' toys, and some sporting goods. We're also raffling off a beautiful, handmade quilt. Tickets $1 each or 6 for $5. Located at 1445 Blagen Road by Hazel Fischer School.
Come join us and bring the whole family. Proceeds are going toward a much-needed new roof.
12/14/2023
-
Studio 4 Dance Theater Presents "The Holiday Showcase 2023" at the Bret Harte Theater
Angels Camp, CA...A Festive Array of Jazz, Hip Hop, and Contemporary Dances, Including Beloved Traditional Nutcracker Pieces December 14-16th. Studio 4 School of Dance students will delight the community with their talent and various dance genres at the Holiday Showcase 2023. Dance styles at this year's production will include jazz, contemporary, hip hop and ballet. Studio 4 School of Dance (S4SD) and Studio 4 Dance Theater (S4DT) have a long history in Calaveras County, offering the community a glorious and traditional holiday production. In 2019, S4DT presented their 11th Annual "The Nutcracker". This December, the community will once again be able to enjoy select Nutcracker pieces at the Holiday Showcase 2023.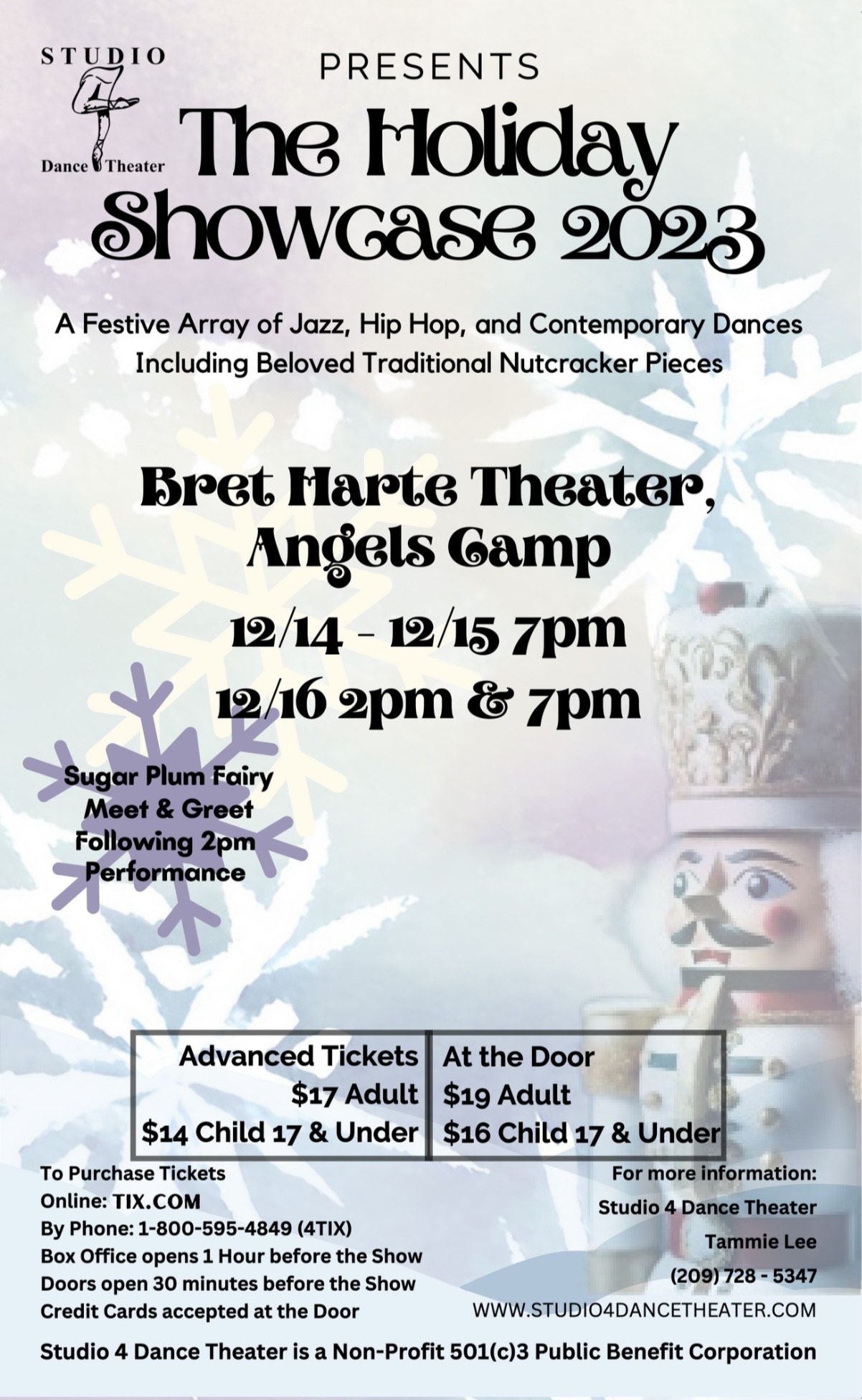 Artistic Director Tammie Lee has dedicated her life to providing dance instruction to Calaveras County dancers. Tammie Lee, along with Sarah Long, dance instructor and choreographer, are pleased to showcase dancers in the Holiday Showcase 2023. S4DT dancers work very hard to perfect their dances, they dedicate every weekend starting in August to the production.
Act I of the Holiday Showcase includes numbers choreographed by Sarah Long. Dancers will wow the audiences as they perform jazz, hip-hop and contemporary dances to the holiday songs Noel, O' Come Emmanuel, Sleigh Ride and more!
Act II of the Holiday Showcase features the beloved, traditional Nutcracker piece The Grand Pas de Deux with the Sugar Plum Fairy, danced by Ashley Hancock and Rocky Harwood as The Cavalier. Act II also features The Waltz of the Flowers, the Drew Drop Fairy, danced by Abby Fuqua, will be accompanied by two Rose Princesses and thirteen Roses. In addition, Act II will also include the Spanish Chocolate, Chinese Tea Cookies, Peppermints, Arabian Spices, Reed Flutes, and Gingersnaps.
"Each year the dancers work so hard on the production," said Director Tammie Lee. "We know the community loves this holiday tradition just as much as our dancers!"
Studio 4 Dance Theater is appreciative of The Wintercreek Foundation for their generous grant this year. With the support from the Wintercreek Foundation S4DT was able to purchase new costumes for the Holiday Showcase 2023.
The Holiday Showcase is made possible through parent volunteers and generous donations from the community. Donations come in various forms each year. Some were made directly to the dance theater, others donated items that will comprise raffle baskets.
What: The Holiday Showcase 2023, presented by Studio 4 Dance Theater, Artistic Director Tammie Lee and Director Sarah Long
When: 7:00pm, Thursday and Friday, December 14 and 15, 2023 2:00pm & 7:00pm, Saturday December 16, 2023
Where: Bret Harte Theater
323 Highway 49 (near Murphys Grade Road)
Angels Camp, CA
Tickets: Advance - $17 Adult / $14 Child (17 & under)
At the Door - $19 Adult / $16 Child (17 & under)
Tickets are currently on sale at https://studio4dancetheater.com/
For more information on the Studio 4 School of Dance and upcoming performances visit http://studio4schoolofdance.com/ or https://studio4dancetheater.com/ and follow on Facebook @Studio4SchoolofDance and @Studio4DanceTheater.
12/05/2023
-
Scheduled Water Service Interruption South Highway 49 December 5th
Angels Camp, CA...The Angels Camp Public Works Department will be undertaking essential maintenance on a water line in your area on Tuesday, December 5th, 2023, from 8:30 AM to 3:30 PM. In order to facilitate these repairs, it will be necessary to temporarily shut off water services during this time.
Impacted areas are: Sonora Street, S Hwy 49, Ramorini Lane Centennial Road and Martina Street.
– Precautions:
1. Store Sufficient Boiled Water: Before the scheduled maintenance, residents are encouraged to boil a sufficient amount of water to meet their needs during the boil water notice.
2. Plan Activities Accordingly: Plan activities that require water usage, such as cooking and personal hygiene, considering the need for boiled or bottled water during this period.
3. Monitor Updates: Stay informed about updates from the Angels Camp Public Works Department regarding the status of the water supply and when it is safe to return to normal water usage.
Boil Water Notice Following Scheduled Maintenance
Following the essential maintenance on the water line in your area scheduled for Tuesday, December 5th, 2023, from 8:30 AM to 3:30 PM, the Angels Camp Public Works Department advises residents that a boil water notice will be issued.
As a standard precautionary measure after any service interruption, we recommend boiling water for consumption and other purposes until further notice. Boiling water kills bacteria and other organisms that may be present due to the temporary disruption in the water supply.
Boil Water Notice Details:
– Effective Period: The boil water notice will be in effect immediately after the completion of the scheduled maintenance until further notice.
– Boiling Instructions: Bring water to a rolling boil for at least one minute, then cool before use. Boiled or bottled water should be used for drinking, making ice, brushing teeth, washing dishes, and preparing food until further notice.
We understand the inconvenience this may cause and appreciate your cooperation and understanding as we prioritize the safety and well-being of our community.
For additional information or concerns, please contact City Hall at
coa@angelscamp.gov
or call us at 209-736-2181.
Thank you for your continued cooperation and patience.
12/03/2023
-
History of Wine in Calaveras County! Join us Sunday Dec 3 at the Angels Camp Museum!
Angels Camp, CA...Join Us for "Our Roots Run Deep" History of Calaveras Winemaking Sunday, December 3rd from 2 - 3 pm. Our Speakers: Jody Garcia, Executive Director, Calaveras Winegrape Alliance. Gay Callan, Founder and Owner of Chatom Vineyards. Angels Camp Museum Carriage House, 753 S. Main Street, Angels Camp, CA. In the rugged terrain of Calaveras County, the mid-19th century Gold Rush ignited a frenzied migration, drawing adventurous miners, hopeful settlers, and even the delicate tendrils of vineyards. As the prospectors sought fortunes in the golden hills, their endeavors shaped the landscape and culture of this Northern California region. Today, we'll delve into the captivating tale of how the pursuit of gold intertwined with the establishment of communities and the roots of viticulture in Calaveras County during the 1850s. Join us as we take a look back on the past 150+ years and see how "Our Roots Run Deep" in Calaveras Wine Country.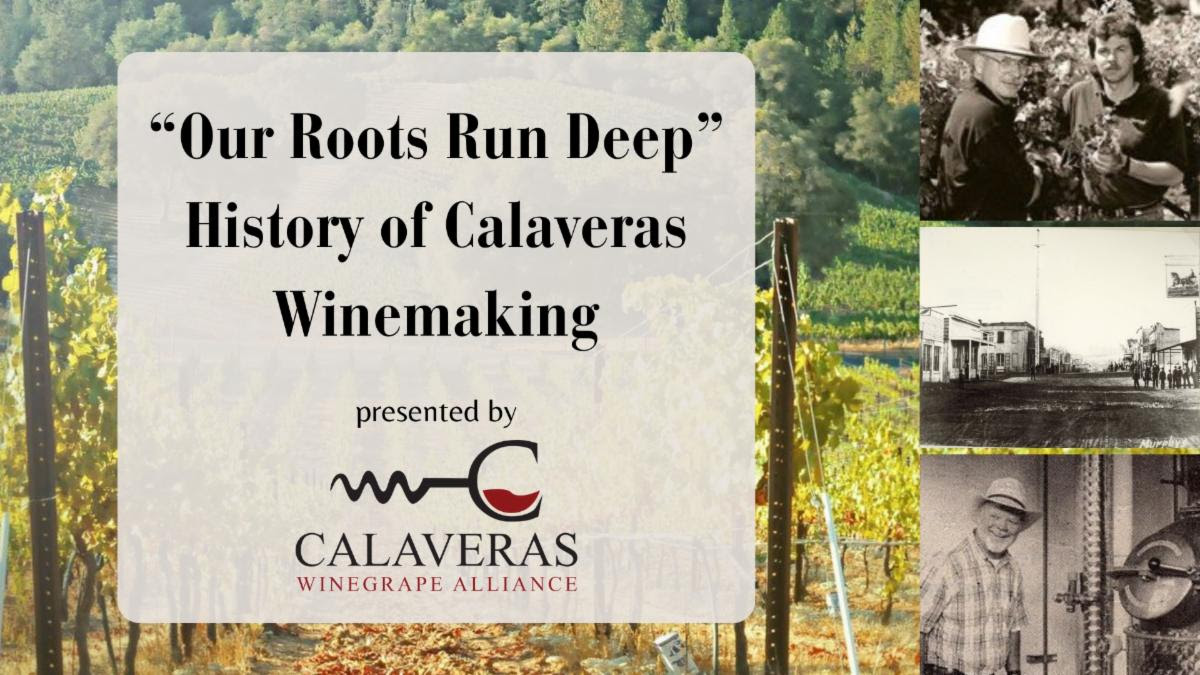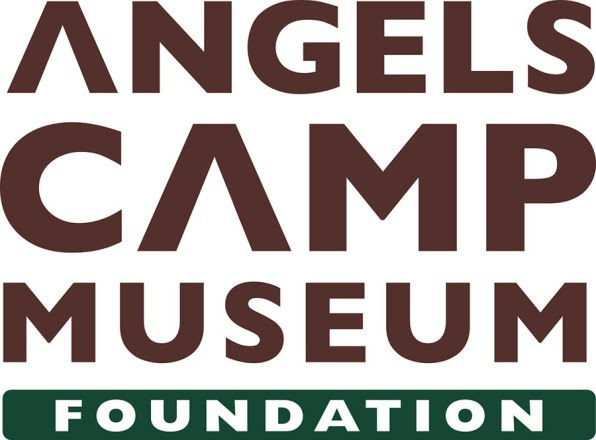 About our Presenters:
Jody Garcia
Executive Director of the Calaveras Winegrape Alliance
Jody, a third generation Calaveras County resident, has spent her entire life around vineyards and winemaking with her parents, Mark and Laurie Jurgens, being amateur home winemakers for over 30 years. Spending weekends helping in the vineyard or bottling, Jody grew to appreciate the hard work and dedication it takes to produce each bottle of wine. She took this passion with her when continuing her education at Sonoma State University getting her B.S. in Business Administration with a concentration in Wine Business and a M.B.A in Wine Business. After graduating, Jody made the decision to move back to Calaveras County so she could stay involved in her hometown community and be close to her family. She has worked in the Calaveras Wine Industry for 13 years before taking the role of Executive Director for the Calaveras Winegrape Alliance in September 2023.
Gay Callan
Founder and Owner of Chatom Vineyards
Gay is a true Calaveras Wine Country legend as she has spent 40 years farming grapes and winemaking. Gay first moved to the fertile Esmeralda Valley in Calaveras County in 1980 and got to know winemaking greats including Barden Stevenot, Steve Milliaire and Chuck Hovey. In 1990, she had Chatom Winery built in Douglas Flat. With 65 acres of award-winning fruit, 8,500 case production, and distribution to 12 states, Gay built the Chatom Winery brand into a successful business before selling it in 2015. Gay helped shape our wine region into what it is today and mentored many winemakers and cellar workers along the way. Today, Gay manages her award-winning vineyard property and long-standing clients. She also serves as a board member for the Calaveras Winegrape Alliance and Calaveras County Fair where she has been a tremendous support.
All are welcome. Arrive early for refreshments.
Got ideas for future lecture? Please let us know!
For more information about Museum Foundation projects, visit our website.
Join us in the Carriage House at the Museum
1:30 pm • Refreshments
2:00 - 3:00 pm • Lecture
See You There!
Cost: $10/ person
No Cost for Current Museum Members
12/03/2023
-
Ovations Performing Arts Series Returns with Golden Bough Music!
Angels Camp, CA...Online sales may have ended, but you can still purchase tickets at the door at the Bret Harte High School Center for the Performing Arts for Sunday's concert with Golden Bough Music! The Calaveras County Arts Council is delighted to usher in the holiday season with "Christmas in a Celtic Land," a family-friendly feast for the ears. The concert begins at 3:00; for now, bring some holiday cheer to your home with their rendition of the traditional carols, "Green Grow the Ivy / The Holly and the Ivy Girl."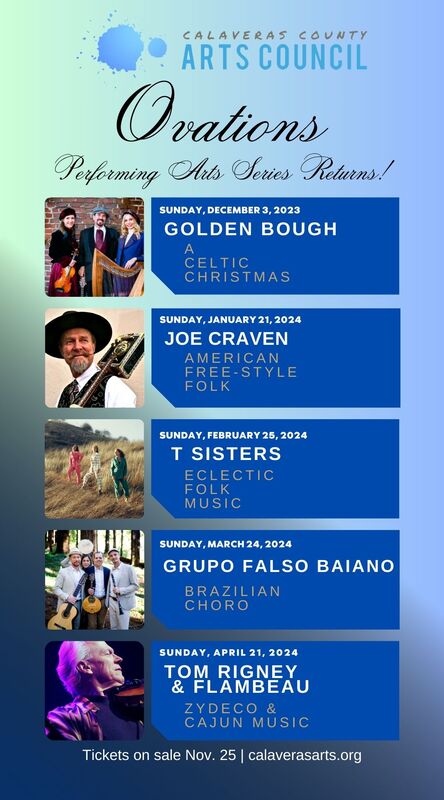 12/09/2023
-
2nd Saturday Paint & Sip: Winter Jay with Painting in Harmony at Above the Rush Wines
Vallecito, CA...Paint and Sip: Winter Blue Jay, December 9 @ 4:00 pm – 6:00 pm. Join us Saturday afternoon, Dec 9 for our monthly second Saturday Paint and Sip. Painting in Harmony, offers painters all materials, instructions and individualized attention, while Aloria pours the delicious wine! Perfect for a date night, a night out with friends, or just bring yourself, we love to encourage any creativity that you bring to the table.

Your *$48 Ticket includes:
All materials and instruction
A welcome glass of Aloria Vineyards' Wine
Aloria Orchards' Olive oil and Balsamic Tasting
Participants receive special by-the-glass and bottle purchases the night of the event
*For Guests 21 and Over.
What to expect when you visit our tasting room at 3210 Main St. Vallecito, Ca. 95251 Expect to try each of our Aloria Vineyards Estate award-winning wines with a bite that pairs perfectly with the wine (so we have been told by our engaging guests). A taste through 5-6 wines with a paired bit for $22 waived with wine purchase per person -Comfortable indoor and outdoor patio seating. A chance to meet the winemaking family who cook and serve guests providing an inside glimpse to winemaking and food and wine pairing.
Above the Rush
Tasting Room
3210 Main St. Vallecito, Ca. 95251
Phone
(209) 425-2292
Rob and Sheri with vineyard pup Tannin, manage and protect their vineyard high above New Melones Reservoir, ready for whatever comes their way: punching down wines, fixing tractor tires, taking samples to measure brix, calling wineries to schedule their pick-ups, crushing, washing, feeding the crew, weekly chats with Winemaker and Vineyard Manager, bottling, scrubbing again, bringing wine and supplies to the Tasting Room in Murphys, repairing the bin dumper, planning events, you name it, and not without counting their  blessings, or ending the day without a moment of gratitude and a glass of wine!
While their backgrounds do not include working and managing a vineyard and winery, their hearts were planted in that dream all along.  With their love of wine from small family owned or boutique wineries,  they can't recall a time when they bought a bottle of wine from the market.  Getting to know the workings of the wineries they visited while breaking from the rush of Silicon Valley, was their respite and joy.  They grew up in the time the Santa Clara Valley, known as, "The Valley of Heart's Delight", had its metamorphosis to innovation and technology.  Sheri was a free-spirited, curious kid who walked creeks in the once small Town of Los Altos, Ca. There, she picked wild blackberries, and tomatoes from the yard just like today at their home in Murphys. There, she felt connected to the earth, just like she does now. Rob on the other hand, never stops thinking about how to improve production in all areas, and with better technology. Rob and his father both held patents: a wireless chip and specialized farm equipment respectively. The engineering gene Rob inherited, fostered his ability to be the one who can fix literally anything, including Sheri's nerves when they are running thin when times get tough.
One thing is for sure, they are over-the-moon excited about the future. This year, Aloria Vineyards became a Certified California Sustainable Vineyard, and the Winery is in the pipes. The practices they undertake for wine growing and creating a sustainable enterprise, are never frivolous.  All ideas are thought through with these questions in mind: Is it necessary? Can we fix what is broken? Is this taking away from what is good? Is it going to benefit only us, or our community as well? Will paying a bit more for an experience we want to have for our wine family align with our values? Will people smile when they drink this wine?
The vineyard is a place you must see for yourself.  "Above the Rush, in Vineyards of Gold" is the motto. Meet Sheri and Rob there, and you'll get the metaphor.   The 120 acre property was simply magical and loved at first sight. Formerly, Canterbury Vineyards, was a well-known and well-established (1996) 52 acres of planted grapes, albeit, needed some TLC.  Upon purchasing the vineyard, there was over 20 acres of Syrah, a lot for a small production winey. Grafting was first on the agenda starting with delicious food loving varietals Barbera in 2018, then Albariño in 2019.  2020 brought (a pandemic! and) Char Bono, Toro Tempranillo and additional Petite Sirah. 2021 added Grenache to complete the vineyard's existing varietals: Syrah (French and Australian), Cabernet Sauvignon, Zinfandel, Malbec, Petite Sirah, Sauvignon Blanc and Viognier. Aloria vineyards and their wines as well, are now under the right team's wings, with everyone working with high integrity and a spotless program. They are anxious to share the evolution with wine lovers everywhere.
11/28/2023
-
Donate Blood at the Calaveras Community Blood Drive on November 28, 2023, and Help Save Lives
San Andreas, CA...Blood shortages across the country continue. You can help; it's as simple as donating blood at the Nov. 28 blood drive. Whether you are a returning donor or a first-time donor, you can help save lives. The Calaveras Community Foundation (CCF) and Vitalant partner in order to collect lifesaving blood in Calaveras County. Each blood donation made helps to ensure that there is blood when it is needed for our local community. In addition to saving lives, Vitalant rewards donors each month with its recognition program. By donating blood in the month of November, you will be entered into a chance to win 1 of 5 $5,000 gift cards.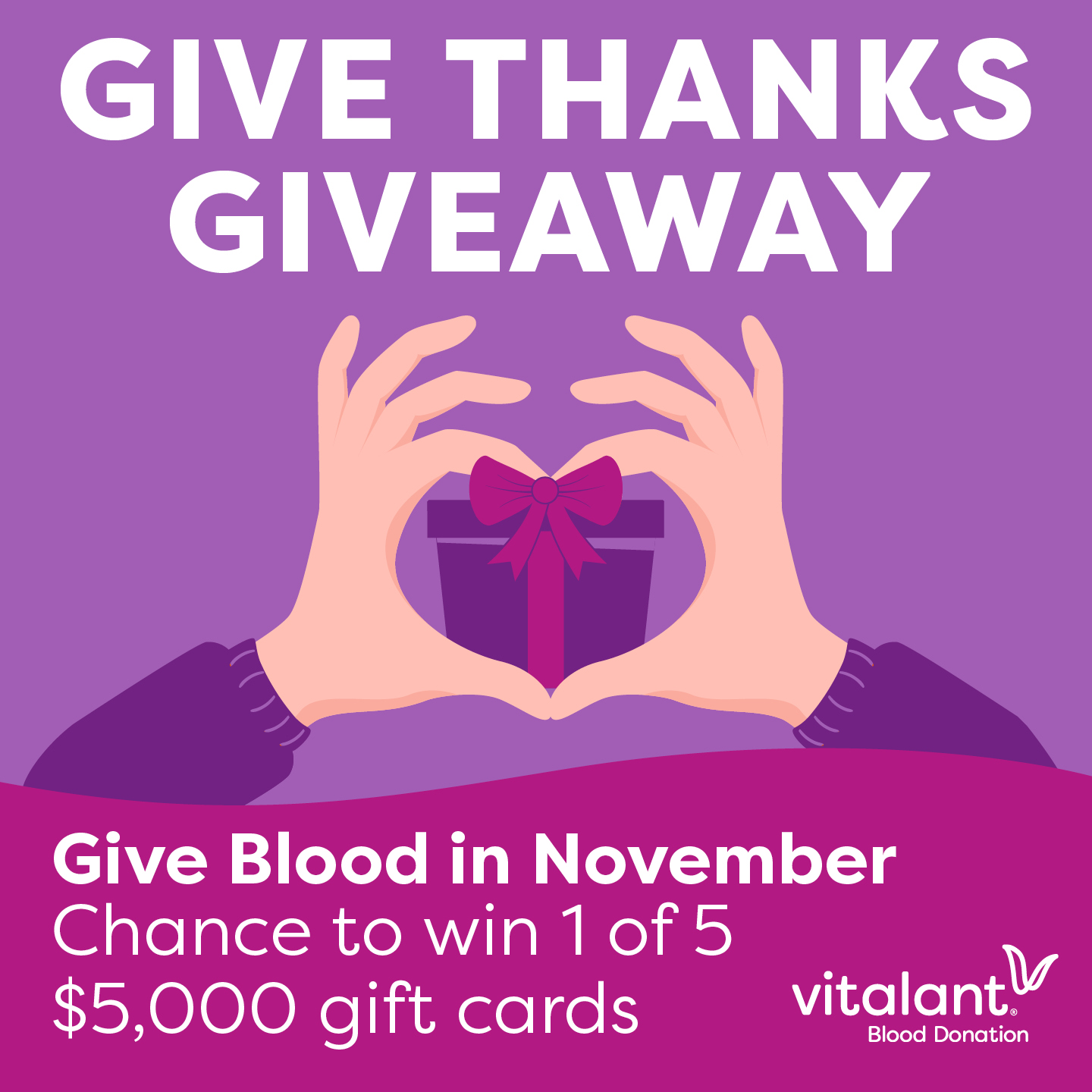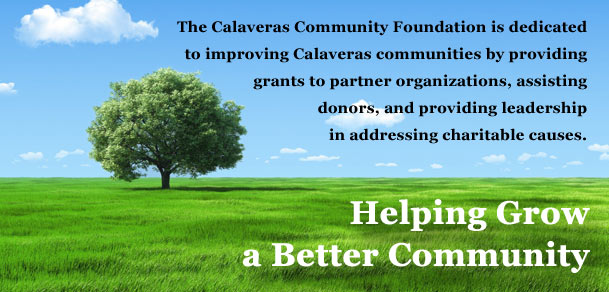 The donation process is easy and only takes approximately an hour to complete. To prepare for your donation, follow these simple steps. Step one: Make an appointment by going to donors.vitalant.org and input blood drive code SMFM399 or scan the QR code below. You can also call 877-258-4825 to make an appointment. Step two: On the day of your donation, be sure to bring your photo I.D., eat a healthy meal, and drink plenty of water. Donors must be 16 years or older. Donors who are 16 years old must have a signed Vitalant parent consent form.
Because of your donation, life doesn't stop. The reasons why someone may require blood are endless. Whether it's an immediate emergency or an ongoing health issue, you can be a part of saving lives by donating blood. Your support is essential and appreciated.
CCF is proud to be a sponsor and supporter of the Calaveras Community blood drives. CCF understands the importance of giving back to the community. CCF has provided over $3,300,000 in competitive grants, scholarships, and assistance since 2000.
This month's blood drive is on November 28, 2023, from 1:30 pm – 5:15 pm. Come to the San Andreas Town Hall at 24 Church Hill Road and show the community your support.
CCF and the community thank you for being a blood donor. By donating blood you will be joining a community of individuals dedicated to saving lives!
For more information or questions, contact Terry Beaudoin, CCF Board Member and Blood Drive Coordinator, at 209-772-9145 (home) or 209-652-6618 (cell).
11/25/2023
-
31st Annual Angels Camp Lighted Christmas Parade
Angels Camp, CA...Join us for the 31st Annual Angels Camp Lighted Christmas Parade on Saturday, November 25 in historic downtown Angels Camp. Fun for all! Bring the kiddos to meet Santa. Multi-generational Angels Camp resident Jenny Eltringham has been chosen as the Grand Marshall of the 31st Annual Christmas Parade sponsored by the Angels Camp Business Association.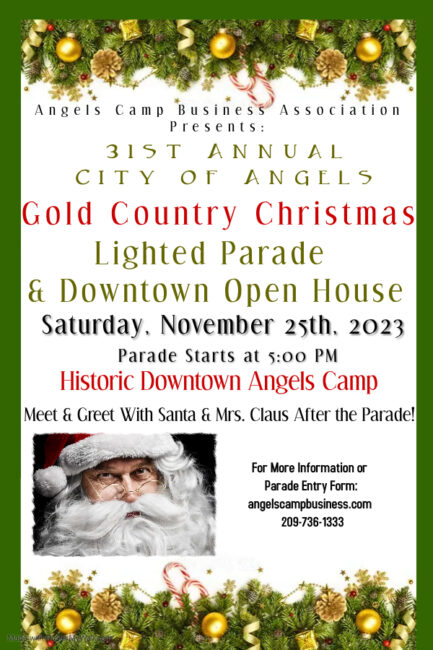 Jenny has dedicated most her life enriching the lives of children through her 30-plus years serving on the Mark Twain Elementary School Board. Most days you could find her cheering on the kids at sporting events, wearing her mud boots while working with kids on their animal projects abd/or working behind the scenes in the the family well drilling business.
So bring the kids to the parade, visit with Santa afterwards and let's gather to show our appreciation to Jenny and her family.
01/20/2024
-
Blast from the Past Bingo
Who is CalCo Giveback Pack?
CalCo Giveback Pack is a local 501(c)(3) non-profit organization founded in October 2021. Started by Autumn Poortinga & Michelle Perkins, they shared a desire to help giveback to the community that they have been raised in, have grown with their families in, and have strong family roots in. Their goal is to raise funds for local organizations, families & individuals who are in need of support. Fundraising happens in many different forms: including raffles, silent auctions, makers markets, dinners & events.
CalCo Giveback Pack is always looking for new members to help in our fundraising efforts. All donations are greatly appreciated and go 100% back to the local community.
Since being founded in 2021, we have raised close to $50,000.00, all that has been given back in our community.
We are planning our next fundraiser to benefit our organization and replenish our general fund. We will use the monies raised for our operating expenses (state and local fees) and to donate where/when needed.
Join us for a night of Bingo, a silent auction, raffle prizes and an amazing dinner!
You can purchase tickets (or a table!) here:
https://ticketstripe.com/calcobingo2024
11/05/2023
-
Wood & Stone Architecture of Angels Camp! Angels Camp Museum Lecture
Angels Camp, CA...The historically and architecturally significant buildings in Angels Camp and throughout Calaveras are diverse in style, as well as in method and period of construction. They are built of adobe, stone, brick, wood, or concrete and have sidings of brick, wood, stucco, and plaster. The architectural styles represented are Neoclassical, Greek Revival, Gothic Revival, Italianate, Queen Anne, Eastlake, Mission Revival, False-front commercial, Craftsman, Spanish Eclectic, Tudor Revival, Art Moderne, and various vernacular adaptations of all.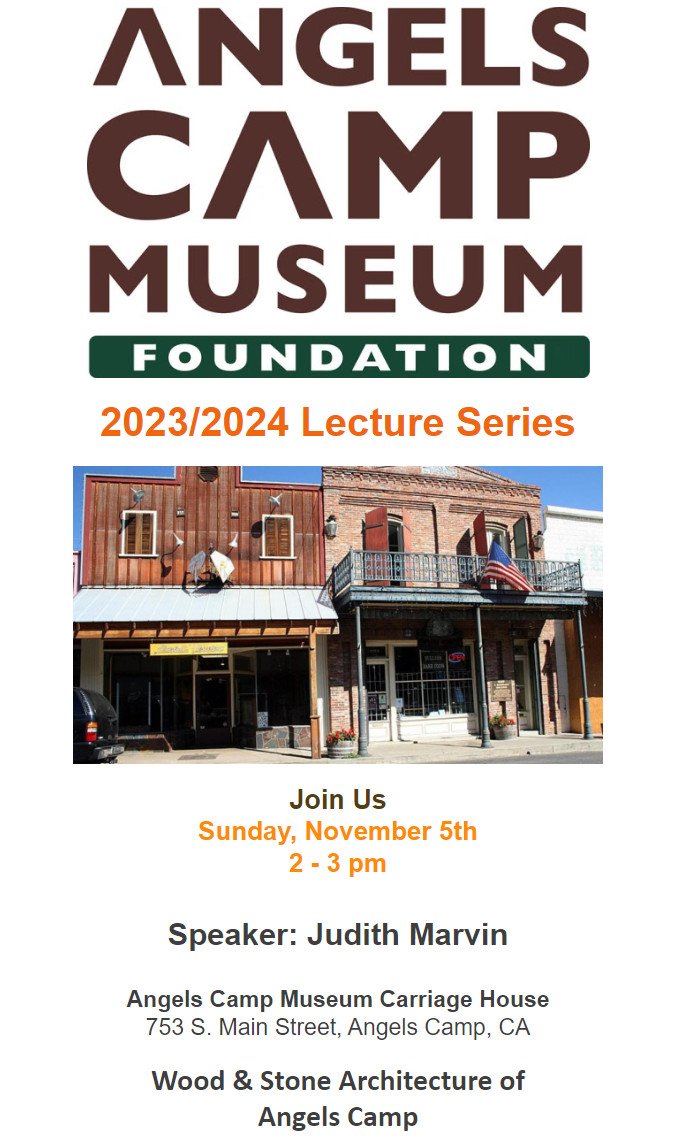 After many towns were destroyed by fires, the scourge of the Mother Lode in the early days, more affluent merchants began to rebuild in the more permanent brick or stone. Although many Americans built with stone, it was the Italian and French stonemasons, so experienced with this method of construction in their homelands, who built the majority of the lasting stone structures in the California foothills. They built commercial establishments, residences, basements, storehouses, outbuildings, ovens, walls, corrals, ditches, and numerous other structures with the abundant local schists, slates, marbles, and andesites (a rock typically found in volcanoes above convergent plate boundaries between continental and oceanic plates.)
Judith will share the little-known stories behind the buildings in downtown Angels Camp.
Credit: Calaverashistory.org
All are welcome. Arrive early for refreshments.
Got ideas for future lecture? Please let us know!
For more information about Museum Foundation projects, visit our website.
Join us in the
Carriage House at the Museum
1:30 pm • Refreshments
2:00 - 3:00 pm • Lecture
See You There!
Cost: $10/ person
No Cost for Current Museum Members