Coming Soon...
Friday, Sep 22
05:00 PM
Angels Camp Farmers Market
05:30 PM
Mt. Aloha Shop Rides, Every Friday at 5:30pm!
Saturday, Sep 23
All Day
The 27th Annual Ironstone Concours d' Elegance is Sept. 23rd (Last Year's Photos & Video)
All Day
Spence Ranch Has Savings for You This Saturday for Neighborhood Pet Store Day!!
All Day
The 10th Annual Seasons in the Woods Craft Fair is Sept. 23rd & 24th
03:00 PM
Jazz Cellars Live Summer Music Series
06:00 PM
The Bistro Espresso Summer Concert Series! Live Music at Taco Tuesdays & Peddlers Fair Saturdays!
07:00 PM
Saturday Night Live Music!
Sunday, Sep 24
All Day
The 10th Annual Seasons in the Woods Craft Fair is Sept. 23rd & 24th
All Day
Our Sunday Edition with Local Features, Local Specials & More Every Sunday All Day Long!
09:00 AM
The Murphys Farmers Market
Tuesday, Sep 26
06:00 PM
The Bistro Espresso Summer Concert Series! Live Music at Taco Tuesdays & Peddlers Fair Saturdays!
Wednesday, Sep 27
01:00 PM
Fellowship Wednesdays at VFW San Andreas
Thursday, Sep 28
04:00 PM
West Point Farmers Market, Every Thurs Through Oct 12th
05:00 PM
The Watering Hole 2023 Summer Concert & Brewery Schedule
06:00 PM
Wino Bingo Night at The Game Room
Friday, Sep 29
05:00 PM
Angels Camp Farmers Market
05:30 PM
Mt. Aloha Shop Rides, Every Friday at 5:30pm!
Saturday, Sep 30
07:00 AM
Mark Twain Medical Center's Fall Health+ Community Resources Fair is September 30th!
03:00 PM
Jazz Cellars Live Summer Music Series
06:00 PM
The Bistro Espresso Summer Concert Series! Live Music at Taco Tuesdays & Peddlers Fair Saturdays!
Sunday, Oct 1
All Day
Our Sunday Edition with Local Features, Local Specials & More Every Sunday All Day Long!
09:00 AM
The Murphys Farmers Market
03:00 PM
Sonora Bach Festival Announces Four Classical Music Events for Festival's 47th year.
Tuesday, Oct 3
06:00 PM
The Bistro Espresso Summer Concert Series! Live Music at Taco Tuesdays & Peddlers Fair Saturdays!
Wednesday, Oct 4
01:00 PM
Fellowship Wednesdays at VFW San Andreas
Thursday, Oct 5
04:00 PM
West Point Farmers Market, Every Thurs Through Oct 12th
05:00 PM
The Watering Hole 2023 Summer Concert & Brewery Schedule
06:00 PM
Wino Bingo Night at The Game Room
Business

Business News Sponsored by Gateway Press.
---
Announcements
Rupert Murdoch Steps Down as Chairman of Fox Corporation and News Corp
Posted by: thepinetree on 09/21/2023 09:10 AM
Los Angeles, CA and New York, NY – September 21, 2023 – Following a career that began nearly 70 years ago in 1954, Fox Corporation ("FOX") (Nasdaq: FOXA, FOX) and News Corporation ("News Corp") (Nasdaq: NWS, NWSA; ASX: NWS, NWSLV) announced today that Rupert Murdoch is stepping down as chairman of each board effective as of the upcoming Annual General Meeting of Shareholders of each company in mid-November. Mr. Murdoch will be appointed Chairman Emeritus of each company. Following the Annual General Meetings, Lachlan Murdoch will become sole Chair of News Corp and continue as Executive Chair and Chief Executive Officer of Fox Corporation.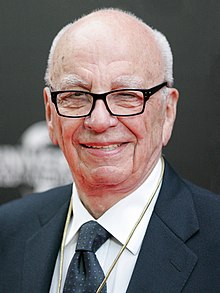 Read More | 22 Comments
Biden Admin Grants Work Permits to 714,700 Venezuelan Immigrants
Posted by: thepinetree on 09/21/2023 09:23 AM
Washington, DC...Secretary of Homeland Security Alejandro N. Mayorkas announced the extension and redesignation of Venezuela for Temporary Protected Status (TPS) for 18 months, due to extraordinary and temporary conditions in Venezuela that prevent individuals from safely returning.



Read More | 31 Comments
Interior Department to Block Oil, Gas & Mining Development on 4,000 Acres in New Mexico
Posted by: thepinetree on 09/20/2023 09:23 AM
Washington, DC...The Department of the Interior announced a proposal by the Bureau of Land Management (BLM) to protect more than 4,000 acres within the Placitas area in Sandoval County, New Mexico, to safeguard sacred Tribal lands, boost important local recreation opportunities, and support wildlife habitat connectivity. The proposed mineral withdrawal would prevent new mining claims and oil and gas development in the area for a 50-year period, subject to valid and existing rights.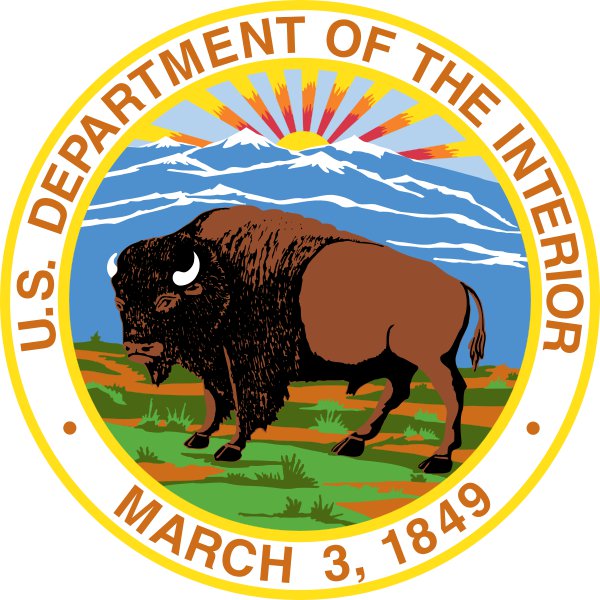 Read More | 23 Comments
Clothes Washer Filter Requirement Will Hand Consumers a Mess, Set Efficiency Back
Posted by: thepinetree on 09/20/2023 02:21 PM
Sacramento, CA...A bill that could soon become law in California will require clothes washers sold in the state to be fitted with cumbersome filters that will result in higher water usage, more plastic being added to the environment, and a potentially harmful mess for consumers to clean up.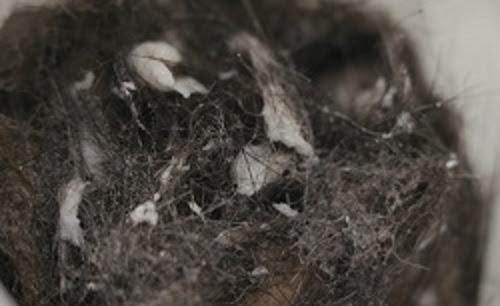 Read More | 19 Comments
You Can Own Fine Things In Arnold! Serving Arnold Since 1998! Only $69,000
Posted by: thepinetree on 09/18/2023 08:26 AM
Arnold, CA...Visibility, Profitability, and MORE! Looking for an established, turn-key business opportunity in the Arnold area? Fine Things in the Cedar Center Shopping Center, in the heart of Arnold, is a perfectly-sized, boutique offering a curated assortment of unique gifts and cards, clothing, home decor, jewelry, fashion accessories, and more. Established in 1998, Fine Things has become a staple in the community with a well-established, year-round customer base of locals and visitors. This opportunity will not last long and offers plenty of creative options for the new owners to make it their own.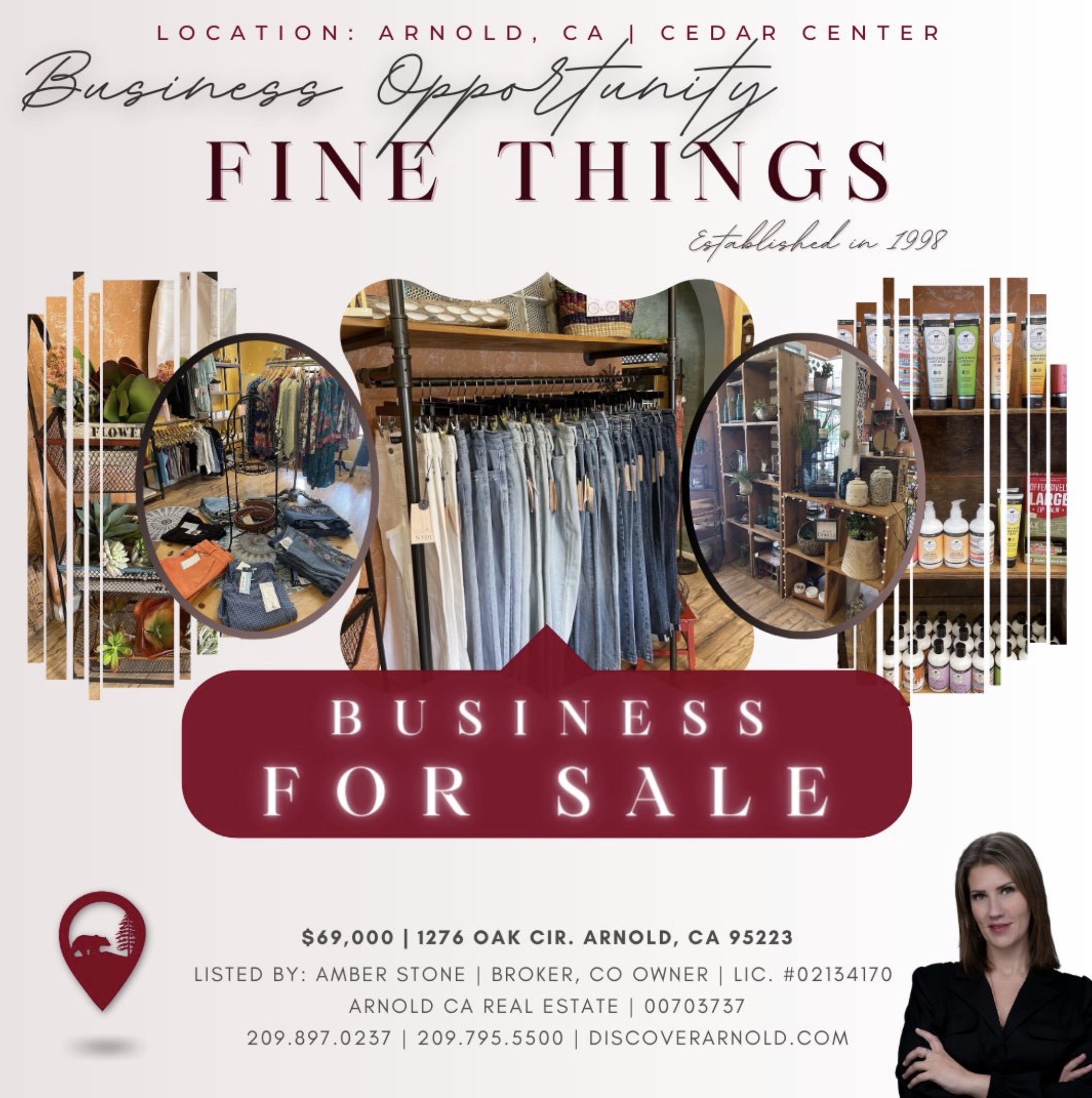 Read More
California Sues Oil & Gas Companies! State Says They Mislead Public About Climate Change
Posted by: thepinetree on 09/16/2023 09:58 AM
Oakland, CA...California becomes the largest geographic area and the largest economy to sue giant oil companies. Joined by California Governor Newsom, California Attorney General Rob Bonta today announced the filing of a lawsuit against five of the largest oil and gas companies in the world — Exxon Mobil, Shell, Chevron, ConocoPhillips, and BP — and the American Petroleum Institute (API) for allegedly engaging in a decades-long campaign of deception and creating statewide climate change-related harms in California. Filed in San Francisco County Superior Court, the complaint asserts that although the companies have known since at least the 1960s that the burning of fossil fuels would warm the planet and change our climate, they denied or downplayed climate change in public statements and marketing. As detailed in the complaint, California has spent tens of billions of dollars to adapt to climate change and address the damages climate change has caused so far, and the state will need to spend multiples of that in the years to come. Attorney General Bonta, on behalf of the people of California, is seeking nuisance abatement through the creation of a fund to finance climate mitigation and adaptation efforts; injunctive relief to both protect California's natural resources from pollution, impairment, and destruction as well as to prevent the companies from making any further false or misleading statements about the contribution of fossil fuel combustion to climate change; damages; and penalties.


Read More | 31 Comments
President Biden Delivers Remarks on Bidenomics
Posted by: thepinetree on 09/14/2023 12:49 PM
Largo, MD...President Biden Delivers Remarks on Bidenomics


| 25 Comments
Calaveras County Water District Board Approves Rate Increase
Posted by: thepinetree on 09/14/2023 05:32 PM
San Andreas, CA...Calaveras County Water District Board Approves Rate Increase. The full meeting video is below...


| 65 Comments
California Leads the Way Again with Nation's Highest Poverty Rate
Posted by: thepinetree on 09/13/2023 10:41 AM
Washington, DC...The U.S. Census Bureau announced yesterday that real median household income in 2022 fell in comparison to 2021. The official poverty rate of 11.5% was not statistically different between 2021 and 2022. The Supplemental Poverty Measure (SPM) rate in 2022 was 12.4%, an increase of 4.6 percentage points from 2021. This is the first increase in the overall SPM poverty rate since 2010. Meanwhile, 92.1% of the U.S. population had health insurance coverage for all or part of 2022 (compared to 91.7% in 2021). An estimated 25.9 million or 7.9% of people did not have health insurance at any point during 2022, according to the 2023 Current Population Survey Annual Social and Economic Supplement (CPS ASEC). That compares to 27.2 million or 8.3% of people who did not have health insurance at any point during 2021.


Read More | 21 Comments