Coming Soon...
Wednesday, Jun 29
All Day
SR4 - Wagon Trail Realignment Project June 27, 2022 - June 30, 2022 Traffic Delays
06:30 PM
Summer Starts with the Calaveras Arts Council's Music in the Parks
Thursday, Jun 30
All Day
SR4 - Wagon Trail Realignment Project June 27, 2022 - June 30, 2022 Traffic Delays
Friday, Jul 1
All Day
Calaveras Community Foundation (CCF) Announces Annual Competitive Grants Period for 202
05:00 PM
The Angels Camp Farmers Market is Every Friday Through September!
Saturday, Jul 2
All Day
The 2022 Ironstone Vineyards Independence Day Celebration!
All Day
Calaveras Community Foundation (CCF) Announces Annual Competitive Grants Period for 202
09:30 AM
The Firecracker Mile Returns Better Than Ever After Covid Slumber! Register Today!
10:00 AM
The 2022 GABA Arnold Independence Day Parade is Back on Hwy 4 & Better Than Ever
03:00 PM
Live Music at Jazz Cellars all Summer Long
Sunday, Jul 3
All Day
Calaveras Community Foundation (CCF) Announces Annual Competitive Grants Period for 202
All Day
Our Sunday Edition with Local Features, Local Specials & More Every Sunday All Day Long!
Monday, Jul 4
All Day
Calaveras Community Foundation (CCF) Announces Annual Competitive Grants Period for 202
Tuesday, Jul 5
All Day
Calaveras Community Foundation (CCF) Announces Annual Competitive Grants Period for 202
Wednesday, Jul 6
All Day
Calaveras Community Foundation (CCF) Announces Annual Competitive Grants Period for 202
06:30 PM
Summer Starts with the Calaveras Arts Council's Music in the Parks
Thursday, Jul 7
All Day
Calaveras Community Foundation (CCF) Announces Annual Competitive Grants Period for 202
Friday, Jul 8
All Day
Calaveras Community Foundation (CCF) Announces Annual Competitive Grants Period for 202
05:00 PM
The Angels Camp Farmers Market is Every Friday Through September!
Saturday, Jul 9
All Day
Calaveras Community Foundation (CCF) Announces Annual Competitive Grants Period for 202
10:00 AM
Spring Up In The Hills: Celebration Of Independence
01:00 PM
Gold Rush Days in Columbia are the 2nd Saturday Every month – 1:00pm – 4:00pm
03:00 PM
Live Music at Jazz Cellars all Summer Long
05:00 PM
2nd Saturday Art Nights Continue on in 2022
Sunday, Jul 10
All Day
Calaveras Community Foundation (CCF) Announces Annual Competitive Grants Period for 202
All Day
Our Sunday Edition with Local Features, Local Specials & More Every Sunday All Day Long!
Monday, Jul 11
All Day
Calaveras Community Foundation (CCF) Announces Annual Competitive Grants Period for 202
Tuesday, Jul 12
All Day
Calaveras Community Foundation (CCF) Announces Annual Competitive Grants Period for 202
Letters to the Editor
---
Announcements
Angels- Murphys Rotary Club Deputy of the Year Award
Posted by: thepinetree on 06/13/2022 01:03 PM
San Andreas, CA...On June 2, 2022 the Angels-Murphys Rotary Club honored the outstanding achievements of several local law enforcement officers. The Sheriff's Office is very appreciative of this annual event and opportunity to recognize the commitment and service of our deputies. This year, Calaveras County Deputy Sheriff Jonathan Brown received the Deputy of the Year award. Please join us in congratulating him on his achievement.


| 5 Comments
Mea Culpa, Mea Culpa, Mea Maxima Culpa ~ John Hamilton
Posted by: thepinetree on 04/16/2022 02:48 PM
Arnold, CA....Mea Culpa, Mea Culpa, Mea Maxima Culpa. The mistakes and miscues around last Thursday's Candidate Debate at Independence Hall were mine and mine alone. It was not GABA's and certainly not Martin Huberty's, Lisa Muetterties or their campaigns it was mine. Mine alone....Period.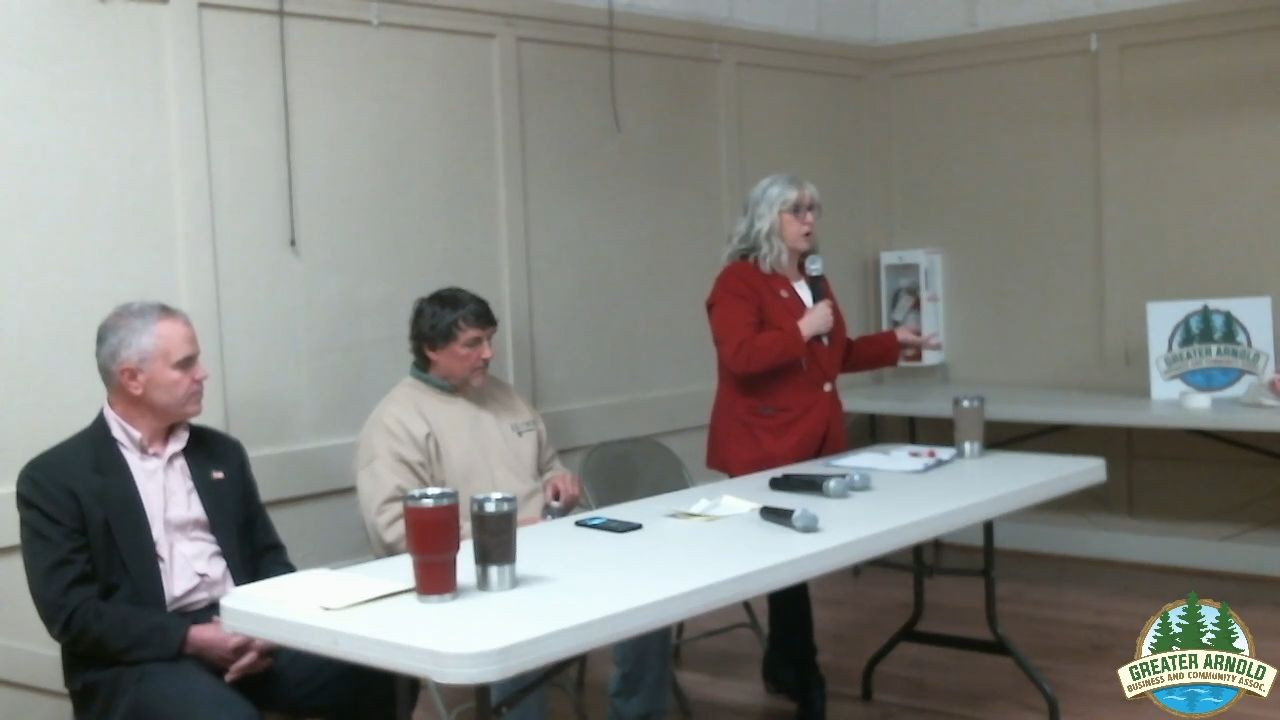 Read More | 71 Comments
Who Pays for the Woke? ~ Congressman Tom McClintock
Posted by: thepinetree on 10/07/2021 11:59 PM
Washington, DC...During the Trump Administration, Republicans passed one of the biggest tax cuts in American history and the greatest regulatory relief ever. The result was the biggest economic expansion in our lifetimes. Before the lockdown left took a wrecking ball to our economy, Americans were prospering with the lowest unemployment rate in 50 years – the lowest poverty rate in 60 years – and the fastest wage growth in 40 years. For the first time in decades, the income gap was narrowing.


Read More | 45 Comments
CA Homicide Up 31%: Legislative Democrats' Solution: Reduce Penalties for Criminals Convicted of the Most Heinous Murder
Posted by: thepinetree on 07/14/2021 04:14 PM
Sacramento, CA...Crime is spiking and what do Legislative Democrats want to do? Revisit a bill that reduces penalties for criminals convicted of the most heinous crimes.   Days after Los Angeles experienced a bloody weekend and media is reporting the staggering uptick in crime, legislative Democrats are revisiting Senate Bill 300 (SB 300), legislation that would reduce the sentence for individuals convicted of the most serious and heinous murders. Not only would it allow a judge to reduce the penalty for the actual killer, preventing life in prison and the death penalty, but it also prohibits the prosecution and sentencing of individuals who aid the killer in their crimes even when they act with reckless indifference to human life.

Read More | 23 Comments
Earmarks: A Monumentally Bad Idea By Congressman Tom McClintock
Posted by: thepinetree on 06/30/2021 12:30 PM
Washington, DC...Ever since the Magna Carta, it has been a settled principle of good governance that the power that appropriates public funds should not be the same power that spends them. This principle is at the heart of our Constitution: the separation of powers. Simply speaking, it is mother's rule writ large. Mother has one slice of pie and two hungry sons. How does she cut the pie so that both brothers are satisfied? One slices, and the other chooses. One brother cannot abuse his powers precisely because of the powers accorded the other.


Read More | 9 Comments
The Inflation Tax By Congressman Tom McClintock
Posted by: thepinetree on 06/03/2021 12:07 PM
Washington, DC...When the Democrats passed Mr. Biden's $1.9 trillion spending spree in March, a lot of people got a lot of free money – thousands of dollars in many cases. But the bill is already coming due for that free money, and, as many of us warned, it turns out that free money is very expensive. Indeed, it turns out that the very same families most harmed by the lockdowns will be the most harmed by paying the bill for the lockdown relief. It comes to about $15,000 for an average family and the first installment is already reflected in the rising inflation sapping the purchasing power of working families.


Read More | 20 Comments
Republican Chairman's Comments and Article
Posted by: thepinetree on 06/02/2021 01:47 PM
Altaville, CA...Ed Langan, Chairman of the Calaveras Republicans Central Committee wants to share this article with the parents and grandparents of school-aged children in Calaveras County. The author Bob Unruh analytical view of the original article by James Dobson is very telling, as he views our educational failures and distractions that we should have challenged but have come to except. Today we must deal with Critical Race Theory the poisoning of our children minds by the education institutions. Parents once had from birth to around 13 years of age to establish the world view of their offspring - Today its down to birth to 5 years of age, pre-kindergarten! Ed-


| 79 Comments
Observation from the Chairman on Election Integrity, We Only Need to Look to Our Southern Border for a Solution!
Posted by: thepinetree on 05/23/2021 11:27 AM
Altaville, CA...The 2020 Presidential election was a charade and a travesty of justice shaking the very foundation that made America great. Our fair and honest election system of one-person-one-vote, the bedrock of our free Republic was corrupted. The corruption and deception allowed to creep into our once golden national election system has created monumental distrust in our government at the federal, state, and local levels, all of which failed "We the People" and America.


Read More | 60 Comments
The Racist Left ~ Op-Ed By Congressman Tom McClintock
Posted by: thepinetree on 05/18/2021 05:27 PM
Washington, DC...Racism is the practice of according rights and privileges to an individual not based on equality under the law, but rather according to what race that person was born. It is antithetical to every principle our country was founded on, from the promise of our Declaration of Independence that "all men are created equal" to the equal protection clause of our Constitution. It was a malignancy we fought a Civil War to remove. For generations, it has been denounced by every American of good will for the evil that it is.


Read More | 27 Comments
Newsom Transforms Taxpayer Protection into Welfare ~ By Ted Gaines
Posted by: thepinetree on 05/15/2021 01:54 PM
Sacramento, CA...California actually has a government spending limit, hard as that may be to believe, and Gavin Newsom is making a mockery of it, just as his predecessor did. In 1979, a year after signing off on the revolutionary Proposition 13, voters passed Proposition 4, implementing the "Gann Limit," which would peg California's state spending to the 1978-79 level and only let it grow adjusted for inflation and population. State revenues above the voter-approved limit can be reckoned with several different ways, including refunding half of the excess revenues to taxpayers, with the other half going to schools.


Read More | 29 Comments