Copperopolis
---
Calendar
12/02/2023
-
The 2023 Copper Christmas Tree Lighting is December 2nd
Copperopolis, CA...Santa, Mrs. Claus, Grinch, Music, Vendors & more! Tree lighting will be at 6:00 pm sharp! If you have questions please email Allison Contreras at
gatewayadventureco@yahoo.com
or call 209-785-3444
If you would like to be a vendor at our Event please fill out the application below:
https://docs.google.com/.../1FAIpQLSdeSYmGLh7.../viewform...
11/11/2023
-
Pancake Breakfast at the Armory Before Veterans Day Parade
Copperopolis, CA...Enjoy a Community Pancake Breakfast at the Historic Civil War Union Guard Armory before the VFW Post 12118 Parade at 11:00 am. The Copper Quilter's beautiful quilts will be on display and the Tower Family's Copper museum will be open. Please join us as we salute our Nation's Veterans under the watchful eye of our magnificent 1865 Union Guard American Flag.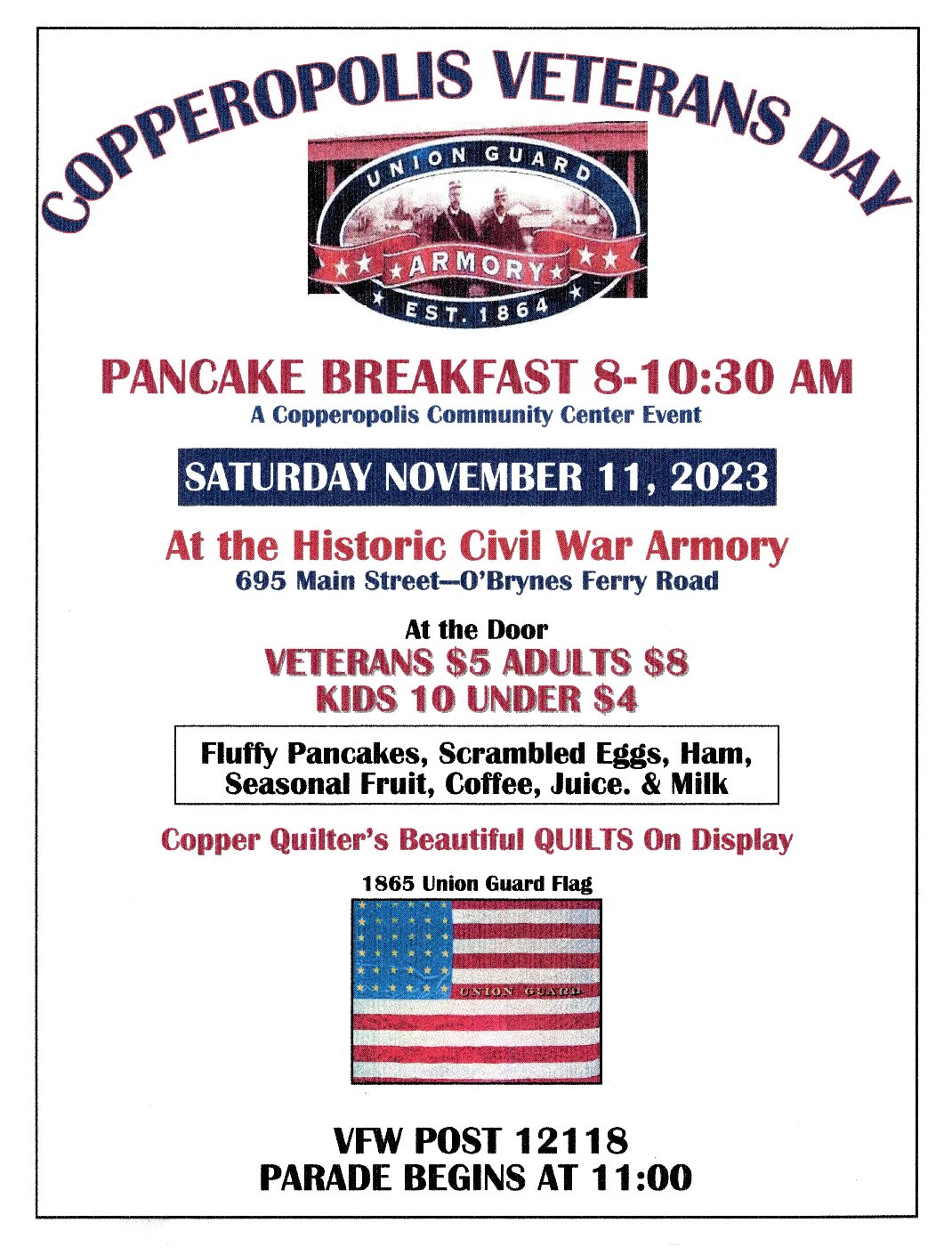 Date: Saturday, November 11, 2023
Time: 8:00 am – 10:30 am
Menu: Fluffy Pancakes, Scrambled Eggs, Ham, Seasonal Fruit, Coffee, Juice, Milk
Price: Veterans $5 / Adults $8 / Kids $4 (10 or under)
Location: The Historic Armory 695 Main Street (O'Brynes Ferry Rd.), Copperopolis, CA. 95228
11/10/2023
-
Join us for the 14th Annual Copper Chili Cookoff!
Copperopolis, CA...Come join the competition while supporting our local firefighters! If you would like to be a cooker and join the competition contact Allison Contreras at
gatewayadventureco@yahoo.com
.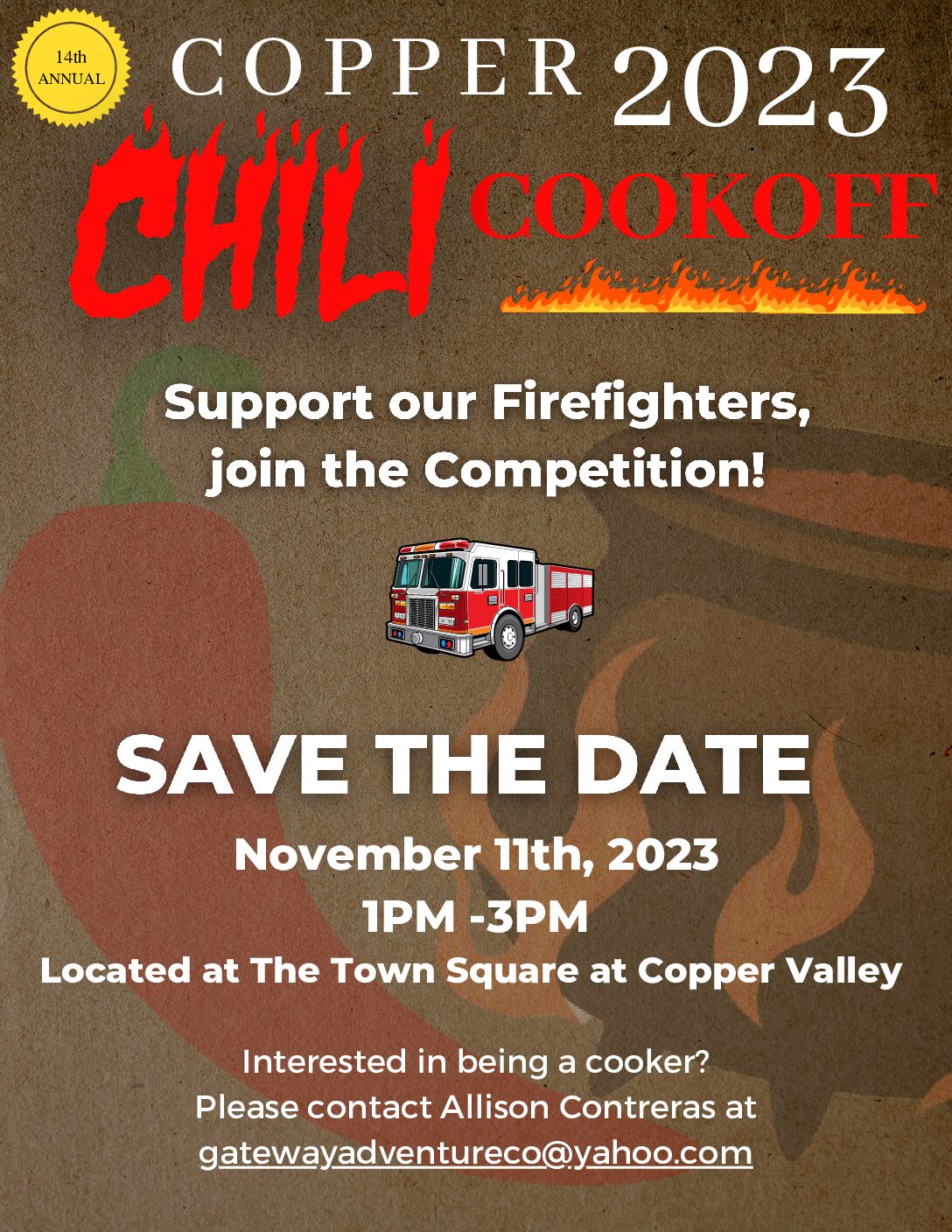 Information at https://coppervalley.com/events/2023-chili-cook-off/
10/12/2023
-
Agenda for Mark Twain School District's October Board Meeting
Angels Camp, CA...Agenda for Mark Twain School District's October Board Meeting. The full agenda for the Oct. 12th meeting is below...
PUBLISHED MEETING
10/12/2023, 4:30 PM
Regular Board Meeting
 Join Zoom Meeting 82217339490
Add to your calendar: Google | Outlook (.ics) | Yahoo
Hi,

The meeting has been published. You may review the 

agenda

 by clicking on Meeting Title.

Meeting Title:  10/12/2023, 4:30 PM-Regular Board Meeting
Sincerely,

Samantha Austin
Meeting 

Agenda
1. Open Session
a. Establishment of Quorum
1. Roll Call
2. Public Comment on Closed Session Items
3. Recess to Closed Session
4. Closed Session
a. Public Employee Performance Evaluation: Superintendent (§ 54957)
b. Conference with Labor Negotiator: Name of Agency Negotiator: Eric Griffin; Employee Organization: Angels Copper Educators (ACE) (G.C. 54957.6)
c. Conference with Labor Negotiator: Name of Agency Negotiator: Eric Griffin; Employees Organization: California School Employee Association (CSEA) Mark Twain Chapter 815 (G.C. 54957.6)
d. Personnel Assignment Order
5. Open Session
a. Pledge of Allegiance
b. Report of Action Taken in Closed Session
6. Public Comment
7. Reports
a. Board Member Reports
b. Superintendent Report
c. Principals Reports
1. Copperopolis Elementary; Sara Tutthill
2. Mark Twain Elementary; Lisa Shaw
d. Certificated/Classified Employees
1. Certificated Representative: Angels Camp Educators ACE/NEA (G.C. 54957.6)
2. Classified Representative: California School Employee Association Chapter 815 (G.C. 54957.6)
8. Information and Discussion Items
a. Superintendent's Advisory Council
b. Review of District Mission Statement
9. Consent 

Agenda

 Items
a. Approval of Purchase Orders
b. Approval of Warrants
c. Williams Quarterly Report - Q1
d. Inter- & Intra-district Transfers
e. Approval of the Annual Memorandum of Understanding with Calaveras County Office of Education for Friday Night Live (FNL) Program Implementation Fee Reimbursement
f. Approval of Rental Agreement with Calaveras County Fair for the Use of the Stage on May 30, 2024 for the 8th Grade Graduation Ceremony
g. Approval of Minutes
10. Action Items by Roll Call Vote
a. Adoption of Resolution 2023-2034-08 In the Matter of Sufficiency of Instructional Materials
b. Approval of Revised Budget
c. Approval of Copperopolis Elementary CalHope Grant Funding
d. Addition of a Special Education Teacher (Mild to Moderate Support Credential) for the remainder of the 2023-2024 School Year
e. Adoption of Resolution 2023-2034-09 In the Matter of Recognition and Appreciation of Rick Soracco's Years of Service as a Basketball Coach for Mark Twain Union Elementary School
11. Future 

Agenda

 Items
12. Next Regularly Schedule Board Meeting
a. Adjournment
09/10/2023
-
Yoga at the park
Bring circulation and movement to your body
with simple stretches and gentle yoga. Celebrate after with Mimosas & Nosh while
touring "Create Beauty Body Sculpting" & "Anew Vibe studio!" Discover the spa,
gift bags & more!
Yoga will start promptly at 10:30 AM.
Please bring a mat or blanket.
All participants (must be 18 or older) must
RSVP to
info@anewvibestudio.com
Free
09/07/2023
-
Create Beauty grand opening celebration
🎉 Grand Opening Celebration 🎉 Date: September 7, 2023 Time: Ribbon Cutting at 6:00 PM Location: 171 Town Square Road, Copperopolis
Join us for a fantastic evening featuring:
Delicious Food
Exciting Prizes
Generous Giveaways
Special Gift Bags
We can't wait to celebrate with you and appreciate your support in sharing this exciting news. Please feel free to reach out if you have any questions or if there's anything else you need.
Thank you in advance for helping us make this event a huge success!
Warm regards, Alcina Morello Create Beauty Body Sculpting 209.299.6106 Text or Call
10/08/2023
-
Get Your Tickets Now for Jake Jacobson on Sunday, October 8
Copperopolis, CA...Don't miss out on this incredible opportunity to witness Jake Jacobson's electrifying performance. Grab your friends and family and come enjoy an afternoon filled with great music and good vibes. We can't wait to see you there!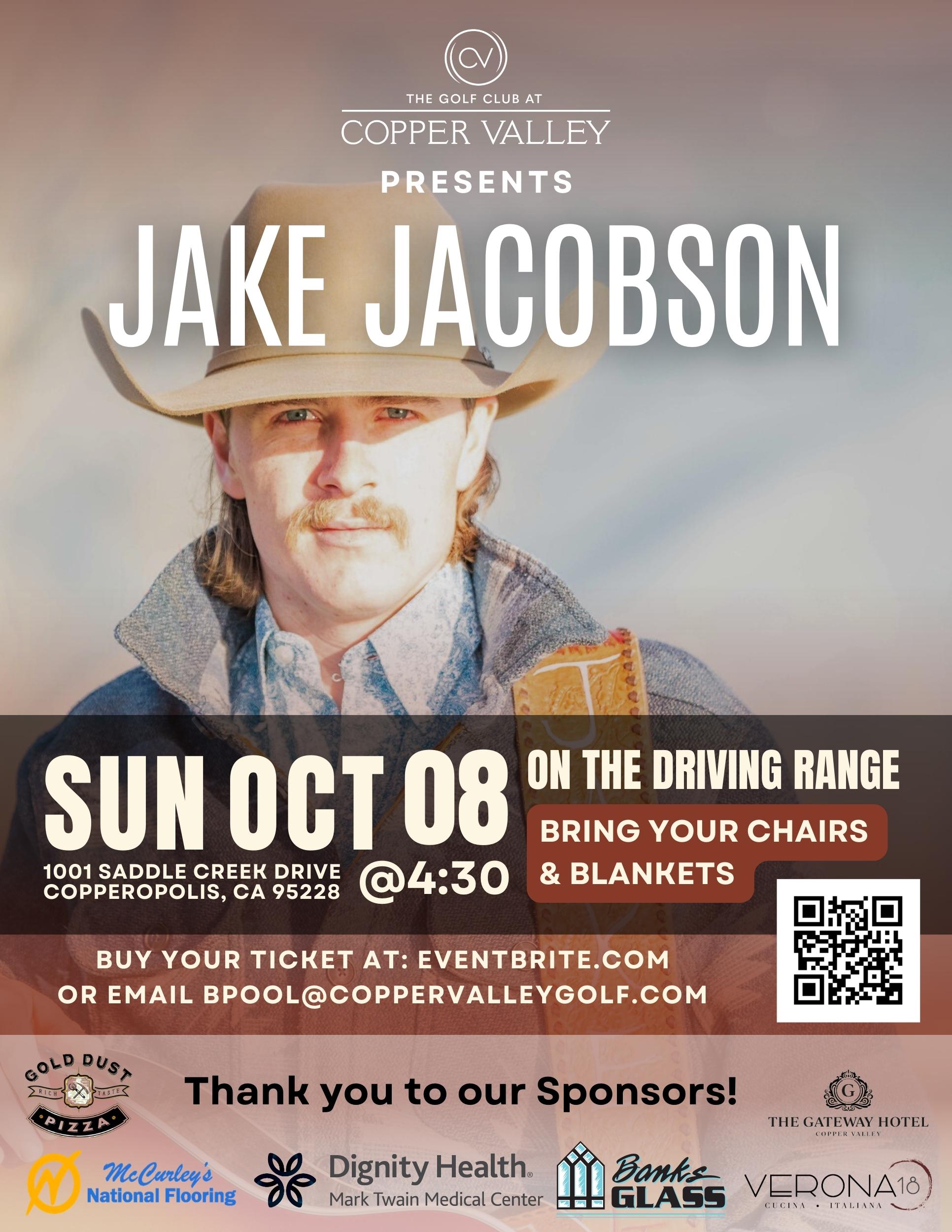 Bring your lawn chairs and blankets, or even your golf cart for a great time. Beer, wine, and hard alcohol available. Pizza oven onsite or order food in advanced from Verona18.
The event will take place at the 1001 Saddle Creek Drive, Copperopolis, CA 95228. Mark your calendars for Sun Oct 08, 2023 and get ready to rock and roll! The concert will kick off at 4:30PM but the gate will open at 3:30, so come early and get some of the best seats in the house!
If you have any questions, contact Brioni Pool at 209-783-9933 or
bpool@coppervalleygolf.com
https://www.eventbrite.com/e/jake-jacobson-concert-tickets-699954441577
09/02/2023
-
The Community Taco Competition at The Town Square at Copper Valley!
Copperopolis, CA...Join us in the Town Square at Copper Valley on September 2nd from 1-5 pm for a community taco competition! We want to see who can make the best tacos in town. If you want to compete, please email Allison Contreras at
gatewayadventureco@yahoo.com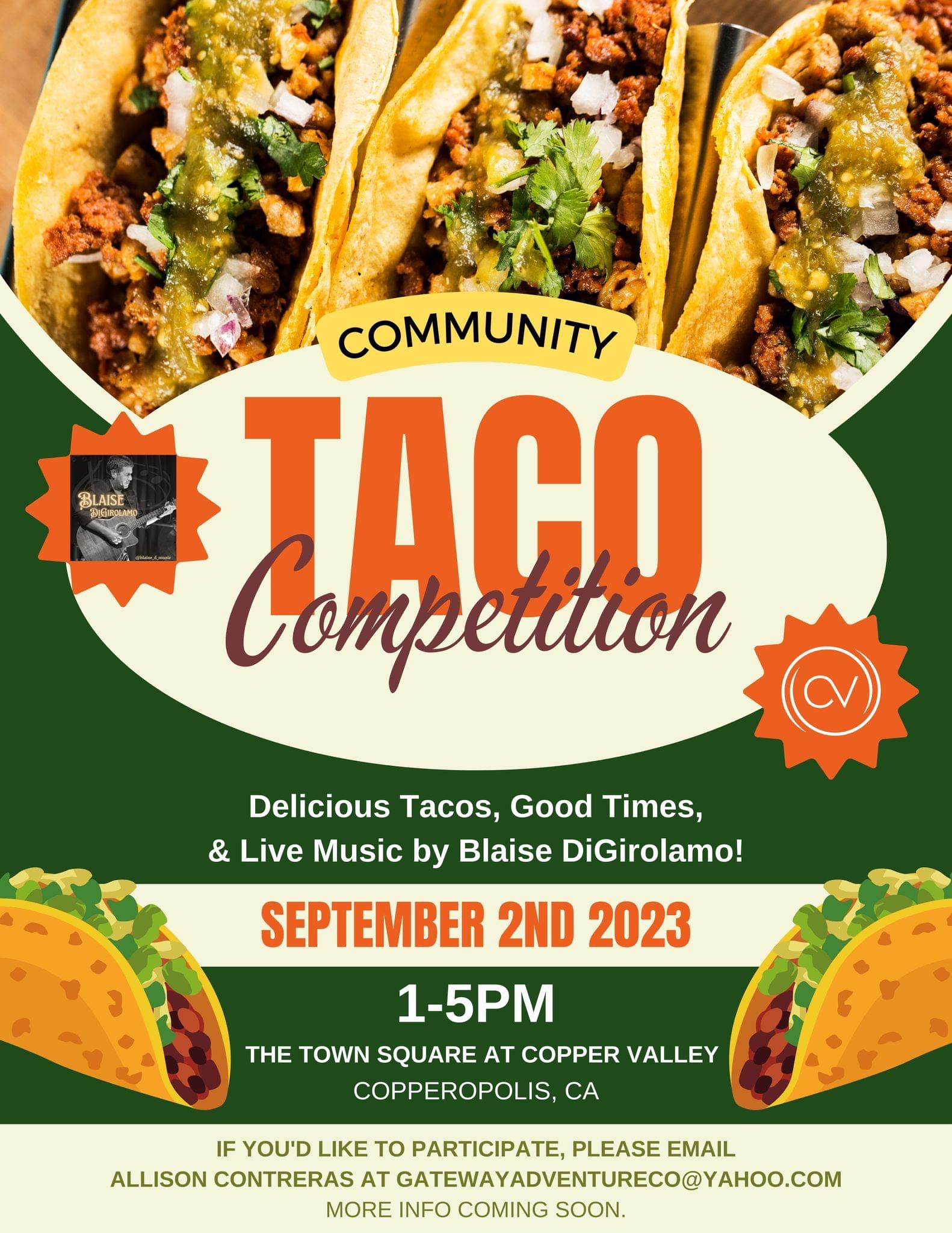 The Town Square at Copper Valley
The heartbeat of Copper Valley, the area now known as the Town Square, was originally founded in 1861. Our renowned copper mining town witnessed the last stand of California's most infamous stage coach robber, Black Bart, and a memorial service for fallen President Abraham Lincoln. Today The Square is lined with shops, restaurants, day spas, wine tasting rooms, and plenty of festivals, concerts and special events.
We also have a Tesla Super Charger station with 12 individual chargers, giving you a convenient stop to charge your car as well as grab some lunch or shop around!
Plan Your Stay
There is so much to do in Copper Valley, ranging from horse back trails to white water rafting. We want to help you plan your trip so you can enjoy the many sides of Copper Valley. The experiences we have developed are made to be family friendly, and we encourage all ages to experience these together. Our goal is provide you, your family, and your friends an opportunity to enjoy life through fun and adventurous experiences.
Below you will see different types of experiences for you to enjoy. Feel free to click on each experience to learn more and book for your trip!
07/02/2023
-
The Calaveras County Shootout Continues on Today!
Angels Camp & Copperopolis, CA...The Golf Club at Copper Valley and Greenhorn Creek Resort have created an event to showcase the Sierra Foothills golfing community. The Calaveras County Shootout is a 2-Day event for both Pro and Amateur golfers.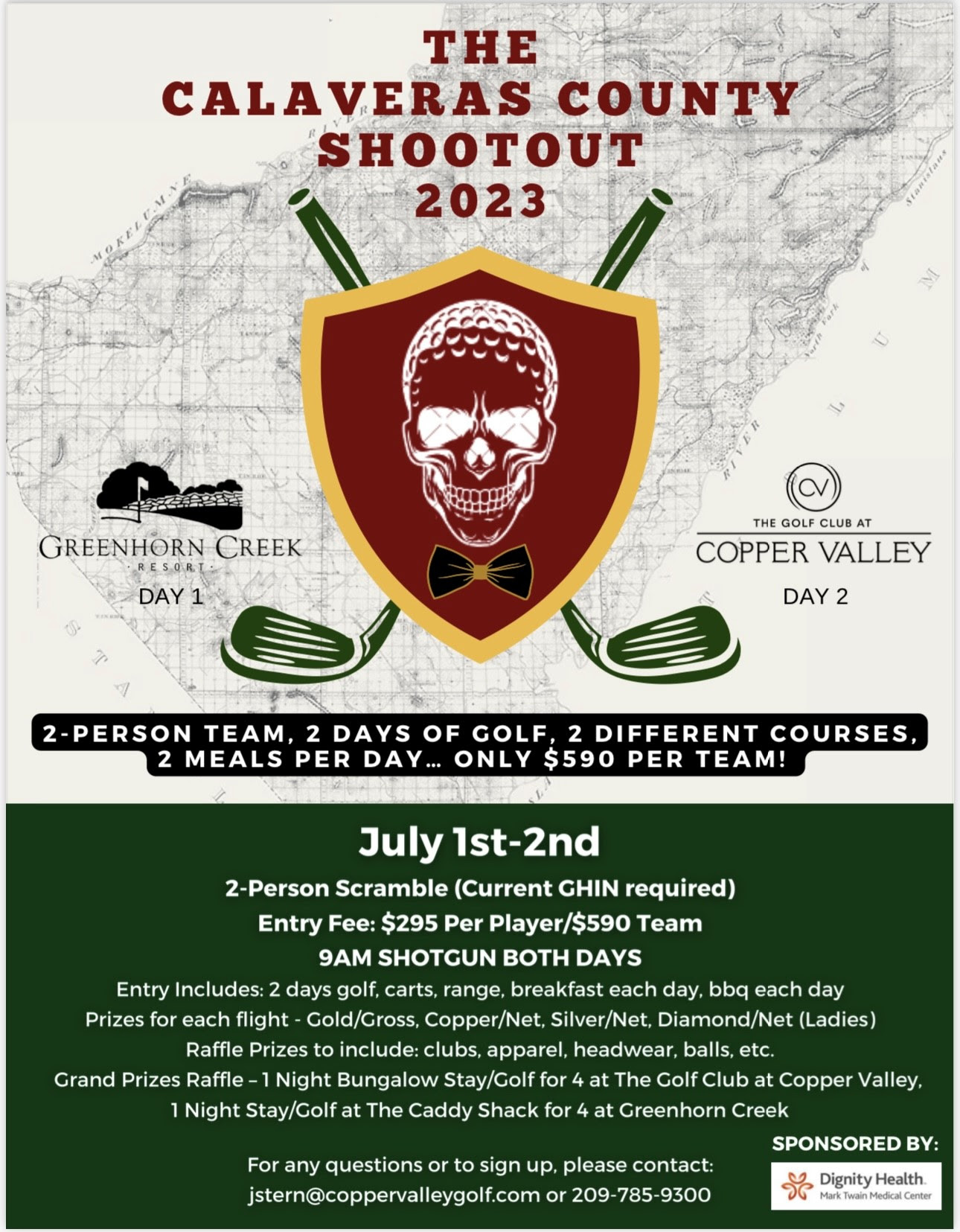 2 person team, 2 days of golf, 2 different courses, 2 meals per day for $590 per team (or $295 per person)! Join us July 1st and 2nd for our 2 person scramble with a 9 am shotgun both days. Entry includes 2 days golf, carts, range, breakfast each day, BBQ each day. There will be raffle prizes and prizes for each flight! The field is limited, so save the date and sign up early.
Sign up at: http://www.golfgenius.com/ggid/xjkvur/register
For any questions, please contact:
jstern@coppervalleygolf.com
or 209-785-9300.
07/02/2023
-
Stars and Stripes in The Square
Copperopolis, CA...Come celebrate in the Town Square on Sunday, July 2nd with live music, food, drinks, water slides and more! If county permits, we will have fireworks! Water slide wrist bands are $10 for the day. We will have the war balloon bundles for 10 each or 3 for $20.
SUNDAY AT 11 AM
Stars and Stripes in The Square
The Town Square at Copper Valley