06/02/2023
-
Join The Calaveras Winegrape Alliance on June 2, for Their Annual Wine Industry Vineyard Tour
Murphys,CA...On Friday, June 2nd, the Calaveras Winegrape Alliance (CWA) is set to host 50 invited guests for our annual "Wine Industry Vineyard Tour".  Hardeep Singh, UCCE Local Food Systems Advisor for our wine region, will be guiding this years tour Attendees will get a rare look at a variety of Calaveras County's vineyards, including some that are not open to the public. This year's tour focus will be "Innovations in Grape Growing & Vineyard Management". The vineyard tour will be hosted by CWA's Education & Events Manager, Mark Silverstone. Invited speakers include Andrew Brown, USDA-NRCS Soil Scientist and Scott Oneto, University of California, Agriculture and Natural Resources Advisor.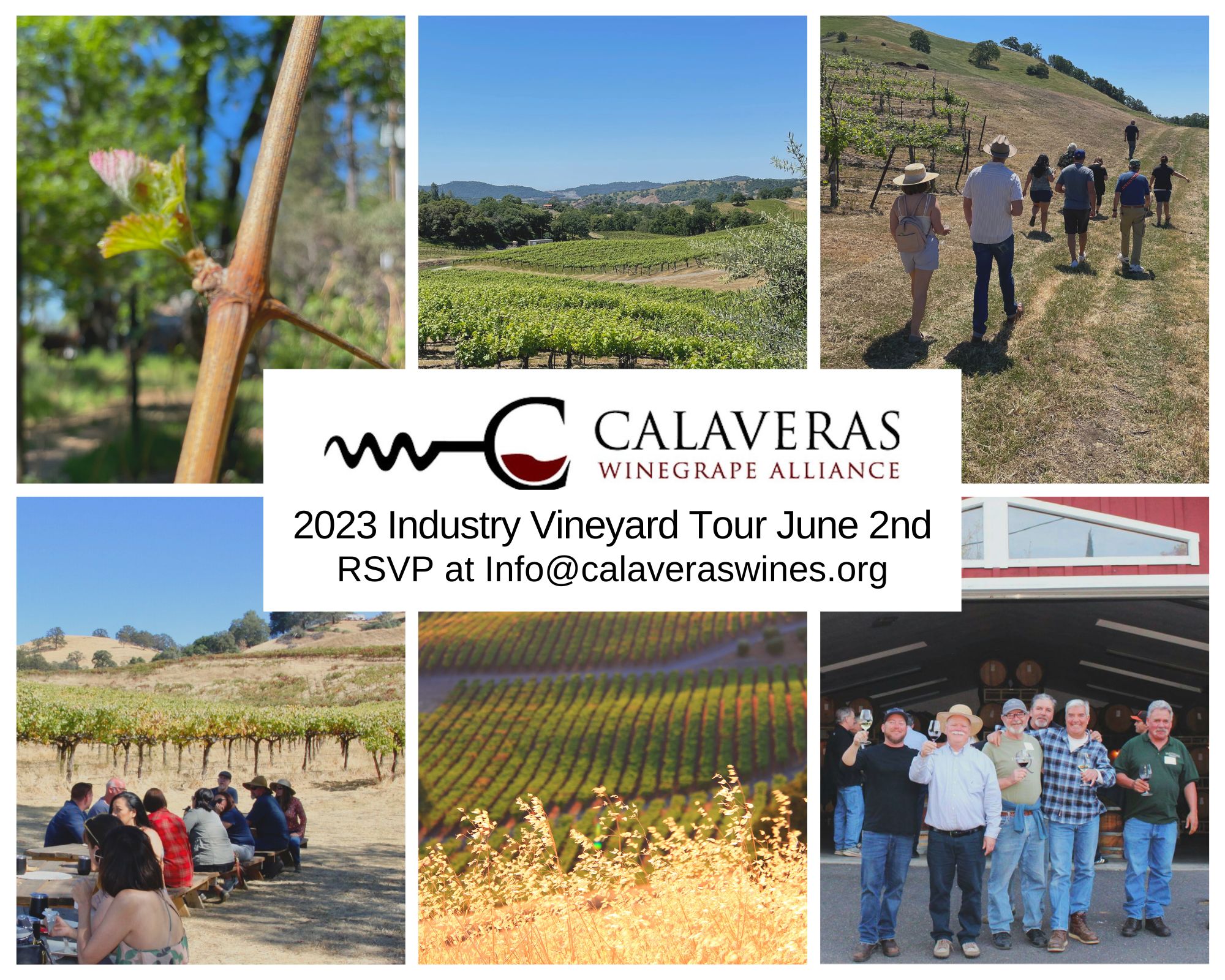 This year's vineyard hosts include Twisted Oak, Indian Rock, and Stevenot. The tour of three vineyards begins at 9:00 and wraps up at 3:30 for a talk at the Calaveras Winegrape Alliance Garden in Murphys. Soil Scientist, Andrew Brown, will share latest studies and answer questions about farming in drought conditions. Registration includes coffee & breakfast snacks, a wine country lunch, and a wine reception with BBQ that begins at 5:00.
"The Calaveras Winegrape Alliance is honored to host invited guests to our annual Wine Industry Vineyard Tour as attendees are set to explore extraordinary vineyard sites not generally open to the public, and also learn why this historical region has been an integral part of the California wine industry since 1851", shares Mark Silverstone. "We are working with our grower members to offer an insightful lineup of vineyards this year, where vineyard owners and managers will discuss grape growing in extreme conditions; including drought, heat, frost and smoke."
Calaveras County is home to family vineyards ranging in size from a few acres to eighty. There are now 600 acres of vineyards planted in Calaveras County with six estate vineyards. Family winemaking teams produce award-winning, handcrafted wines and offer unique tasting experiences at 35+ boutique tasting rooms and wineries. Nestled in a beautiful landscape, at the base of the Sierra Foothills and just 90 minutes from the San Francisco Bay Area and Sacramento regions, Calaveras Wine Country offers year-round natural beauty and recreation. Wines are made in small batches by family-run operations dedicated to sustainability and organic practices.  Our vintners now share about 52 styles of wine.
VINEYARD TOUR SCHEDULE:
9:00-10:30  Check-In, breakfast bites and first tour at Twisted Oak, Vallecito. Hosts: Bethany Jennings and their Cellar Master
11:00-1:00  Stevenot Winery, Vallecito (lunch stop). Hosts: The Oliveto Family.
1:30-3:30    Indian Rock Vineyards, Murphys. Hosts: Marco Cappelli and Jen Wren.
4:00-5:00    CWA Wine Info Center, Murphys. Calaveras County Soil Survey Report Presentation and Member Q&A with Andrew Brown, Regional Soil Scientist.
5:00-6:30    CWA Wine Info Center, Murphys. Wine Reception and BBQ. Hosts Mark & CWA Board.
The cost of the tour is $40 for CWA members and $55 for non-members. This private event is bles yine Industry and surrounding wine region professionals are welcome. Adults 21 and over only. Addresses, directions, and maps will be sent with the registration confirmation email.
Those interested in the tour can contact Mark Silverstone to request an invitation at mark@calaveraswines.org