Coming Soon...
Wednesday, Dec 6
01:00 PM
Fellowship Wednesdays at VFW San Andreas
Friday, Dec 8
All Day
Farm Stand & Bakery Every Friday & Saturday at Outer Aisle on Hwy 4
Saturday, Dec 9
All Day
Farm Stand & Bakery Every Friday & Saturday at Outer Aisle on Hwy 4
04:00 PM
2nd Saturday Paint & Sip: Winter Jay with Painting in Harmony at Above the Rush Wines
07:00 PM
Saturday Night Live Music!
Sunday, Dec 10
All Day
Our Sunday Edition with Local Features, Local Specials & More Every Sunday All Day Long!
03:00 PM
Petroglyphe Gallery Holiday Open House
Wednesday, Dec 13
01:00 PM
Fellowship Wednesdays at VFW San Andreas
Thursday, Dec 14
07:00 PM
Studio 4 Dance Theater Presents "The Holiday Showcase 2023" at the Bret Harte Theater
Friday, Dec 15
07:00 PM
Studio 4 Dance Theater Presents "The Holiday Showcase 2023" at the Bret Harte Theater
Saturday, Dec 16
All Day
Farm Stand & Bakery Every Friday & Saturday at Outer Aisle on Hwy 4
07:00 PM
Saturday Night Live Music!
Sunday, Dec 17
07:00 PM
Studio 4 Dance Theater Presents "The Holiday Showcase 2023" at the Bret Harte Theater
Calendar
New Bear Valley Ownership Group to Keynote GABA Fall Social on Nov 16th! Reserve a Spot Today!
Arnold, CA...GABA is excited to announce our speakers for our Nov 16th Fall Social at Sequoia Woods! The event Starts at 6pm. If you have already RSVP'd thank you! If not, please just send us an email back if you can make it. Now for the exciting news! The New Era of Bear Valley will be there to give the businesses on the Hwy 4 corridor an update on their plans. The Ceo Karl Kapuscinski and his wife Audrey will be in attendance along with the following. Tim Cohee- President of Mountain Resorts, Tim Schimke- G.M. of Bear Valley Mountain, Justin Cringle- Director of product development, Hanna Craig- Marketing Director of Dodge Ridge Mt Resort, Myrka Morales- Marketing director of Bear Valley Mountain, Wendy Pauli- Will be working as a BV Representative for HWY 4 Businesses.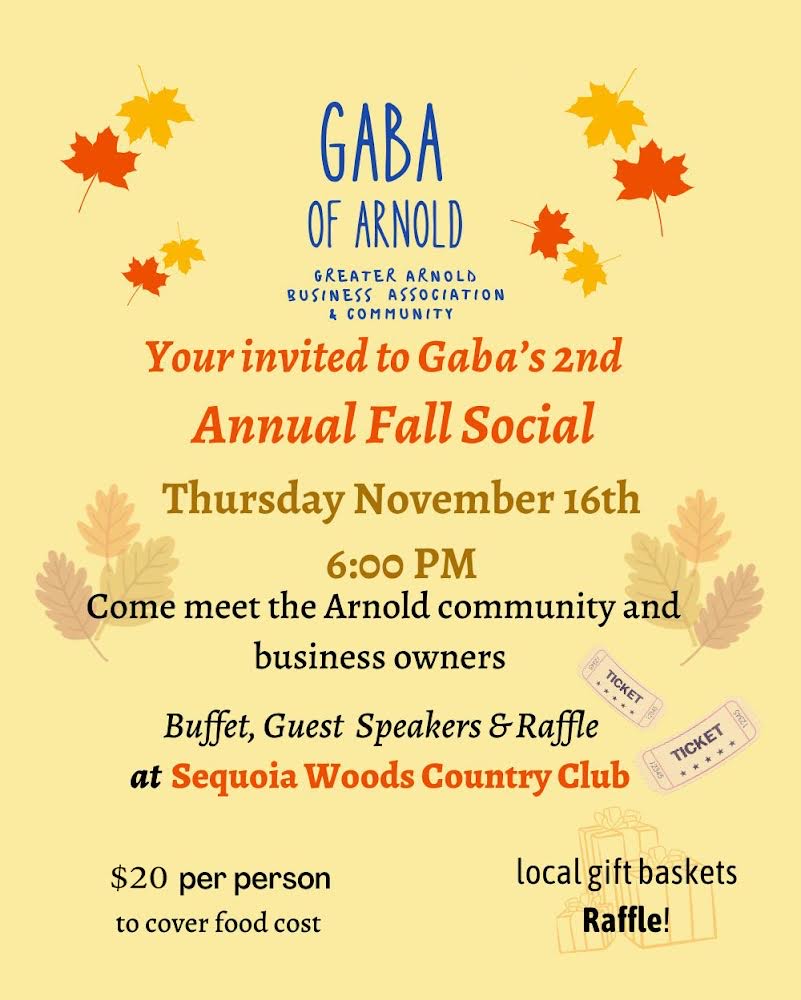 Lieutenant Greg Stark will be representing Calaveras county Sheriffs Dept. and will be talking about sex trafficking.

Bring cash to purchase some raffle tickets for our wonderful prizes in our raffle. All prizes are donated from local business. Bear Valley has donated a 4 pack of lift tickets.

You can make your reservation by sending $20 to our Gaba Venmo @G_A_B_A
https://www.venmo.com/u/G_A_B_A

or email Gabaofarnold@gmail.com to RSVP

See you there!
---
11/16/2023
Starts at 06:00 PM
---
Life & Style
Entertainment
Dining
Business
Bear Valley
Arnold
Advertising
What's Related
These might interest you as well