Coming Soon...
Thursday, Sep 21
04:00 PM
West Point Farmers Market, Every Thurs Through Oct 12th
05:00 PM
Sip, Savor and Style Fashion Show
05:00 PM
The Watering Hole 2023 Summer Concert & Brewery Schedule
06:00 PM
Wino Bingo Night at The Game Room
Friday, Sep 22
05:00 PM
Angels Camp Farmers Market
05:30 PM
Mt. Aloha Shop Rides, Every Friday at 5:30pm!
Saturday, Sep 23
All Day
The 27th Annual Ironstone Concours d' Elegance is Sept. 23rd (Last Year's Photos & Video)
All Day
Spence Ranch Has Savings for You This Saturday for Neighborhood Pet Store Day!!
All Day
The 10th Annual Seasons in the Woods Craft Fair is Sept. 23rd & 24th
03:00 PM
Jazz Cellars Live Summer Music Series
06:00 PM
The Bistro Espresso Summer Concert Series! Live Music at Taco Tuesdays & Peddlers Fair Saturdays!
07:00 PM
Saturday Night Live Music!
Sunday, Sep 24
All Day
The 10th Annual Seasons in the Woods Craft Fair is Sept. 23rd & 24th
All Day
Our Sunday Edition with Local Features, Local Specials & More Every Sunday All Day Long!
09:00 AM
The Murphys Farmers Market
Tuesday, Sep 26
06:00 PM
The Bistro Espresso Summer Concert Series! Live Music at Taco Tuesdays & Peddlers Fair Saturdays!
Wednesday, Sep 27
01:00 PM
Fellowship Wednesdays at VFW San Andreas
Thursday, Sep 28
04:00 PM
West Point Farmers Market, Every Thurs Through Oct 12th
05:00 PM
The Watering Hole 2023 Summer Concert & Brewery Schedule
06:00 PM
Wino Bingo Night at The Game Room
Friday, Sep 29
05:00 PM
Angels Camp Farmers Market
05:30 PM
Mt. Aloha Shop Rides, Every Friday at 5:30pm!
Saturday, Sep 30
07:00 AM
Mark Twain Medical Center's Fall Health+ Community Resources Fair is September 30th!
03:00 PM
Jazz Cellars Live Summer Music Series
06:00 PM
The Bistro Espresso Summer Concert Series! Live Music at Taco Tuesdays & Peddlers Fair Saturdays!
Sunday, Oct 1
All Day
Our Sunday Edition with Local Features, Local Specials & More Every Sunday All Day Long!
09:00 AM
The Murphys Farmers Market
03:00 PM
Sonora Bach Festival Announces Four Classical Music Events for Festival's 47th year.
Tuesday, Oct 3
06:00 PM
The Bistro Espresso Summer Concert Series! Live Music at Taco Tuesdays & Peddlers Fair Saturdays!
Wednesday, Oct 4
01:00 PM
Fellowship Wednesdays at VFW San Andreas
Calendar
The David Luning Band Kicks Off The Brice Station Concert Series May 27, 2023 @ 7pm
Murphys, CA...Rock n' roll-tinged Americana music that's emotionally resonant. Simple style that comes across as unadorned truth with melodies that are catchy and hummable. For more information visit: https://www.davidluning.com/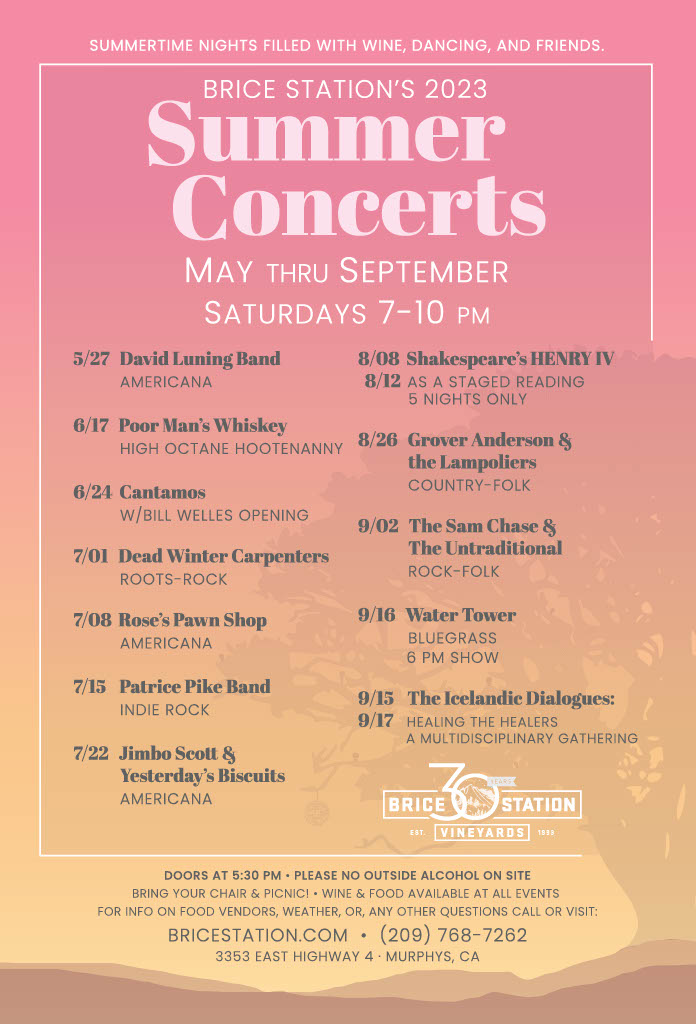 Brice Station Vineyards
3353 E Hwy 4, Murphys, CA 95247
(209) 728–9893
Open for tastings
12–6pm Fri–Sun

We are a small, family owned winery in the Sierra Nevada Foothill town of Murphys. Since 1993 we have built a reputation for producing exceptional red wine from our seven acre vineyards. We host summer concerts, theater, weddings, and other events. Come visit the tasting room Friday, Saturday and Sunday Noon until Six.
---
05/27/2023
Starts at 07:00 PM
---
Advertising
Entertainment
Life & Style
Murphys
What's Related
These might interest you as well