Coming Soon...
Thursday, Sep 21
04:00 PM
West Point Farmers Market, Every Thurs Through Oct 12th
05:00 PM
Sip, Savor and Style Fashion Show
05:00 PM
The Watering Hole 2023 Summer Concert & Brewery Schedule
06:00 PM
Wino Bingo Night at The Game Room
Friday, Sep 22
05:00 PM
Angels Camp Farmers Market
05:30 PM
Mt. Aloha Shop Rides, Every Friday at 5:30pm!
Saturday, Sep 23
All Day
The 27th Annual Ironstone Concours d' Elegance is Sept. 23rd (Last Year's Photos & Video)
All Day
Spence Ranch Has Savings for You This Saturday for Neighborhood Pet Store Day!!
All Day
The 10th Annual Seasons in the Woods Craft Fair is Sept. 23rd & 24th
03:00 PM
Jazz Cellars Live Summer Music Series
06:00 PM
The Bistro Espresso Summer Concert Series! Live Music at Taco Tuesdays & Peddlers Fair Saturdays!
07:00 PM
Saturday Night Live Music!
Sunday, Sep 24
All Day
The 10th Annual Seasons in the Woods Craft Fair is Sept. 23rd & 24th
All Day
Our Sunday Edition with Local Features, Local Specials & More Every Sunday All Day Long!
09:00 AM
The Murphys Farmers Market
Tuesday, Sep 26
06:00 PM
The Bistro Espresso Summer Concert Series! Live Music at Taco Tuesdays & Peddlers Fair Saturdays!
Wednesday, Sep 27
01:00 PM
Fellowship Wednesdays at VFW San Andreas
Thursday, Sep 28
04:00 PM
West Point Farmers Market, Every Thurs Through Oct 12th
05:00 PM
The Watering Hole 2023 Summer Concert & Brewery Schedule
06:00 PM
Wino Bingo Night at The Game Room
Friday, Sep 29
05:00 PM
Angels Camp Farmers Market
05:30 PM
Mt. Aloha Shop Rides, Every Friday at 5:30pm!
Saturday, Sep 30
07:00 AM
Mark Twain Medical Center's Fall Health+ Community Resources Fair is September 30th!
03:00 PM
Jazz Cellars Live Summer Music Series
06:00 PM
The Bistro Espresso Summer Concert Series! Live Music at Taco Tuesdays & Peddlers Fair Saturdays!
Sunday, Oct 1
All Day
Our Sunday Edition with Local Features, Local Specials & More Every Sunday All Day Long!
09:00 AM
The Murphys Farmers Market
03:00 PM
Sonora Bach Festival Announces Four Classical Music Events for Festival's 47th year.
Tuesday, Oct 3
06:00 PM
The Bistro Espresso Summer Concert Series! Live Music at Taco Tuesdays & Peddlers Fair Saturdays!
Wednesday, Oct 4
01:00 PM
Fellowship Wednesdays at VFW San Andreas
Calendar
Learn to Ski Specials at Bear Valley Adventure Company
Bear Valley, CA...Take advantage of our historic snowpack and 50% Off Adult and Youth "Learn to Ski" Packages on May 13 & 14, 2023. These packages include an all-day equipment rental, trail pass, and group lesson. Spring is one of the best times of the season to learn cross country skiing. What are you waiting for?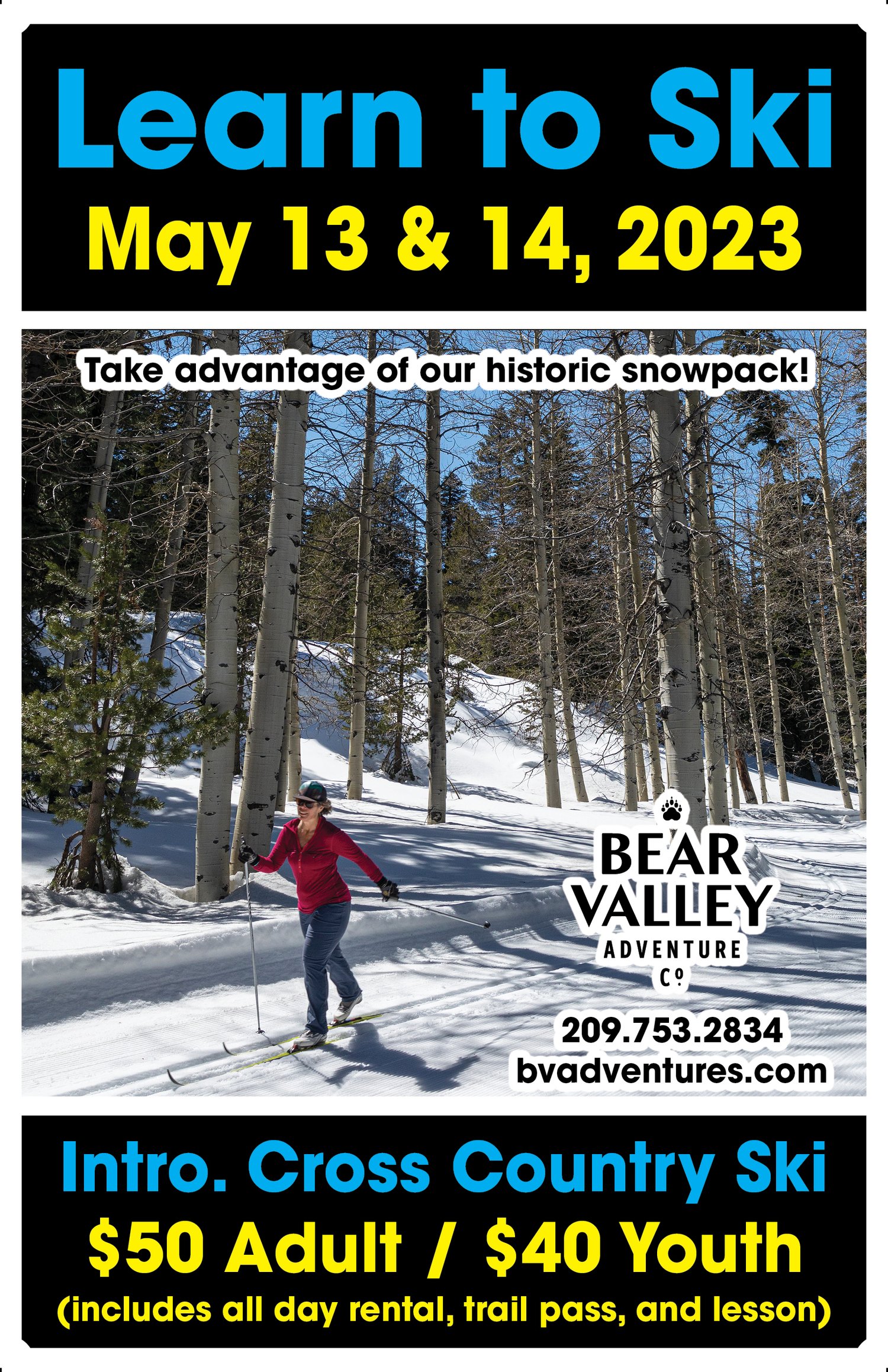 Adult Learn to Ski Package - $49
Youth Learn to Ski Package - $39 (ages 9-17)
1-hr Lessons Start Times: 9:30AM, 11AM, 1PM
Spring Schedule:
Other activities:

Snowshoeing, Sledding and Tubing

It is recommended to arrive one hour before the lesson start times. Unfortunately, no advanced reservations are available.

It's still a winter wonderland up here!
---
05/13/2023 to 05/14/2023
All Day Event
---
Sports
Shopping
Life & Style
Entertainment
Bear Valley
Advertising
What's Related
These might interest you as well