Murphys, CA...Three Days. Three New Plays! MCT Announces its 2023 New Play Festival.  Three scripts were chosen from submissions from across the country and will be given curated staged readings for your entertainment and feedback. After each reading, there will be a talkback where you can give us your feedback on the scripts.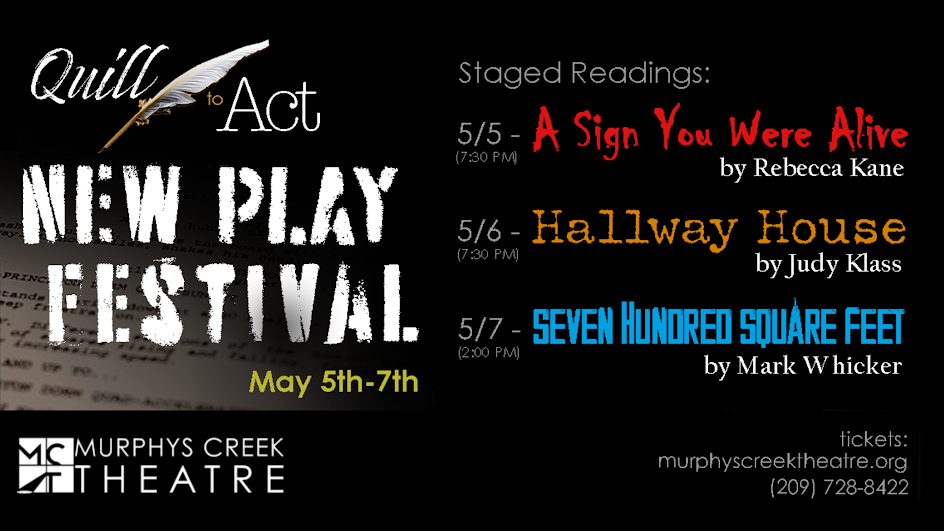 Based on your feedback, our panel will choose one of the three finalists to be produced as part of our 2024 season!
Admission to the festival readings is now Pay-What-You-Will. If you can donate something in support of the play festival, fantastic. You can follow the ticket link and contribute from there, or our concessions bar will be open for each show, and there will be a box on the bar for in-person donations. (MCT is a registered 501(c)(3) nonprofit corporation and receipts for your tax-deductible donations can be made available upon request.)
"Theatre should be available to everyone. Being a more significant part of the Murphys community is truly our greatest goal, and to make our productions more accessible to our supportive local patrons, we are removing the price for admission to our new play festival readings to encourage your feedback and select the script YOU want to see produced in our 2024 season. Come out and give us all of your opinions! (How often do you hear that?!)" - Todd Thomas, Murphys Creek Theatre Artistic Director
Come! Give us your feedback and help us select the script YOU want to see produced in our 2024 season!
SCHEDULE:
5/5 at 7:30 PM
A SIGN YOU WERE ALIVE
James desperately seeks supplies and knowledge for his daughter, Chelsea, who's hiding in her bedroom after a traumatic incident that seems to be linked to a mysterious illness, possibly a pandemic, and has turned Chelsea into a vampire.
5/6 at 7:30 PM
HALLWAY HOUSE
Michael, Dianne, and Emily lived in the same hallway at college, where they met their freshman year. Now, years later, Michael and Emily seek refuge in Dianne's huge house, which they call Hallway House. Divorce, sexual identity, and career crisis sparks clever and heated debates among this witty collective.
5/7 at 2:00 PM
SEVEN HUNDRED SQUARE FEET
James and Gloria live in a West Side apartment in New York City. Their busy professional lives are immobilized by COVID-19, and they are forced to face the empty room where their son Paul lived before his death at age 7. They also have to confront the issues in their own marriage and a society that is breaking down before them. In the end, they find a way to reset.
WHERE: Murphys Creek Theatre
ADMISSION: Pay-What-You-Will
TICKETS: murphyscreektheatre.org/quill-to-act-festival
#
ABOUT
Murphys Creek Theatre is a professional, regional theatre located in the charming and historic goldrush-era town of Murphys, California. With our year-round venue in downtown Murphys, everyone can enjoy great live theatre in Calaveras County throughout the year!
---
05/05/2023 to 05/07/2023
All Day Event