Posted by: thepinetree on 06/29/2023 09:13 AM Updated by: thepinetree on 06/29/2023 09:13 AM
Expires: 01/01/2028 12:00 AM


The Heat is On as NWS Issues Excessive Heat Warning for Lower Elevations

Arnold, CA...An Excessive Heat Warning has been issued for lower elevations from 11am Friday to 11pm on Sunday. Typically in our area you will see a 20 - 25 degree temperature difference from the high country to the Hwy 49 corridor.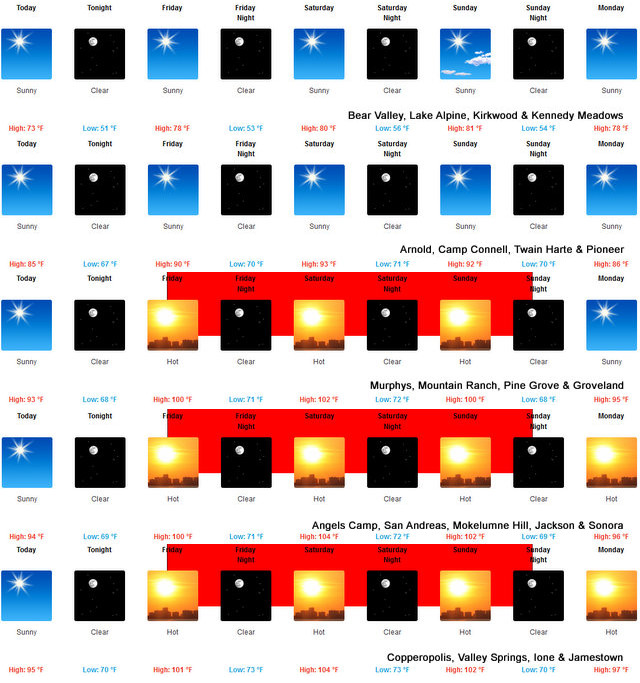 URGENT - WEATHER MESSAGE
National Weather Service Sacramento CA
1254 AM PDT Thu Jun 29 2023

CAZ015-016-019-066-067-300000-
/O.CON.KSTO.EH.W.0001.230630T1800Z-230703T0600Z/
Northern Sacramento Valley-Central Sacramento Valley-
Northern San Joaquin Valley-Northeast Foothills/Sacramento Valley-
Motherlode-
Including the cities of Redding, Red Bluff, Chico, Oroville,
Marysville/Yuba City, Stockton, Modesto, Paradise, Grass Valley,
and Jackson
1254 AM PDT Thu Jun 29 2023

...EXCESSIVE HEAT WARNING REMAINS IN EFFECT FROM 11 AM FRIDAY TO
11 PM PDT SUNDAY...

* WHAT...Dangerously hot conditions with temperatures of 100 to
110 expected.

* WHERE...Northern Sacramento Valley, Central Sacramento Valley,
Northern San Joaquin Valley, Northeast Foothills/Sacramento
Valley and Motherlode Counties. Includes communities such as
Redding, Chico, Oroville, Yuba City, Stockton, and Modesto.

* WHEN...From 11 AM Friday to 11 PM PDT Sunday.

* IMPACTS...Extreme heat will significantly increase the
potential for heat related illnesses, particularly for those
working or participating in outdoor activities.

* ADDITIONAL DETAILS...Hottest temperatures are expected
Saturday, particularly across the northern and central
Sacramento Valley. Area waterways will continue to run cold
and fast, creating dangerous conditions for those seeking
relief in rivers and lakes.

PRECAUTIONARY/PREPAREDNESS ACTIONS...

Drink plenty of fluids, stay in an air-conditioned room, stay out
of the sun, and check up on relatives and neighbors. Young
children and pets should never be left unattended in vehicles
under any circumstances.

Take extra precautions if you work or spend time outside. When
possible reschedule strenuous activities to early morning or
evening. Know the signs and symptoms of heat exhaustion and heat
stroke. Wear lightweight and loose fitting clothing when
possible. To reduce risk during outdoor work, the Occupational
Safety and Health Administration recommends scheduling frequent
rest breaks in shaded or air conditioned environments. Anyone
overcome by heat should be moved to a cool and shaded location.
Heat stroke is an emergency! Call 9 1 1.


Comments - Make a comment
The comments are owned by the poster. We are not responsible for its content. We value free speech but remember this is a public forum and we hope that people would use common sense and decency. If you see an offensive comment please email us at news@thepinetree.net
No Subject
Posted on: 2023-06-30 06:54:09   By: Anonymous
 
MY GOD you are going to put these OLD people in a Panick

[Reply ]
Re: weekend people
Posted on: 2023-06-30 07:37:18   By: Anonymous
 
With all the fans and coolers running, maybe a brown out will send the nonlocals home early.

[Reply ]



What's Related
These might interest you as well