Coming Soon...
Thursday, Sep 21
04:00 PM
West Point Farmers Market, Every Thurs Through Oct 12th
05:00 PM
Sip, Savor and Style Fashion Show
05:00 PM
The Watering Hole 2023 Summer Concert & Brewery Schedule
06:00 PM
Wino Bingo Night at The Game Room
Friday, Sep 22
05:00 PM
Angels Camp Farmers Market
05:30 PM
Mt. Aloha Shop Rides, Every Friday at 5:30pm!
Saturday, Sep 23
All Day
The 27th Annual Ironstone Concours d' Elegance is Sept. 23rd (Last Year's Photos & Video)
All Day
Spence Ranch Has Savings for You This Saturday for Neighborhood Pet Store Day!!
All Day
The 10th Annual Seasons in the Woods Craft Fair is Sept. 23rd & 24th
03:00 PM
Jazz Cellars Live Summer Music Series
06:00 PM
The Bistro Espresso Summer Concert Series! Live Music at Taco Tuesdays & Peddlers Fair Saturdays!
07:00 PM
Saturday Night Live Music!
Sunday, Sep 24
All Day
The 10th Annual Seasons in the Woods Craft Fair is Sept. 23rd & 24th
All Day
Our Sunday Edition with Local Features, Local Specials & More Every Sunday All Day Long!
09:00 AM
The Murphys Farmers Market
Tuesday, Sep 26
06:00 PM
The Bistro Espresso Summer Concert Series! Live Music at Taco Tuesdays & Peddlers Fair Saturdays!
Wednesday, Sep 27
01:00 PM
Fellowship Wednesdays at VFW San Andreas
Thursday, Sep 28
04:00 PM
West Point Farmers Market, Every Thurs Through Oct 12th
05:00 PM
The Watering Hole 2023 Summer Concert & Brewery Schedule
06:00 PM
Wino Bingo Night at The Game Room
Friday, Sep 29
05:00 PM
Angels Camp Farmers Market
05:30 PM
Mt. Aloha Shop Rides, Every Friday at 5:30pm!
Saturday, Sep 30
07:00 AM
Mark Twain Medical Center's Fall Health+ Community Resources Fair is September 30th!
03:00 PM
Jazz Cellars Live Summer Music Series
06:00 PM
The Bistro Espresso Summer Concert Series! Live Music at Taco Tuesdays & Peddlers Fair Saturdays!
Sunday, Oct 1
All Day
Our Sunday Edition with Local Features, Local Specials & More Every Sunday All Day Long!
09:00 AM
The Murphys Farmers Market
Tuesday, Oct 3
06:00 PM
The Bistro Espresso Summer Concert Series! Live Music at Taco Tuesdays & Peddlers Fair Saturdays!
Wednesday, Oct 4
01:00 PM
Fellowship Wednesdays at VFW San Andreas
Posted by: thepinetree on 05/31/2023 12:07 PM Updated by: thepinetree on 05/31/2023 12:07 PM
Expires: 01/01/2028 12:00 AM


A Bit of Wisdom from Norman Vincent Peale

New York, NY...Norman Vincent Peale May 31, 1898 – December 24, 1993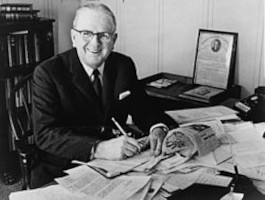 "Formulate and stamp indelibly on your mind a mental picture of yourself as succeeding. Hold this picture tenaciously. Never permit it to fade. Your mind will seek to develop the picture... Do not build up obstacles in your imagination."

"We've all heard that we have to learn from our mistakes, but I think it's more important to learn from successes. If you learn only from your mistakes, you are inclined to learn only errors."

"It is of practical value to learn to like yourself. Since you must spend so much time with yourself you might as well get some satisfaction out of the relationship."

"Every problem has in it the seeds of its own solution. If you don't have any problems, you don't get any seeds."

"When every physical and mental resources is focused, one's power to solve a problem multiplies tremendously."

"The more you lose yourself in something bigger than yourself, the more energy you will have."

"We tend to get what we expect."
Comments - Make a comment
The comments are owned by the poster. We are not responsible for its content. We value free speech but remember this is a public forum and we hope that people would use common sense and decency. If you see an offensive comment please email us at news@thepinetree.net
No Subject
Posted on: 2023-05-31 12:52:22   By: Anonymous
 

A Bit More Wisdom from Norman Vincent Peale:

🖕🏿Fuk Biden & All The Brainwashed Snowflake ❄️ Libtards🖕🏿

[Reply ]
Re:
Posted on: 2023-05-31 13:18:27   By: Anonymous
 
Biden is the greatest president since the indestrial age no president has don as much as he has because of him the USA is stronger than ever our economie is getting better everyday inflation is lower and soon are air we breath will get better because one day has cars will be gone and climate won't change
4 more years of Biden for the sake of our grankids and the future on mankind!!!!!!!

[Reply ]




Re:
Posted on: 2023-05-31 13:40:21   By: Anonymous
 
^The comment above this one was posted by a douchebag who obviously has dementia just like the dementia patient in the white house who pretends to be a president.

[Reply ]




Re:
Posted on: 2023-05-31 14:22:12   By: Anonymous
 
Another Bay Area imbecile with a drug and disease damaged brain, bringing their San Fransicko thinking here with them. Mentally ill cowards trying destroy everything and everywhere they run to.

[Reply ]




Re: positive thinking
Posted on: 2023-05-31 14:40:31   By: Anonymous
 
It sounds like these posters need to read Peale's books.

[Reply ]




Re:
Posted on: 2023-05-31 17:32:19   By: Anonymous
 
"Faced with the election of a catholic, our culture is at threat." - Norman Vincent Peale

....sorry folks, forgot that one.

[Reply ]



What's Related
These might interest you as well
Local News