Posted by: thepinetree on 11/21/2022 09:58 PM Updated by: thepinetree on 11/21/2022 10:36 PM
Expires: 11/21/2032 12:00 AM


Christmas in White Pines Laser Light Show 2022

Arnold, CA...Bring the Children, Dress Warm, bring your own chairs. Santa and Mrs. Claus will be wondering the beach and park to meet up with your children and take photos. Join us as we light up the sky with music and fun.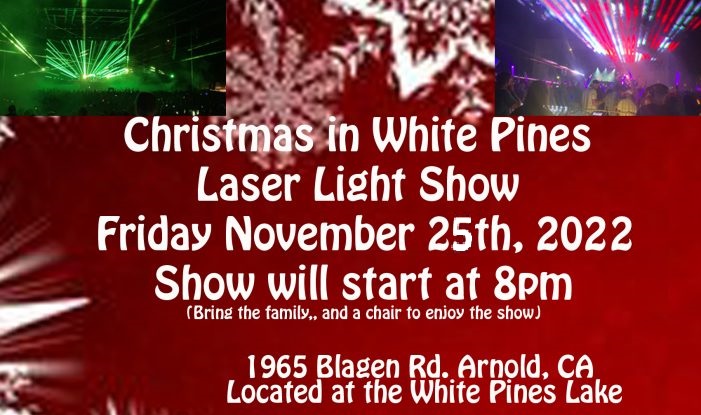 November 25th, 7pm
White Pines Community Park
Blagen Road, Arnold, CA 95223


Event occurs on 11/25/2022 from 07:00 PM to .



Comments - Make a comment
The comments are owned by the poster. We are not responsible for its content. We value free speech but remember this is a public forum and we hope that people would use common sense and decency. If you see an offensive comment please email us at news@thepinetree.net
No Subject
Posted on: 2022-11-22 05:56:29   By: Anonymous
 
PODUNK EVENT!

[Reply ]
Re:
Posted on: 2022-11-22 08:13:44   By: Anonymous
 
Seems important enough for you to comment on it.

[Reply ]




Re:
Posted on: 2022-11-22 08:39:21   By: Anonymous
 
Then move your flatlander ass back to Brentwood or any other bay area or valley sht hole you came from.

[Reply ]




Re:
Posted on: 2022-11-22 08:55:03   By: Anonymous
 
I'll be there trolling.

[Reply ]




Re:
Posted on: 2022-11-22 12:07:16   By: Anonymous
 
Your mom was a PODUNK event.


[Reply ]



No Subject
Posted on: 2022-11-23 21:22:41   By: Anonymous
 
This was professionally produced and brought in more people than ever expected. It was amazing last year and promises to be better this year.

[Reply ]
Re:
Posted on: 2022-11-23 22:43:29   By: Anonymous
 
Lol, to the go fuk yourself post above. That's the best you can come up with? Oh, that's right you are a product of the California educational system! Lol loser!

[Reply ]



What's Related
These might interest you as well
Calendar
Photo Albums
Local News
phpws Business Directory