Posted by: thepinetree on 05/17/2022 12:42 PM Updated by: thepinetree on 05/17/2022 12:45 PM
Expires: 05/17/2032 12:00 AM


Huberty Campaign to Hold Town Hall on Housing in Calaveras County & National Housing Expert to Speak

Murphys, CA...Martin Huberty, candidate for District 3 Calaveras Board of Supervisors, is organizing "The State of Calaveras Housing," to address housing, one of the biggest issues facing the county. The campaign has retained a national and statewide housing expert, Jessica Hitchcock, to moderate the event along with Huberty. She is also a resident of District 3 in Calaveras County and sits on the board of the Vallecito Union School District. The Town Hall will be held May 18, 6:00pm – 7:00pm, at the Old School House on Jones Street in Murphys.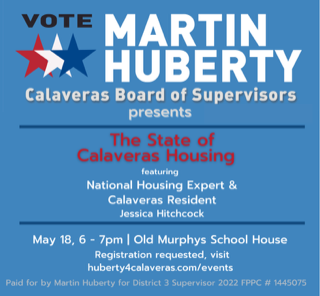 "The entire state is struggling with housing, and there are no easy answers," commented Huberty. "I wanted to speak with the experts. Lo and behold, I found one right here in District 3."

Hitchcock will present her research and data about housing in Calaveras and solutions other municipalities are considering. The audience will be able to ask questions and participate in the discussion.

The Huberty Campaign is also looking for residents to share stories of their housing challenges. "I want to hear directly from people who can't find or afford a place to rent or buy," Huberty added. "There are people living in their cars and in our parks, these people all have stories to tell." People who want to tell their stories can send an email to martin@huberty4calaveras.com

Jessica Hitchcock is the founder of Urban Math, an urban economics consulting firm that provides development advisory services to public clients throughout California and the US. Jessica leads a variety of projects spanning housing policy, strategic planning, financial feasibility, public-private real estate transactions, and economic development.

Registration for the event is requested, as seating is limited. https://www.huberty4calaveras.com/events

###

Paid Political Advertising


Event occurs on 05/18/2022 from 06:00 PM to 07:00 PM.