Coming Soon...
Thursday, Jan 28
All Day
Winter Storm Warning From 4 PM Tuesday, January 26 to 2 AM Friday, January 29, 2021
All Day
Your BBQ-Feasts Await at Bistro Espresso
Friday, Jan 29
All Day
Winter Storm Warning From 4 PM Tuesday, January 26 to 2 AM Friday, January 29, 2021
All Day
Your BBQ-Feasts Await at Bistro Espresso
Sunday, Jan 31
All Day
Your BBQ-Feasts Await at Bistro Espresso
All Day
Our Sunday Edition with Local Features, Local Specials & More Every Sunday All Day Long!
Wednesday, Feb 3
06:00 PM
Overeaters Anonymous (OA)
Thursday, Feb 4
All Day
Your BBQ-Feasts Await at Bistro Espresso
Friday, Feb 5
All Day
Your BBQ-Feasts Await at Bistro Espresso
Saturday, Feb 6
All Day
Your BBQ-Feasts Await at Bistro Espresso
Posted by: thepinetree on 12/01/2020 10:24 AM Updated by: thepinetree on 12/01/2020 10:24 AM
Expires: 01/01/2025 12:00 AM


The State's Latest COVID-19 Numbers

Sacramento, CA...The California Department of Public Health (CDPH) today announced the most recent statistics on COVID-19.  California has 1,212,968 confirmed cases to date. Numbers may not represent true day-over-day change as reporting of test results can be delayed.  There were 14,034 newly recorded confirmed cases Sunday. Numbers do not represent true day-over-day change as these results include cases from prior to yesterday.  The 7-day positivity rate is 6.5% and the 14-day positivity rate is 6.2%.  There have been 24,025,171 tests conducted in California. This represents an increase of 217,670 over the prior 24-hour reporting period.  As case numbers continue to rise in California, the total number of individuals who will have serious outcomes will also increase. There have been 19,141 COVID-19 deaths since the start of the pandemic.


Testing Turnaround Time
The testing turnaround dashboard reports how long California patients are waiting for COVID-19 test results. California has worked to reduce testing turnaround times in recent weeks to help curb the spread of the virus. During the week of November 15 to November 21, the average time patients waited for test results was 1.4 days. During this same time period, 59 percent of patients received test results in 1 day and 86 percent received them within 2 days. The testing turnaround time dashboard (PDF) is updated weekly. At this time, all four tiers in the Testing Prioritization Guidance originally dated July 14, 2020, will have equal priority for testing.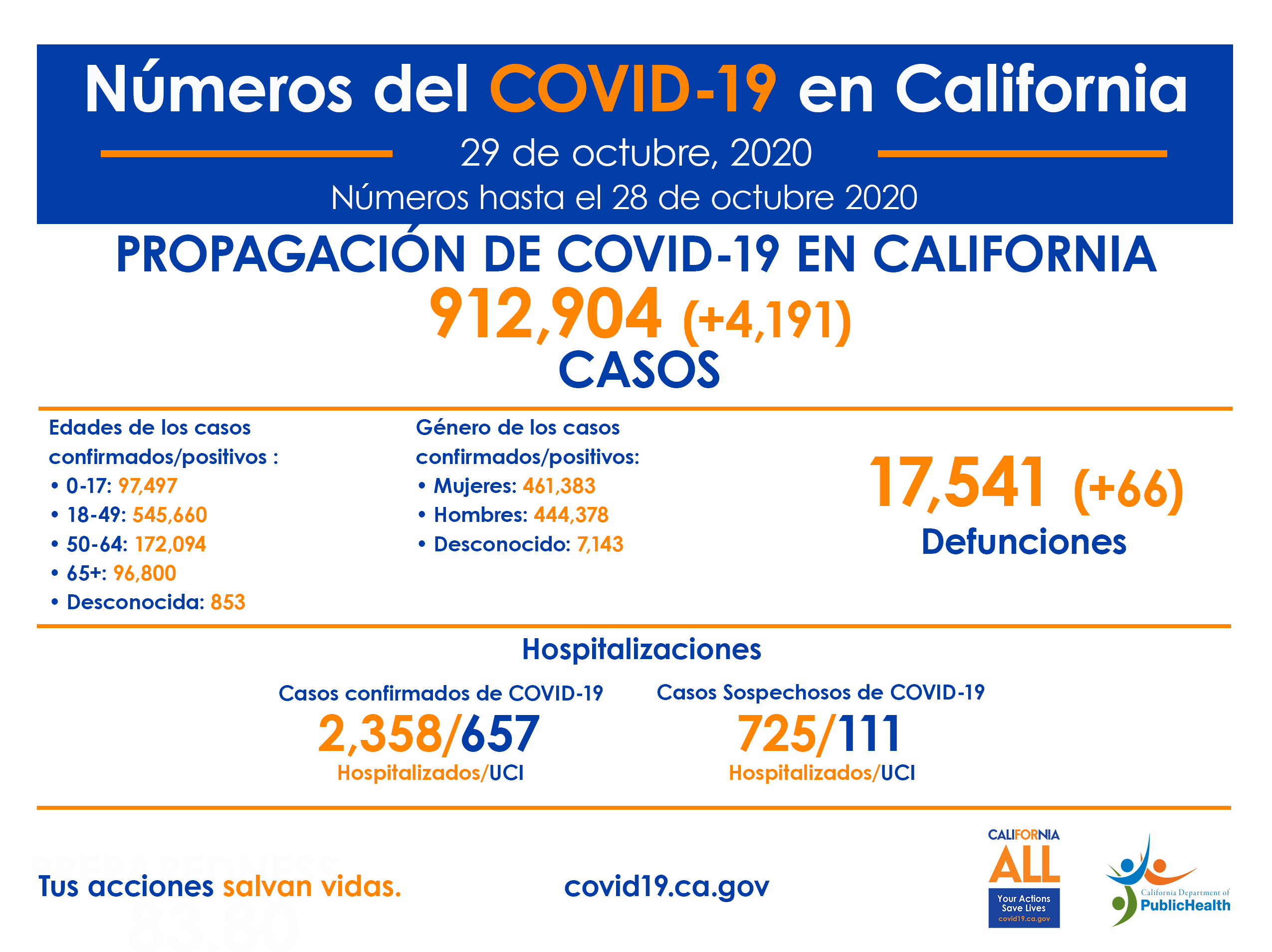 Blueprint for a Safer Economy
Governor Gavin Newsom unveiled the 
Blueprint for a Safer Economy
, a statewide plan for reducing COVID-19 and keeping Californians healthy and safe. The plan imposes risk-based criteria on tightening and loosening COVID-19 allowable activities and expands the length of time between changes to assess how any movement affects the trajectory of the disease.
Californians can go to 
covid19.ca.gov
 to find out where their county falls and what activities are allowable in each county.
Data and Tools
A wide range of data and analysis guides California's response to COVID-19. The state is making the data and its analytical tools available to researchers, scientists and the public at covid19.ca.gov.

Popular links include:

Multisystem Inflammatory Syndrome in Children (MIS-C)
Each week, the California Department of Public Health updates the number of cases of Multisystem Inflammatory Syndrome in Children (MIS-C) reported in the state. As of November 23, 136 cases of MIS-C have been reported statewide. To protect patient confidentiality in counties with fewer than 11 cases, we are not providing total counts at this time.
MIS-C is a rare inflammatory condition associated with COVID-19 that can damage multiple organ systems. MIS-C can require hospitalization and be life threatening. Parents should be aware of the signs and symptoms of MIS-C including fever that does not go away, abdominal pain, vomiting, diarrhea, neck pain, rash, bloodshot eyes or feeling tired. Contact your child's doctor immediately if your child has these symptoms. Early diagnosis and treatment of patients is critical to preventing long-term complications.
Racial Demographics – A More Complete Picture
The California Department of Public Health is committed to health equity and collecting more detailed racial and ethnic data that will provide additional understanding for determining future action. Health outcomes are affected by forces including structural racism, poverty and the disproportionate prevalence of underlying conditions such as asthma and heart disease among Latinos and African American Californians. Only by looking at the full picture can we understand how to ensure the best outcomes for all Californians.
The differences in health outcomes related to COVID-19 are most stark in COVID-19 deaths. We have nearly complete data on race and ethnicity for COVID-19 deaths, and we are seeing the following trends: Latinos, African Americans, Native Hawaiians and Pacific Islanders are dying at disproportionately higher levels. More males are dying from COVID-19 than females, in line with national trends. More information is available at 
COVID-19 Race and Ethnicity Data
.
Health Care Worker Infection Rates
As of November 29, local health departments have reported 52,729 confirmed positive cases in health care workers and 218 deaths statewide.
Your Actions Save Lives
California is experiencing the fastest increase in cases we have seen yet – faster than what we experienced at the outset of the pandemic and this summer. If COVID-19 continues to spread at this rate, it could quickly overwhelm our health care system and lead to catastrophic outcomes. Protect yourself, family, friends and community by following these prevention measures:
Staying home except for essential needs/activities and following local and state public health guidelines when visiting businesses that are open.
Following the limited Stay at Home Order that requires all non-essential work and activities to stop between 10 p.m. and 5 a.m. in counties in the purple tier. The order took effect at 10 p.m. Saturday, November 21, and will remain in effect until 5 a.m. December 21.
Staying close to home, avoiding non-essential travel, and practicing self-quarantine for 14 days after arrival if you leave the state.
Keeping gatherings small, short and outdoors and limiting them to those who live in your household.
Washing hands with soap and water for a minimum of 20 seconds.
Avoiding touching eyes, nose or mouth with unwashed hands.
Covering a cough or sneeze with your sleeve, or disposable tissue. Wash your hands afterward.
Avoiding close contact with people who are sick.
Staying away from work, school or other people if you become sick with respiratory symptoms like fever and cough.
Answer the call if a contact tracer from the CA COVID Team or your local health department tries to connect. Contact tracers will connect you to free, confidential testing and other resources, if needed.
Following guidance from public health officials.
Comments - Make a comment
The comments are owned by the poster. We are not responsible for its content. We value free speech but remember this is a public forum and we hope that people would use common sense and decency. If you see an offensive comment please email us at news@thepinetree.net
20,000 deaths
Posted on: 2020-12-01 11:15:10   By: Anonymous
 
20,000 deaths in California!!
That's almost all of Calavers county dead!!
MASKS SAVE LIVES

[Reply ]
Re: 20,000 deaths
Posted on: 2020-12-01 11:44:32   By: Anonymous
 
Flatlanders that stay home saves lives! Stop invading our area and spreading the virus!

[Reply ]




Re: 20,000 deaths
Posted on: 2020-12-01 12:05:26   By: Anonymous
 
No names of the non-elected

[Reply ]




Re: 20,000 deaths
Posted on: 2020-12-01 12:06:27   By: Anonymous
 
Natures way of culling the overpopulation living too closely together. How do we keep our foothill areas from becoming the next Bay Area?

[Reply ]




Re: 20,000 deaths
Posted on: 2020-12-01 12:27:04   By: Anonymous
 
It's actually been hitting rural areas far harder. Our population is older, and less healthy. And we have less access to quality medical care.

From the CDC:
"Long-standing systemic health and social inequities have put some rural residents at increased risk of getting COVID-19 or having severe illness. In general, rural Americans tend to have higher rates of cigarette smoking, high blood pressure, and obesity as well as less access to healthcare which can negatively affect health outcomes. They are also less likely to have health insurance."




[Reply ]




Re: 20,000 deaths
Posted on: 2020-12-01 13:12:26   By: Anonymous
 
How stupid can you be? You could see it all happening from the beginning of this virus on all the published charts. Why do you think it is just hitting us now....Think!...stop quoting things you read that pertain to other areas.

IT IS HITTING THE RURAL AREAS LAST AS THE SELFISH FLOOD OUT OF SHUT DOWN AREAS. THEY COME TO OPEN RESTAURANTS, SHOPS AND RECREATION BECAUSE THEIR AREAS ARE CLOSED!!!

Highly infected areas should be stopped physically from leaving their high infected areas, at least until their own rates are low or nonexistent. This is just going to keep happening to the smaller populated areas that stupidly remained open for the hordes of virus infected people to come to.

[Reply ]




Re: 20,000 deaths
Posted on: 2020-12-01 13:20:13   By: Anonymous
 
True, you could see it coming, but no elected or hired so called, professionals wanted to talk about it. They know the highly infected areas are traveling to open areas and they just do not care.

[Reply ]




Re: 20,000 deaths
Posted on: 2020-12-01 13:33:08   By: Anonymous
 
So no one from here ever leaves? No one works or shops out-of-county?

[Reply ]




Re: 20,000 deaths
Posted on: 2020-12-01 17:51:21   By: Anonymous
 
Yes Nitpicker I could have written a novel here and mention all the wrongs that are happening, or not happening. However I assume it is a given to the average intelligent person that some would have to travel out of the area for health care and work. But you are a different kind of intelligence aren't you?

[Reply ]




Re: 20,000 deaths
Posted on: 2020-12-01 12:18:39   By: Anonymous
 
Calaveras has 45,000 people. So almost half.

[Reply ]




Re: 20,000 deaths
Posted on: 2020-12-01 12:48:18   By: Anonymous
 
I'm hoping Sniveler is taken out...

[Reply ]




Re: /\/\ 20,000 deaths ...
Posted on: 2020-12-01 17:08:37   By: Anonymous
 
YES-MASKS SAVE LIVES!

[Reply ]



No Subject
Posted on: 2020-12-01 12:51:24   By: Anonymous
 
Sniveler please be 19,142...

[Reply ]
What's Related
These might interest you as well
Local News
Photo Albums
phpws Business Directory
RSS News Feeds
Web Pages
Calendar