10/07/2023
-
The 48th Annual Lumberjack Day is October 7th! A Fun Filled Day for The Entire Family
West Point, CA...Let's Celebrate! Join Us! The street parade is a traditional part of American life and West Point is proud to present a fun-filled day for the entire family! Lumberjack Day features a home-cooked breakfast, craft fair, logger's contest, car show, soap-box derby, youth activities, barbecue lunch, the crowning of Mr. & Miss Lumberjack (our King and Queen), live music, a horseshoe tournament and a grand parade sanctioned by the California State Horsemen's Association.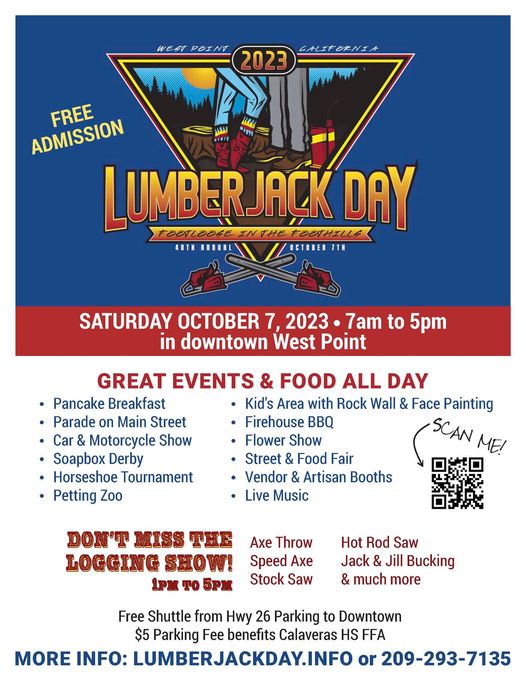 Parking lots are on Hwy 26, across from Ace, behind Dollar General, the fee is $5.00 and benefits Calaveras HS FFA Handicap parking is accessible in the from 9:30 to 10:00 in front of Blue Mt. Coalition for Youth and Families Center. A courtesy shuttle from parking lots to Pure Joy on Pine St will run all day.
7:30 am Lumberjack Breakfast
Lumberjack Day Breakfast at the American Legion Auxiliary Hall across from the Red Church.
8:30 am Soap Box Derby
Soap Box Derby on Main Street. Course begins by the Pizza Parlor.
9:00 am Car and Motorcycle Show
Car and Motorcycle show on Main Street.
9:00 am Booths Open
All Booths are open including the Covenant Church Ladies Missionary Pie Booth.
9:30 am - Lumberjack King and Queen Announcement
Lumberjack Day Queen and King announced at the Judges stand.
10:30 am King and Queen Announcement
Announce the King and Queen of Lumberjack day at the Judges stage in front of Blue Mountain Theater, Main St.
11:00 am 47th Annual CHSA, Lumberjack Day Parade
Parade commences, a Calif State Horseman's Assn. sanctioned event. Parade begins at the top of Main street and Hwy 26 continues down main and turns left on Pine St back to Hwy 26.
12:00 noon Childrens' Area Opens
(Opening time approximate - after the parade) The Children's area on Main street opens with a full day of bounce house, slide, rock climbing wall, and face painters. Admission is a wristband of $10.00.
12:00 noon Petting Zoo, Quilt Show, and other attractions open
(Opening time approximate - after the parade) Petting Zoo, Quilt Show and all Lumberjack Day activities open.
12:00 noon Live Music by Triple Threat
Live Music by TBA, at the Community Garden Stage in the shade .
1:00 pm Logging Show
The Logging show begins in the festival area. Signups are taken all morning. You may enter that day please provide your own safety equipment, goggles, gloves, etc. Overall there are more than $5000 in cash prizes awarded in 16 different categories.
1:00 pm Horseshoe Tournament
Horseshoe Tournament - over on the West side of the fire house heading towards cemetery lane. Everyone is welcome to participate.
2:00 pm Parade Award Ceremony
Awards Ceremony for all parade entries takes place at the BMCYF Community Garden Stage.
3:00 pm Raffle Award Winners Announced
Raffle Winners Announced from the Logging Show and Lions Club.
5:00 pm the 47th Lumberjack Day is officially closed.
Official end of Lumberjack Day, The logging show may still be finishing up a few competitions.
Covid Response
All COVID recommendations will be followed.
Event Transportation
Blue Mountain Transit shuttle will travel all day between the Parking lot near Dollar General down to Main and Pine St. in front of Pure Joy.