Coming Soon...
Saturday, Dec 16
All Day
Yoga - Gentle Flow
All Day
Voices of Wisdom adult 55+ writing classes
All Day
Looking Over the President's Shoulder
07:00 PM
Winter Sports History Night Honoring Mark Phillips & Ski Racing at Bear Valley is December 16th
07:00 PM
Looking Over the President's Shoulder at MCT December 1-17th
08:30 PM
Jill & The Giants will be Rocking Sequoia Woods in December
09:00 PM
Plan B This Sat at JJ's Dive Bar
Sunday, Dec 17
All Day
Yoga - Gentle Flow
All Day
Voices of Wisdom adult 55+ writing classes
04:00 PM
Symphony of the Sierra to Perform at Columbia College on December 17th
Until 02:00 PM
Looking Over the President's Shoulder
07:00 PM
Looking Over the President's Shoulder at MCT December 1-17th
Monday, Dec 18
All Day
Yoga - Gentle Flow
All Day
Voices of Wisdom adult 55+ writing classes
Tuesday, Dec 19
All Day
Yoga - Gentle Flow
01:30 PM
Santa is Coming to the Arnold Library December 19th
Until 04:00 PM
Voices of Wisdom adult 55+ writing classes
Wednesday, Dec 20
All Day
Overeaters Anonymous meeting
All Day
Yoga - Gentle Flow
Thursday, Dec 21
All Day
Yoga - Gentle Flow
Friday, Dec 22
All Day
Yoga - Gentle Flow
Saturday, Dec 23
All Day
Yoga - Gentle Flow
Sunday, Dec 24
All Day
Yoga - Gentle Flow
07:00 PM
Christmas Eve Candlelight Worship
Monday, Dec 25
All Day
Yoga - Gentle Flow
Tuesday, Dec 26
All Day
Yoga - Gentle Flow
Wednesday, Dec 27
All Day
Overeaters Anonymous meeting
All Day
Yoga - Gentle Flow
Thursday, Dec 28
All Day
Yoga - Gentle Flow
Friday, Dec 29
Until 12:00 PM
Yoga - Gentle Flow
Local Sports
---
Announcements
Winter Sports History Night Honoring Mark Phillips & Ski Racing at Bear Valley is December 16th
Posted by: thepinetree on 12/14/2017 09:23 AM
Bear Valley, CA...The Ebbetts Pass Historical Association (EPHA) hosts the annual Winter Sports History Night at the Bear Valley Lodge on December 16, 7pm. Mark Phillips will be given the Peter Brinkman Award for outstanding contributions to winter sports in the Ebbetts Pass area. A retrospective of the history of ski racing in the area will be given. From Snowshoe Thompson to the junior race teams to Nastar to star graduates like Kyle Rasmussen, Eric Arvidsson, Holly Beatty, Claude and Nancy Fiddler – both downhill and cross country racing will be honored.


Read More
The IOC Suspends Russian National Olympic Committee From Competing in 2018 Pyeongchang Olympics
Posted by: thepinetree on 12/05/2017 12:16 PM
Switzerland....The conclusions of the Schmid Report, on both factual and legal aspects, confirmed "the systemic manipulation of the anti-doping rules and system in Russia, through the Disappearing Positive Methodology and during the Olympic Winter Games Sochi 2014, as well as the various levels of administrative, legal and contractual responsibility, resulting from the failure to respect the respective obligations of the various entities involved".




`
Read More | 5 Comments
Calaveras & Summerville's Campaigns End. Sonora Rolls On With Win Over Highlands,
Posted by: thepinetree on 11/13/2017 12:49 PM
San Andreas, CA...In the Mother Lode League Football Playoff action over the weekend Calaveras and Summerville's seasons ended with Calaveras dropping their game against Ripon 28 -13 and Summerville ended up being rolled by Hilmar 47 -3. Contrats to all the local teams for a great season and Sonora will take on Colfax on November 17th.


| 0 Comments
Sign Up For The Youth Trap Shooting Teams At Angels Gun Club
Posted by: thepinetree on 11/13/2017 07:44 PM
Angels Camp, CA...Sign Up For The Youth Trap Shooting Teams At Angels Gun Club


Student Athletes Sign Collegiate Letters of Intent at Bret Harte
Posted by: thepinetree on 11/09/2017 04:23 PM
Angels Camp, CA...Three student athletes signed their official letter of intent to pursue their athletic and academic interests next year at the collegiate level at a ceremony held at Bret Harte Union High School on November 9, 2017. Senior Katie Juarez signed with Valley City State University in Valley City, North Dakota where she will be a two sport athlete in volleyball and track. Signing with California State University, Stanislaus in Turlock is Connor Landis who will compete in cross country. Rounding out the National Letters of Intent signees is Kaela Dishion, who is headed to St. Mary's College in Moraga where she will join their cross country program. "All three of these students have worked very hard over the last 3 years and it has paid off," said Jerry Rucker, athletic director at Bret Harte.



Read More
Pick Up Your Bret Harte Little League Packets at School Offices
Posted by: thepinetree on 11/08/2017 01:21 PM
Angels Camp, CA...Get ready for the 2018 Little League Season and pick up your Bret Harte Little League Packets at School Offices.


Angels Camp's TJ Dillashaw Regains Title as He Takes Garbrandt's Belt in UFC 217
Posted by: thepinetree on 11/04/2017 10:28 PM
New York, NY...(UFC.com) After nearly two years in the wilderness as he attempted to regain his UFC bantamweight title, 
TJ Dillashaw
 finally got his chance Saturday against a former teammate in 
Cody Garbrandt
 and made the most of it, stopping the previously unbeaten Ohio native in the second round of their UFC 217 co-main event at Madison Square Garden.  The win was Dillashaw's third since he lost the belt to 
Dominick Cruz
, and he expects this time his reign will be even longer than the first one from 2014 to 2016.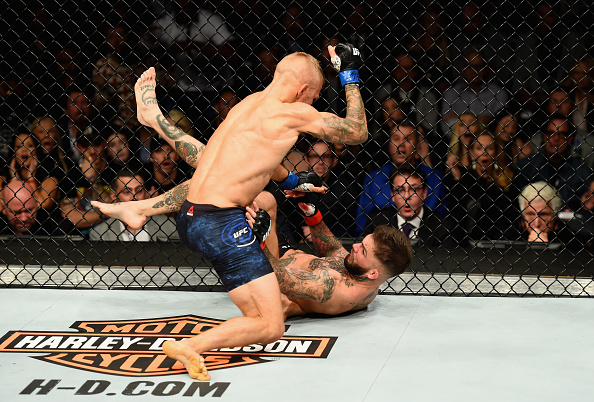 Read More | 18 Comments
A Great MACTA Tournament Helped Raise Funds to Grow Tennis in the Area
Posted by: thepinetree on 10/30/2017 03:21 PM
Murphys, CA...Tennis players from throughout the Motherlode took part in the Murphys Area Community Tennis Association (MACTA) Mixed Doubles Tournament held Saturday, October 14th at Bret Harte High School, in Angels Camp, and MACTA's Wintercreek Facility located behind the historic schoolhouse on Jones St. in Murphys. A round-robin tournament, preliminary matches were played at both locations. The finals were in Murphys. The event was a fundraiser to help MACTA maintain the Wintercreek Facility, to sponsor youth and adult clinics, and to continue to promote tennis in Murphys and the surrounding communities.


Read More
A Triathlon Where You Avoid the Swim The 21st Annual Salmon Duathlon and 5K Run
Posted by: thepinetree on 10/29/2017 09:59 PM
Knights Ferry, CA...On Your Mark Events presents its 21st Annual Salmon Duathlon and 5K Run on Saturday, November 4, 8:45 a.m., in the historic hamlet (and it's surroundings) of Knights Ferry, California. This fall classic has become a very popular event for serious and weekend athletes throughout California. The Salmon Duathlon course distances consist, in the order of, a 5K Run (two loops), 30K Bike, and 2.5K Run (one loop). The Duathlon and the 5K run courses are on paved surfaces that run through rolling hills and features running along the Stanislaus River, through the Knights Ferry covered bridge (the longest covered bridge west of the Mississippi), and into and around Knights Ferry – all of this, plus the beautiful fall foliage in full season!


Read More
The Bret Harte Bullfrogs Edge Linden 40-38 in a Motherlode League Football Match up
Posted by: thepinetree on 10/28/2017 01:13 PM
Linden, CA...On Friday night the Bullfrogs traveled to Linden to take on the Lions in a divisional Mother Lode League battle. The Frogs had enough spring in their legs to hop over Linden 40 - 38. Video now enclosed...

Read More | 7 Comments