Coming Soon...
Friday, May 27
06:00 PM
Cooking Classes Return to Marisolio
07:00 PM
Boeing Boeing at the Metropolitan Through June 19th
Saturday, May 28
08:00 AM
Greenhorn Creek Annual Community Garage Sale
09:00 AM
MEGA Yard & Bake Sale for Ukraine Fundraiser!
07:00 PM
Mario Flores Latin Ensemble Kicks Off The Brice Station
07:00 PM
Boeing Boeing at the Metropolitan Through June 19th
Sunday, May 29
All Day
Our Sunday Edition with Local Features, Local Specials & More Every Sunday All Day Long!
02:00 PM
Boeing Boeing at the Metropolitan Through June 19th
Tuesday, May 31
05:00 PM
VFW Post 2600 Dinner
Friday, Jun 3
07:00 PM
Boeing Boeing at the Metropolitan Through June 19th
Saturday, Jun 4
07:00 PM
Boeing Boeing at the Metropolitan Through June 19th
Sunday, Jun 5
All Day
Our Sunday Edition with Local Features, Local Specials & More Every Sunday All Day Long!
02:00 PM
Boeing Boeing at the Metropolitan Through June 19th
Tuesday, Jun 7
All Day
Election Workers Needed for the June 7 Statewide Primary Election
Amador County
News and Information from Amador County


---
Calendar
10/02/2021
-
Rita Hosking Trio at the Sutter Creek Theatre
Doors at 6:00, open seating, beer and wine available. $19 advance / $22 day of show.
Rita has just released her latest album "Live From Lockdown."
Rita Hosking sings of forest fires, culture clash, dishes, rivers, black holes and hope. An award-winning and prolific songwriter characterized as "here and now" by The Observer, her stories, songs and soul-stirring, country-folk voice are partnered with longtime collaborator and multi-instrumentalist Sean Feder on dobro, banjo and guitar. Together, they deliver what Acoustic Magazine calls "timeless, unhurried elegance."
Rita's style of country-folk has been lauded for story and sense of place, and her performances praised with capturing the audience. "This California girl comes by her mountain music sensibility with true authenticity, with original songs deeply rooted in her family's frontier experience," (Dan Ruby, FestivalPreview.com) and her fans call her "the real deal." A descendant of Cornish miners who sang in the mines, Rita grew up with deep regard for folk music and the power of the voice.
The music she produces today is an amalgamation of her university studies, teaching experience, motherhood, and the humanity that has moved her since her childhood in the hard-hitting mountains of Northeastern California. "She burns with a controlled intensity" (Lonesome Highway.)
Sean Feder plays dobro, banjo, various guitars, percussion, and sings with Rita as her primary accompanist. His three decades of music performance have been eclectic with a strong penchant towards everything rooted in rhythm. His music career includes collaborative performance and recording projects with several notable rhythmic and melodic masters, such as Arthur Hull (Village Music Circles), Hershel Yatovitz (of Chris Isaak), and Joe Craven. Sean ably serves the groove and melody in order to reveal and kindle the spirit of the music.
The award-winning historic Sutter Creek Theatre is an intimate 215 seat former silent film theatre with superb sound. Voted Best Indie Theatre multiple times (KCRA A-List).
10/09/2021
-
Tony Lindsay's Soul Soldiers at the Sutter Creek Theatre
Doors 6 pm show 7 pm open seating, beer and wine available.
This will be a fabulous evening of soul and R&B hits of Marvin Gaye, Bill Withers, Donny Hathaway, Lou Rawls, Sam Cooke, Aretha Franklin, Nancy Wilson, and Etta James!
After 25 years as the lead vocalist for Santana, Tony Lindsay has garnered 11 Grammy awards, traveled on several world tours and recorded on eight CDs.
Vocalist Fred Ross was born and raised in San Francisco has been playing in the Bay Area for 35 or so years with some of the best local Bands in the Bay, like Tower of Power! He has appeared at the theatre in Soul 4 the Season as well as for this show. He has recorded with Aretha Franklin, Boz Scaggs, Narada Michael Walden, PeeWee Eills, Fred Wesley and many more.
Janice Maxie Reid is a world class vocalist and keyboardist from the San Francisco Bay Area. Her musical delivery is a captivating fusion of jazz, blues, gospel and soul. Her distinctive four-octave voice range, fierce keyboard skills and engaging stage presence make her a unique "one woman band." She nearly stole the show last year with her renditions of Aretha Franklin hits!
Rounding out the line up is Allen Leong on keyboards and vocals, David Jones on bass, David Stuhl on guitar, and Deszon Claibourne on drums.
This was a killer show last time that nearly sold out, the vocals alone are amazing, and the musicianship is excellent.
The award-winning historic Sutter Creek Theatre is an intimate 215 seat former silent film theatre with superb sound. Voted Best Indie Theatre multiple times (KCRA A-List).
10/16/2021
-
Drew Harrison "In the Spirit of Lennon"
Doors 6 pm show 7 pm open seating, beer and wine available.
Tickets and video at
Click Text Here
Singer-songwriter Drew Harrison is one of those rare recording artists with the ability to translate life into song. His passionate, honest, and intense style resonates in the vein of Bono, Ritchie Havens and John Lennon.
In the Spirit of Lennon is Drew's tribute to John Lennon, and interpretation of his music. He goes beyond just sounding like him, but captures the intensity that Lennon brought to the Beatles music as well as his own.
He leads a very successful, critically acclaimed band, The Sun Kings,in the San Francisco Bay Area and currently performs over 100 shows a year both solo and with his band. Drew's solo performances and his 'In the Spirit of Lennon' shows have yielded much praise.
As a solo artist he has performed in Europe, South America, and in the States he's been invited to open for such artists as Richard Thompson, Lyle Lovett, and Steve Miller to name a few. Drew's abilities as a multi talented performer have earned him fans throughout the world and his critically acclaimed solo release, Go it Alone, has enjoyed robust success.
Drew also leads The Plastic Fauxno Band, and 9-piece tribute to John Lennon's solo work. The band's concert, 'Love Is the Answer –The Concert for John Lennon' is a two and a half hour show presenting the concert John might have performed had he toured in 1982. It feature ssongs from his entire solo career, respectfully performed by veteran musicians from bands like The Doobie Brothers, The Rubinoos, Todd Rundgren Band and more.
Somewhere among all of this Drew has found time for stage, TV, film, and completing a degree at UC Berkeley,adhering to a simple philosophy of living life fully, and giving back when one can.
The award-winning historic Sutter Creek Theatre is an intimate 215 seat former silent film theatre with superb sound. Voted Best Indie Theatre multiple times (KCRA A-List).
05/11/2022
-
Glass Doctor of the Gold Country Chamber Mixer on May 11th
Martell, CA...You're Invited! Glass Doctor of the Gold Country is hosting the Amador County Chamber of Commerce Mixer at their new 9,000 square foot location along with AirServ of the Gold Country and Jamba Juice on Wednesday, May 11th from 5:30 p.m. to 7:30 p.m.
The plans are in place to have one of the biggest mixers in the Mother Lode celebrating Mark Borchin's 35th year as a business owner along with some incredible friends and other businesses! Mark was once the Calaveras Chambers Past President and is invested in Calaveras just as much as Amador.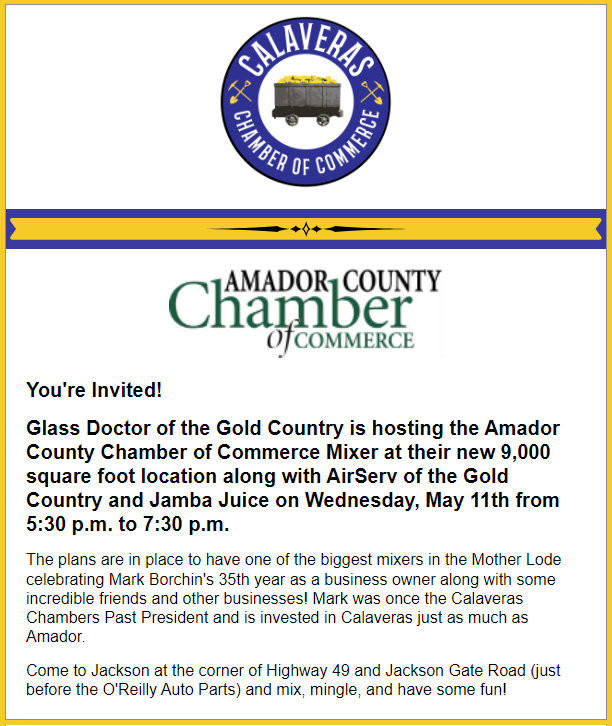 Come to Jackson at the corner of Highway 49 and Jackson Gate Road (just before the O'Reilly Auto Parts) and mix, mingle, and have some fun!
04/02/2022
-
Learn to Fly Fish in April with Amador Flyfishers
Jackson, CA...Why Attend? o Best way to start Fly Fishing! Proven teaching method! Five star reviews! Experienced instructors! What you will learn: How fly fishing is different and why. Importance of insects and aquatic animals as food. Overview of fly fishing equipment and how to use it o Where to go fishing, and how to find the fish. Fly fishing strategies, tactics and techniques. Resources to help you get a fast start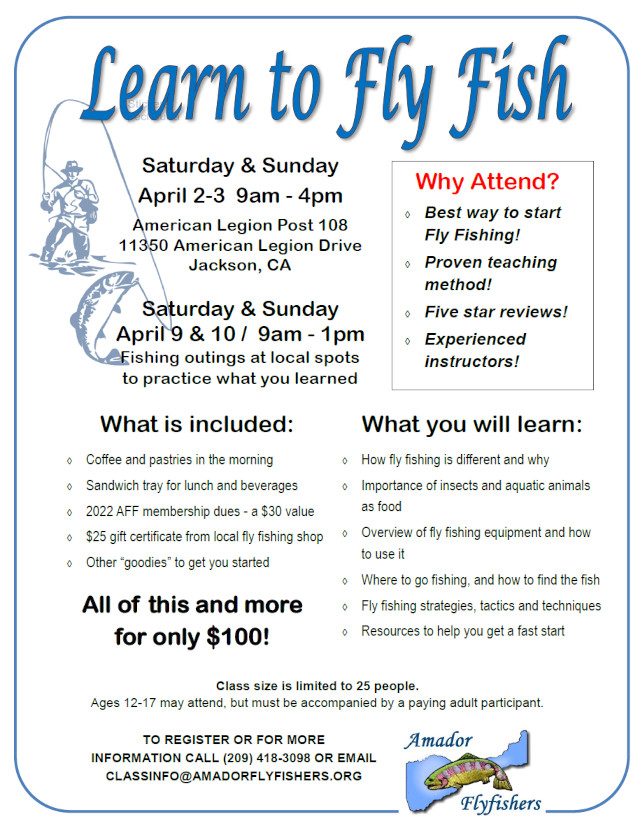 Saturday & Sunday April 2-3 9am - 4pm American Legion Post 108 11350 American Legion Drive Jackson, CA
Saturday & Sunday April 9 & 10 / 9am - 1pm Fishing outings at local spots to practice what you learned
What is included:
Coffee and pastries in the morning o Sandwich tray for lunch and beverages o 2022 AFF membership dues - a $30 value o $25 gift certificate from local fly fishing shop o Other "goodies" to get you started
All of this and more for only $100!
Class size is limited to 25 people. Ages 12-17 may attend, but must be accompanied by a paying adult participant.
TO REGISTER OR FOR MORE INFORMATION CALL (209) 418-3098 OR EMAIL
CLASSINFO@AMADORFLYFISHERS.ORG
04/01/2022
-
Baskerville, A Sherlock Holmes Mystery at Baker Street West
Jackson, CA...Get your deerstalker cap on ~ the play's afoot! Comedic genius, Ken Ludwig, transforms Arthur Conan Doyle's classic, The Hound of the Baskervilles, into a murderously funny adventure! Watch as our intrepid investigators try to escape a dizzying web of clues, silly accents, disguises, and deceit as five actors deftly portray more than forty characters!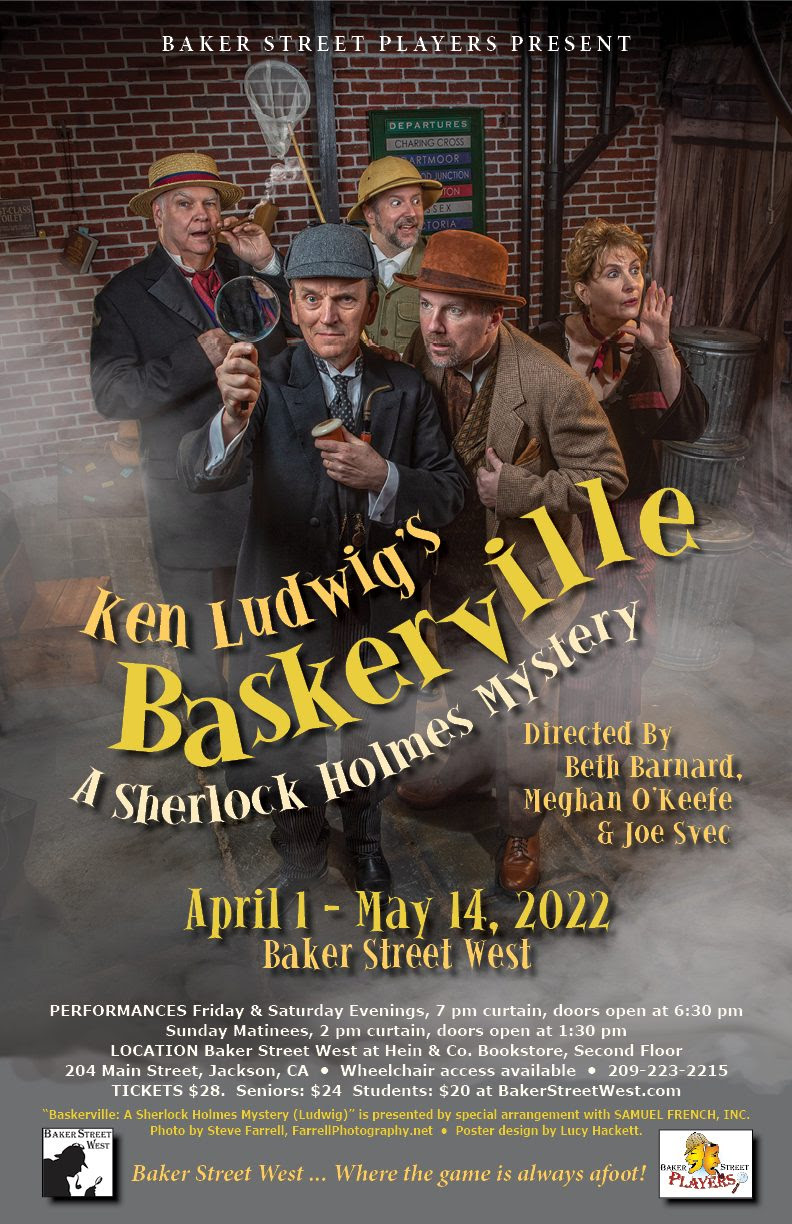 Friday & Saturday at 7:00pm (doors open at 6:30pm), Sundays at 2:00pm (doors open at 1:30pm), Tickets $28, Seniors $24, Students $20
Click 
here
 for tickets
Baker Street West
204 Main Street, Jackson, CA
03/17/2022
-
St Patricks Day BINGO Tonight at 6!
Amador County, CA...St Paddy's Day BINGO. Tonight at 6:00 pm at the Fiddletown Community Center! Win lucky cash. Proceeds benefit Operation Care Amador County!! Doors open at 5:30 pm. There will be corned beef sandwiches, chips, food and beverages for purchase.
Sponsored by Amador County Women's Network
For more information call 530-503-7507
03/19/2022
-
Dandelion Days Street Fair in Downtown Jackson!
Jackson, CA....Downtown Jackson will overflow on Dandelion Days with antiques and crafts vendors, live music, a pancake breakfast, kids' carnival and food booths, Saturday and Sunday, March 19 – 20, 2022, 8 am – 5 pm, rain or shine.
Live music stages, sponsored by the National Hotel and Jackson Rancheria Casino Resort, will be in Petkovich Park and in the Logan's Alley Beer & Wine Garden (by the creek next to the National Hotel). Music performances for all ages both days include Gunpowder & Lace, Summer of Love, Gotcha Covered, She Calls Him Wilson, Amador Sons, Black Irish Band, Violin on Fire, and the Blowbacks (formerly Blow Daddy).
The Lions Club will hold a Pancake Breakfast, starting at 7 am both mornings at the Jackson Civic Center, 33 Broadway. The full breakfast is only $8/person, kids 12 & under, $5. Lots of fun "festival food" will be available throughout the event.
Free parking with free shuttle to Main Street is available at the Amador County Administration Building (810 Court Street, Hwy 49 & Broadway, and the Sutter Hill Transit Center (115 Valley View Way, Sutter Creek). Free shuttle will be provided by Amador Transit buses. Paid parking will be available at Grocery Outlet on Hwy 49, a fund raiser for 4-H clubs (no overnight parking there).
People attending the event are encouraged to bring used eyeglasses and hearing aids to donate to the Lions Club and can also bring other items that support charitable causes such as used printer cartridges and pull tabs. The donation table will be near the Lions Club Trailer.
Source = VisitAmador
04/02/2022
-
Learn To Fly Fish With The Amador Fly Fishers!
Jackson, CA...Come out and learn to fly fish with the Amador Fly Fishers!
03/26/2022
-
Don't miss the Amador Arts Student Art Showcase March 26th!
Jackson, CA...The Amador Arts Student Art Show is on Saturday, March 26th from 2 - 4 pm.