Calendar
Water Tower at Brice Station Vineyards on September 16! Don't Miss It!!
Murphys, CA...Based in Los Angeles, this old-timey punk rock revivalist band goes by the name of Water Tower. They released their debut album "Fly Around" on March 27, 2020. This is the sixth album for founder Kenny Feinstein, but the first since kicking the bucket (the band was formally Water Tower Bucket Boys). The album is a ten-track collection of songs rooted in bluegrass and folk, indie rock and a dash of electronic landscaping. This album represents a transition for Feinstein and the re-birth of the band in it's neighborhood of Echo Park in Los Angeles. The new album manages to blend psychedelic and punk influences weaved into their traditional love of Bluegrass and Americana instruments, creating their mixed bag of branded music. For more information, visit their website at: https://www.watertowerband.com/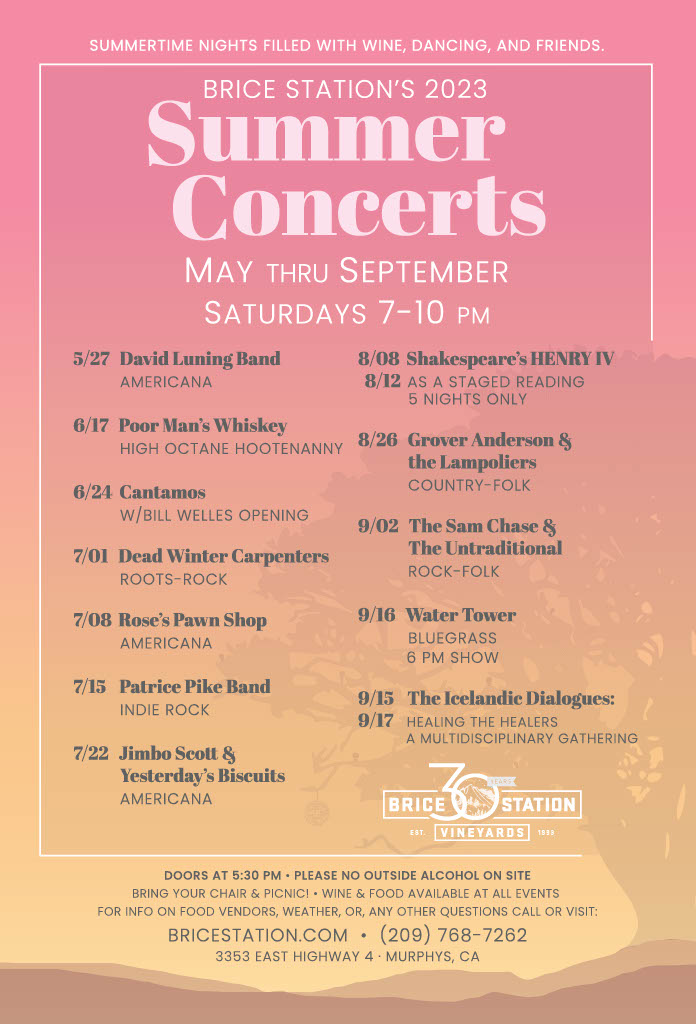 Water Tower - September 16, 2023 @ 7pm
BRICE STATION VINEYARDS
Regular price
$25.00

Brice Station Vineyards
We are a small, family owned winery in the Sierra Nevada Foothill town of Murphys. Since 1993 we have built a reputation for producing exceptional red wine from our seven acre vineyards. We host summer concerts, theater, weddings, and other events.

Now taking online orders! See our wine list to buy online.

Event occurs on 08/26/2023 from 07:00 PM to .
---
09/16/2023
Starts at 07:00 PM
---
Murphys
Life & Style
Entertainment
What's Related
These might interest you as well
Local News
Calendar
phpws Business Directory
Photo Albums