Coming Soon...
Wednesday, Dec 6
01:00 PM
Fellowship Wednesdays at VFW San Andreas
Friday, Dec 8
All Day
Farm Stand & Bakery Every Friday & Saturday at Outer Aisle on Hwy 4
Saturday, Dec 9
All Day
Farm Stand & Bakery Every Friday & Saturday at Outer Aisle on Hwy 4
04:00 PM
2nd Saturday Paint & Sip: Winter Jay with Painting in Harmony at Above the Rush Wines
07:00 PM
Saturday Night Live Music!
Sunday, Dec 10
All Day
Our Sunday Edition with Local Features, Local Specials & More Every Sunday All Day Long!
03:00 PM
Petroglyphe Gallery Holiday Open House
Wednesday, Dec 13
01:00 PM
Fellowship Wednesdays at VFW San Andreas
Thursday, Dec 14
07:00 PM
Studio 4 Dance Theater Presents "The Holiday Showcase 2023" at the Bret Harte Theater
Friday, Dec 15
07:00 PM
Studio 4 Dance Theater Presents "The Holiday Showcase 2023" at the Bret Harte Theater
Saturday, Dec 16
All Day
Farm Stand & Bakery Every Friday & Saturday at Outer Aisle on Hwy 4
07:00 PM
Saturday Night Live Music!
Sunday, Dec 17
07:00 PM
Studio 4 Dance Theater Presents "The Holiday Showcase 2023" at the Bret Harte Theater
Calendar
Summit Crews Look to Begin Ignitions on South Fork Burn Units Near Sugar Pine
Sonora, CA...Looking to expand their prescribed fire goals for the spring season, fire managers with the Summit/Mi-Wok Ranger District will look to burn more than 300 acres in the South Fork area, approximately one mile northeast of the town of Sugar Pine.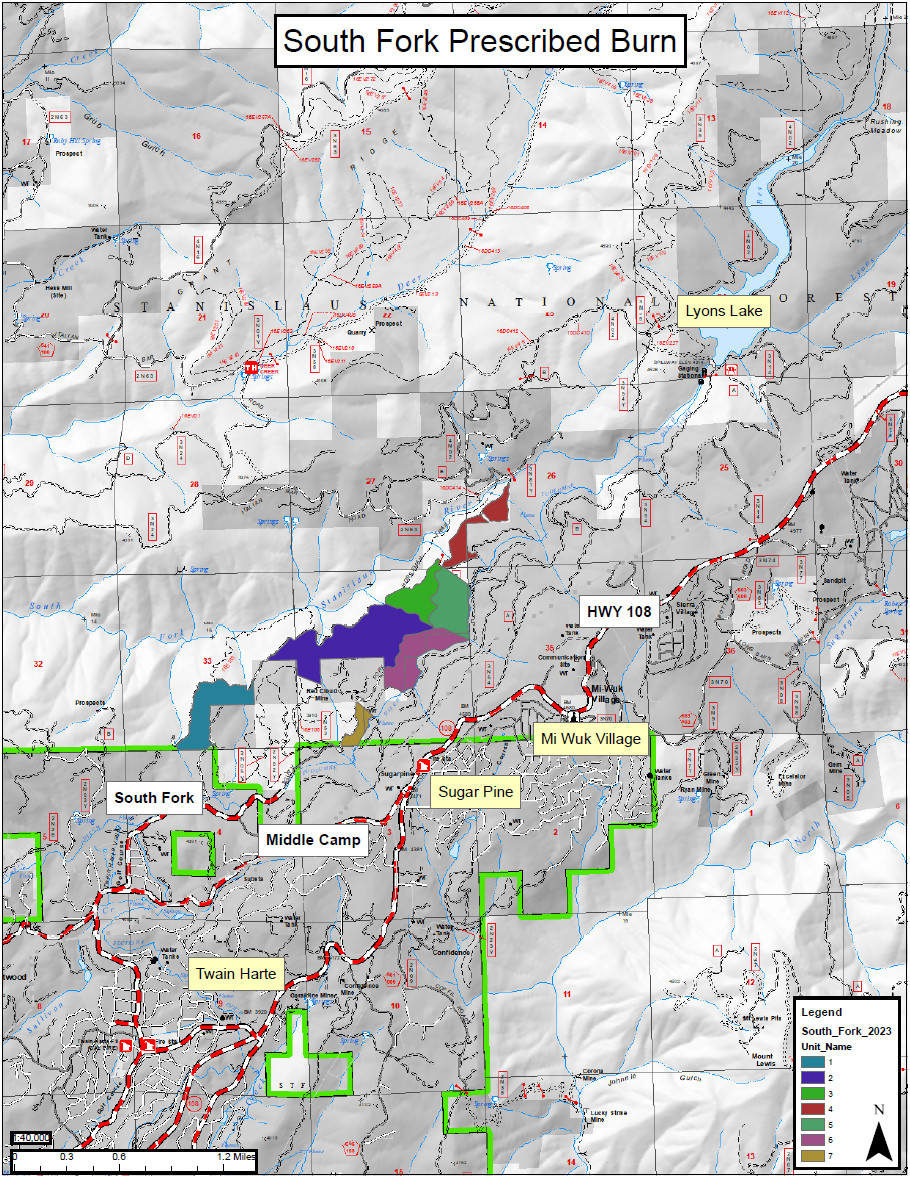 Assuming weather conditions are favorable, crew will begin ignitions June 19 and will continue operations as long as possible to complete the projected burn units.

The continued work is part of the U.S. Forest Service's 10-year Wildfire Crisis Strategy of which the Stanislaus National Forest has been designated as one of the initial landscapes to receive additional funding and priority resource considerations to treat more than 305,000 acres along the Highway 108 corridor over the next ten years. Currently there are nearly 600 personnel assigned to the operation.

With the prescribed burn, fire professional will reduce the buildup of flammable forest fuels, both ground fuels and ladder fuels; reduce the threat of uncontrolled, large and damaging fires; treat activity generated fuels; improve protection for life, property, and resources.

Prescribed burning is an effective, cost-efficient method of reducing flammable forest fuels, improving firefighting capabilities, and reducing the impacts of large, uncontrolled damaging wildland fires.

Smoke may be visible from Hwy. 108. Fire managers are working closely with local air districts and the California Air Resources Board to Mitigate the effects of smoke on the public. Please do not report as a wildland fire. Thank you for your cooperation!
---
06/19/2023
All Day Event
---
Traffic & Fire
Tuolumne County
What's Related
These might interest you as well
Local News
Calendar
phpws Business Directory
Photo Albums