Coming Soon...
Thursday, Sep 21
04:00 PM
West Point Farmers Market, Every Thurs Through Oct 12th
05:00 PM
Sip, Savor and Style Fashion Show
05:00 PM
The Watering Hole 2023 Summer Concert & Brewery Schedule
06:00 PM
Wino Bingo Night at The Game Room
Friday, Sep 22
05:00 PM
Angels Camp Farmers Market
05:30 PM
Mt. Aloha Shop Rides, Every Friday at 5:30pm!
Saturday, Sep 23
All Day
The 27th Annual Ironstone Concours d' Elegance is Sept. 23rd (Last Year's Photos & Video)
All Day
Spence Ranch Has Savings for You This Saturday for Neighborhood Pet Store Day!!
All Day
The 10th Annual Seasons in the Woods Craft Fair is Sept. 23rd & 24th
03:00 PM
Jazz Cellars Live Summer Music Series
06:00 PM
The Bistro Espresso Summer Concert Series! Live Music at Taco Tuesdays & Peddlers Fair Saturdays!
07:00 PM
Saturday Night Live Music!
Sunday, Sep 24
All Day
The 10th Annual Seasons in the Woods Craft Fair is Sept. 23rd & 24th
All Day
Our Sunday Edition with Local Features, Local Specials & More Every Sunday All Day Long!
09:00 AM
The Murphys Farmers Market
Tuesday, Sep 26
06:00 PM
The Bistro Espresso Summer Concert Series! Live Music at Taco Tuesdays & Peddlers Fair Saturdays!
Wednesday, Sep 27
01:00 PM
Fellowship Wednesdays at VFW San Andreas
Thursday, Sep 28
04:00 PM
West Point Farmers Market, Every Thurs Through Oct 12th
05:00 PM
The Watering Hole 2023 Summer Concert & Brewery Schedule
06:00 PM
Wino Bingo Night at The Game Room
Friday, Sep 29
05:00 PM
Angels Camp Farmers Market
05:30 PM
Mt. Aloha Shop Rides, Every Friday at 5:30pm!
Saturday, Sep 30
07:00 AM
Mark Twain Medical Center's Fall Health+ Community Resources Fair is September 30th!
03:00 PM
Jazz Cellars Live Summer Music Series
06:00 PM
The Bistro Espresso Summer Concert Series! Live Music at Taco Tuesdays & Peddlers Fair Saturdays!
Sunday, Oct 1
All Day
Our Sunday Edition with Local Features, Local Specials & More Every Sunday All Day Long!
09:00 AM
The Murphys Farmers Market
03:00 PM
Sonora Bach Festival Announces Four Classical Music Events for Festival's 47th year.
Tuesday, Oct 3
06:00 PM
The Bistro Espresso Summer Concert Series! Live Music at Taco Tuesdays & Peddlers Fair Saturdays!
Wednesday, Oct 4
01:00 PM
Fellowship Wednesdays at VFW San Andreas
Calendar
First Fridays in the Park Concerts Start Tonight in Murphys
Murphys, CA...Murphys Community Club summer concert series begins on June 2nd in Murphys Park at 5:30 p.m.. This is a free concert and we invite everyone to come down to your beautiful park and enjoy a night of food, fun, drinks and great music. Bring a chair and your dancing shoes.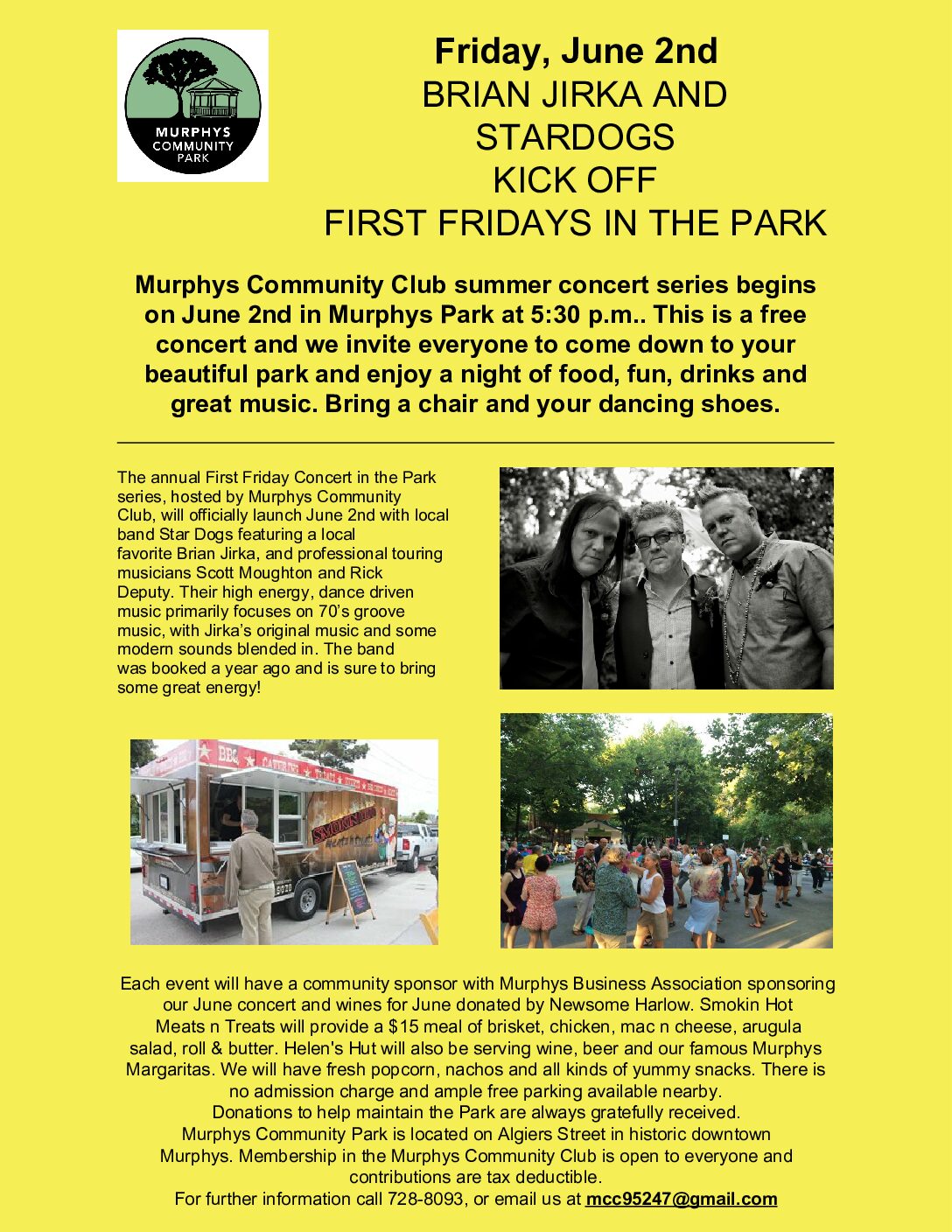 The annual series, hosted by Murphys Community Club, will officially launch June 2nd with local band Star Dogs featuring a local favorite Brian Jirka, and professional touring musicians Scott Moughton and Rick Deputy. Their high energy, dance driven music primarily focuses on 70's groove music, with Jirka's original music and some modern sounds blended in. The band was booked a year ago and is sure to bring some great energy!

Each event will have a community sponsor with Murphys Business Association sponsoring our June concert and wines for June donated by Newsome Harlow. Smokin Hot Meats n Treats will provide a $15 meal of brisket, chicken, mac n cheese, arugula salad, roll & butter. Helen's Hut will also be serving wine, beer and our famous Murphys Margaritas. We will have fresh popcorn, nachos and all kinds of yummy snacks.
---
06/02/2023
Starts at 05:30 PM
---
Advertising
Entertainment
Life & Style
Murphys
What's Related
These might interest you as well