Coming Soon...
Thursday, Sep 21
04:00 PM
West Point Farmers Market, Every Thurs Through Oct 12th
05:00 PM
Sip, Savor and Style Fashion Show
05:00 PM
The Watering Hole 2023 Summer Concert & Brewery Schedule
06:00 PM
Wino Bingo Night at The Game Room
Friday, Sep 22
05:00 PM
Angels Camp Farmers Market
05:30 PM
Mt. Aloha Shop Rides, Every Friday at 5:30pm!
Saturday, Sep 23
All Day
The 27th Annual Ironstone Concours d' Elegance is Sept. 23rd (Last Year's Photos & Video)
All Day
Spence Ranch Has Savings for You This Saturday for Neighborhood Pet Store Day!!
All Day
The 10th Annual Seasons in the Woods Craft Fair is Sept. 23rd & 24th
03:00 PM
Jazz Cellars Live Summer Music Series
06:00 PM
The Bistro Espresso Summer Concert Series! Live Music at Taco Tuesdays & Peddlers Fair Saturdays!
07:00 PM
Saturday Night Live Music!
Sunday, Sep 24
All Day
The 10th Annual Seasons in the Woods Craft Fair is Sept. 23rd & 24th
All Day
Our Sunday Edition with Local Features, Local Specials & More Every Sunday All Day Long!
09:00 AM
The Murphys Farmers Market
Tuesday, Sep 26
06:00 PM
The Bistro Espresso Summer Concert Series! Live Music at Taco Tuesdays & Peddlers Fair Saturdays!
Wednesday, Sep 27
01:00 PM
Fellowship Wednesdays at VFW San Andreas
Thursday, Sep 28
04:00 PM
West Point Farmers Market, Every Thurs Through Oct 12th
05:00 PM
The Watering Hole 2023 Summer Concert & Brewery Schedule
06:00 PM
Wino Bingo Night at The Game Room
Friday, Sep 29
05:00 PM
Angels Camp Farmers Market
05:30 PM
Mt. Aloha Shop Rides, Every Friday at 5:30pm!
Saturday, Sep 30
07:00 AM
Mark Twain Medical Center's Fall Health+ Community Resources Fair is September 30th!
03:00 PM
Jazz Cellars Live Summer Music Series
06:00 PM
The Bistro Espresso Summer Concert Series! Live Music at Taco Tuesdays & Peddlers Fair Saturdays!
Sunday, Oct 1
All Day
Our Sunday Edition with Local Features, Local Specials & More Every Sunday All Day Long!
09:00 AM
The Murphys Farmers Market
Tuesday, Oct 3
06:00 PM
The Bistro Espresso Summer Concert Series! Live Music at Taco Tuesdays & Peddlers Fair Saturdays!
Wednesday, Oct 4
01:00 PM
Fellowship Wednesdays at VFW San Andreas
Calendar
Cross County Skiing, Snow Tubing & Huge Sale Awaits You in Bear Valley!!
Bear Valley, CA...A fun-filled and action-packed Memorial Day Weekend is ahead at BVAC. The grooming crew feels that keeping the Equipe & Bjornloppet Huts open is reasonable, especially given the current cooling weather trend. Therefore we should have 20-30 kilometers of groomed trails for skiing and snowshoeing for the last days of our 2022/2023 winter season.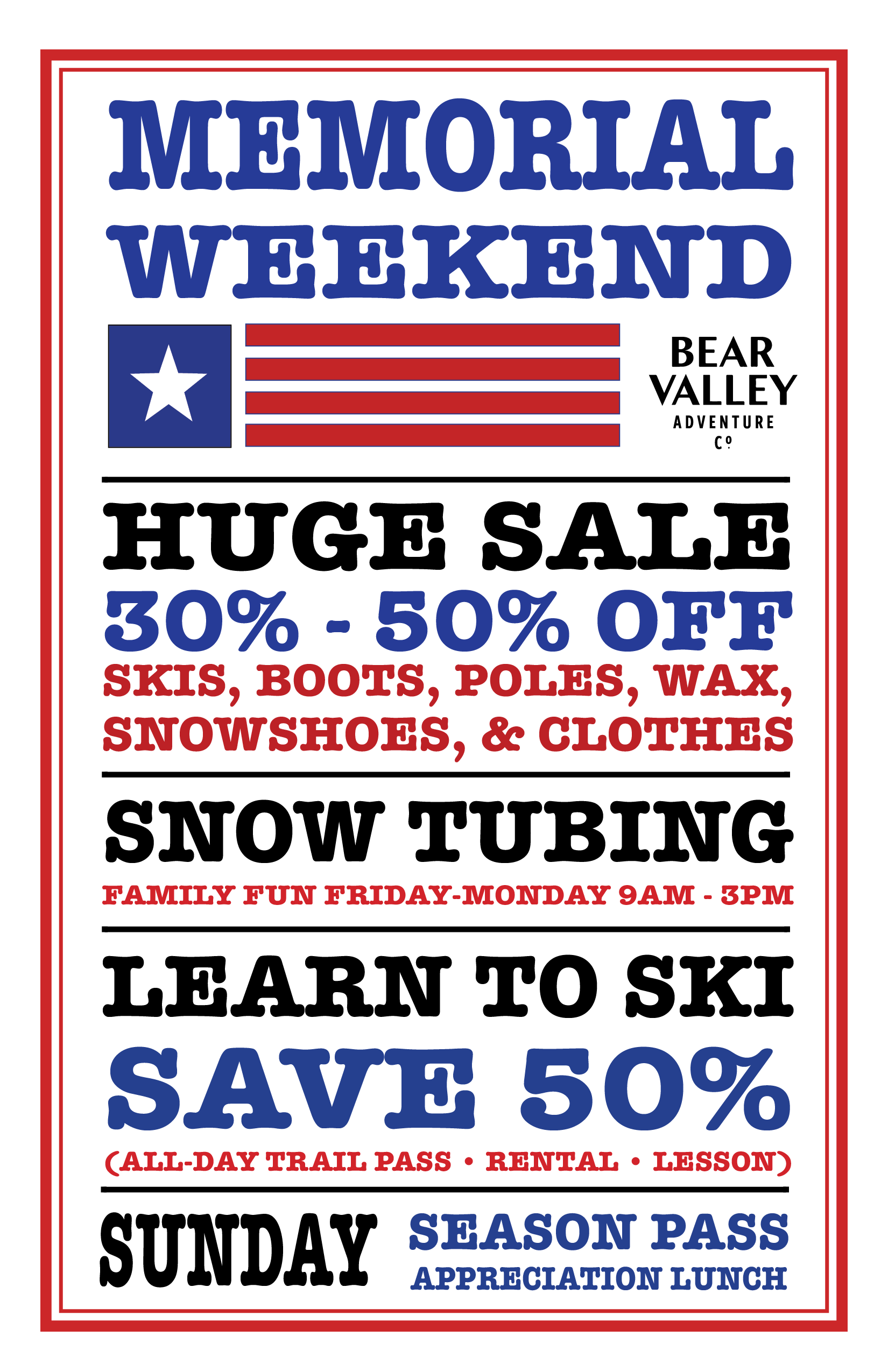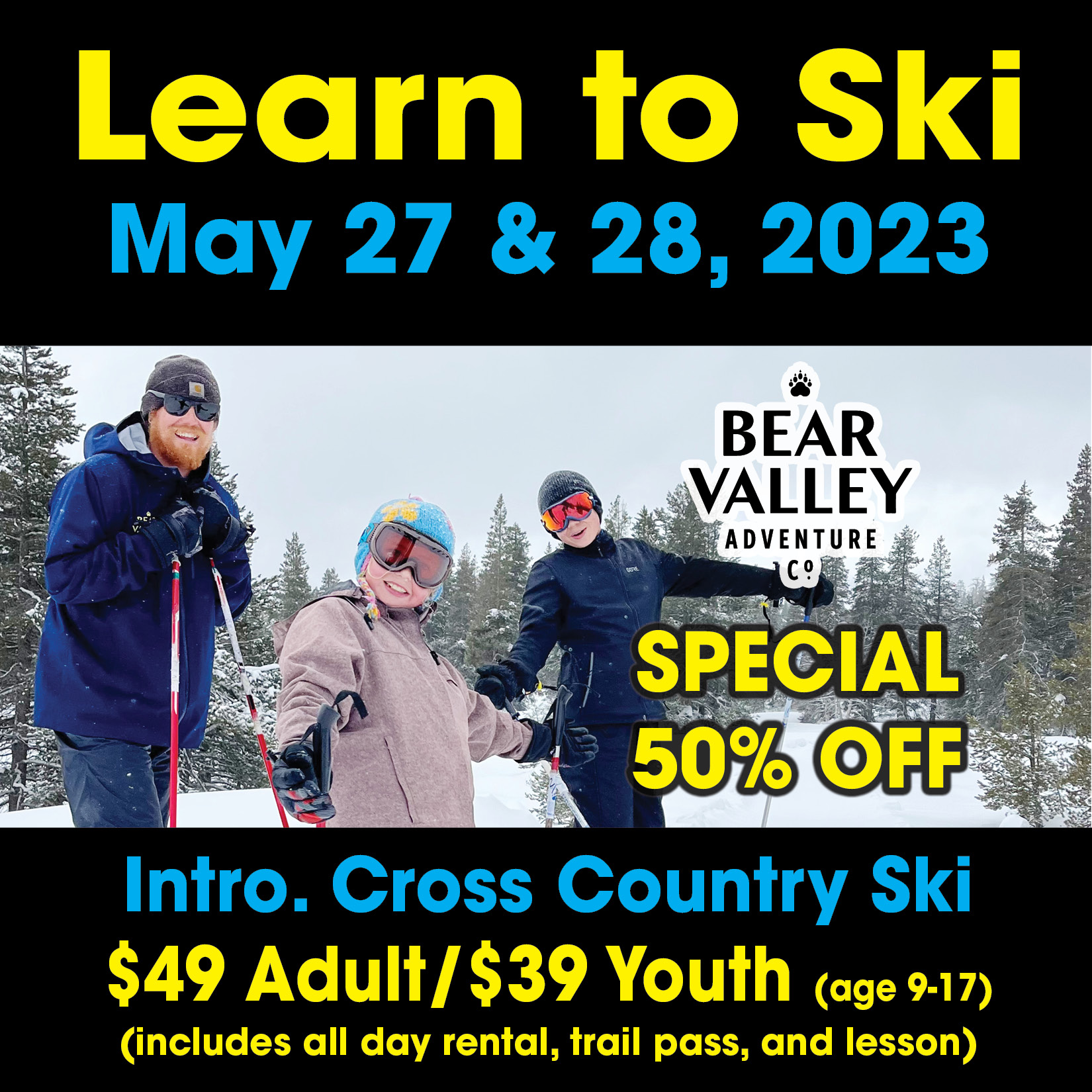 Our Winter Sale just got HUGE on Memorial Day Weekend. Save 30-50% off winter items and get the best deals of the season.

Snow tubing continues through Memorial Day Weekend as this winter's historic snowpack gives us plenty of material to build and groom family-friendly hills for your sliding enjoyment.

Save 50% Off Learn to Ski Packages this weekend! It's never too late to learn how to ski, and spring weather conditions are especially favorable for beginners.

Join us at Reba's Meadow Cafe on Sunday, May 28th, for a complimentary lunch for season pass holders. Then on Monday, all cafe food is 50% off for everybody!
---
05/27/2023 to 05/28/2023
All Day Event
---
Life & Style
Entertainment
Bear Valley
Advertising
What's Related
These might interest you as well