Coming Soon...
Thursday, Sep 21
04:00 PM
West Point Farmers Market, Every Thurs Through Oct 12th
05:00 PM
Sip, Savor and Style Fashion Show
05:00 PM
The Watering Hole 2023 Summer Concert & Brewery Schedule
06:00 PM
Wino Bingo Night at The Game Room
Friday, Sep 22
05:00 PM
Angels Camp Farmers Market
05:30 PM
Mt. Aloha Shop Rides, Every Friday at 5:30pm!
Saturday, Sep 23
All Day
The 27th Annual Ironstone Concours d' Elegance is Sept. 23rd (Last Year's Photos & Video)
All Day
Spence Ranch Has Savings for You This Saturday for Neighborhood Pet Store Day!!
All Day
The 10th Annual Seasons in the Woods Craft Fair is Sept. 23rd & 24th
03:00 PM
Jazz Cellars Live Summer Music Series
06:00 PM
The Bistro Espresso Summer Concert Series! Live Music at Taco Tuesdays & Peddlers Fair Saturdays!
07:00 PM
Saturday Night Live Music!
Sunday, Sep 24
All Day
The 10th Annual Seasons in the Woods Craft Fair is Sept. 23rd & 24th
All Day
Our Sunday Edition with Local Features, Local Specials & More Every Sunday All Day Long!
09:00 AM
The Murphys Farmers Market
Tuesday, Sep 26
06:00 PM
The Bistro Espresso Summer Concert Series! Live Music at Taco Tuesdays & Peddlers Fair Saturdays!
Wednesday, Sep 27
01:00 PM
Fellowship Wednesdays at VFW San Andreas
Thursday, Sep 28
04:00 PM
West Point Farmers Market, Every Thurs Through Oct 12th
05:00 PM
The Watering Hole 2023 Summer Concert & Brewery Schedule
06:00 PM
Wino Bingo Night at The Game Room
Friday, Sep 29
05:00 PM
Angels Camp Farmers Market
05:30 PM
Mt. Aloha Shop Rides, Every Friday at 5:30pm!
Saturday, Sep 30
07:00 AM
Mark Twain Medical Center's Fall Health+ Community Resources Fair is September 30th!
03:00 PM
Jazz Cellars Live Summer Music Series
06:00 PM
The Bistro Espresso Summer Concert Series! Live Music at Taco Tuesdays & Peddlers Fair Saturdays!
Sunday, Oct 1
All Day
Our Sunday Edition with Local Features, Local Specials & More Every Sunday All Day Long!
09:00 AM
The Murphys Farmers Market
03:00 PM
Sonora Bach Festival Announces Four Classical Music Events for Festival's 47th year.
Tuesday, Oct 3
06:00 PM
The Bistro Espresso Summer Concert Series! Live Music at Taco Tuesdays & Peddlers Fair Saturdays!
Wednesday, Oct 4
01:00 PM
Fellowship Wednesdays at VFW San Andreas
Calendar
Celebrated Jumping Frogs Hop Into Action May 4 at the State Capitol
Sacramento, CA...Calaveras County's celebrated jumping frogs hop down to Sacramento on May 4 for the traditional State Capitol Frog Jump on the west side of the Capitol grounds, beginning at noon. This jump pits lawmakers, staff and media reps against each other for bragging rights and the chance to move on to the Frog Jump Grand Finals at the Calaveras County Fair and Jumping Frog Jubilee, May 18-21 at Frogtown in Angles Camp.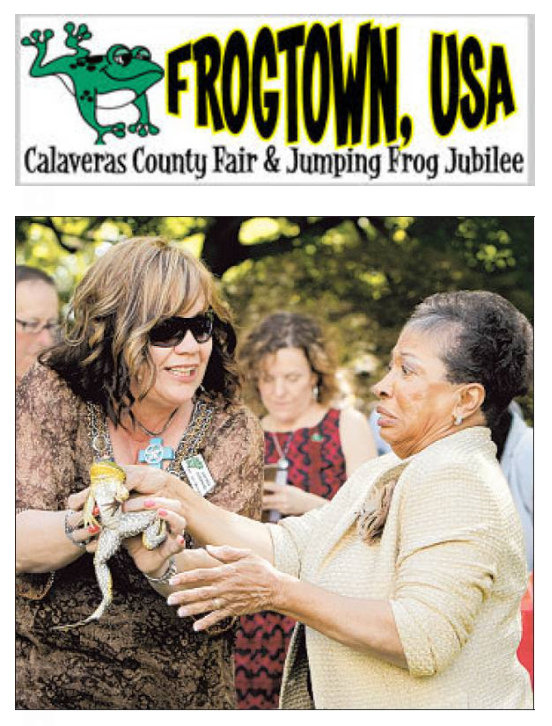 State Senator Marie Alvarado-Gil is sponsoring the event. She represents Senate District #4, which includes Calaveras County, and is well acquainted with the jumping frogs since she resides in neighboring Amador County.

The Capitol Jump usually attracts around 50 competitors. Trophies are presented in three categories – longest jump, shortest jump and media winner. The longest leap is automatically entered in the May 21 Grand Finals.

Excitement runs wild this year since the Grand Finals top prize has been increased to $20,000 for a leap that outdistances the current title holder. That record of 21 feet, 5 ¾ inches was set in 1986 by the late Lee Giudici with his frog Rosie the Ribiter. Every year, the jumping frogs hit the road with their entourage of Frog Jump Committee members/handlers to promote Frog Jump in advacne. The State Capitol Jump highlights their tour.

Calaveras jumping frogs first made history in the 1860's by inspiring the tale that sparked humorist Mark Twain's career. He visited the area in 1864 and his story about "The Celebrated Jumping Frog of Calaveras County was published in 1865. It triggered the public's fascination with Calaveras County and jumping frogs.

The first Frog Jump was in 1928 as part of a community celebration marking the paving of Main Street in Angels Camp. It joined forces with the Calaveras County Fair in 1937 at the facility known as Frogtown, located south of Angels Camp.

Frog Jockey teams have multiplied over the decades, returning every year to compete – some for over 50 years. For more information on the Frog Jump, check out www.frogtown.org or call 209-736-2561.
---
05/04/2023
Starts at 12:00 PM
---
Angels Camp
Entertainment
Frogtown
Government
Life & Style
What's Related
These might interest you as well