Murphys Mardi Gras
Murphys, CA... Come celebrate Fat Tuesday with music, masks, revelry, food and drink! Begins February 21st, at at 5:00 PM. Located at Forest Meadows Golf Course 633 Forest Meadows Dr, Murphys, CA 95247 For The Murphy Mardi Gras, the emphasis is on MASKS, any kind of mask. This creates the mystique of people not knowing who you are. This tradition goes back to the 1700's when masks were worn to hide the identity of the party revelers. This enabled the rich, the poor and any nationality, creed or religion, one night to frolic with one another without being chastised for associating with people outside their own class. Please, please, please if you can't come in costume wear a mask. If you don't have a mask, you can buy one at the event.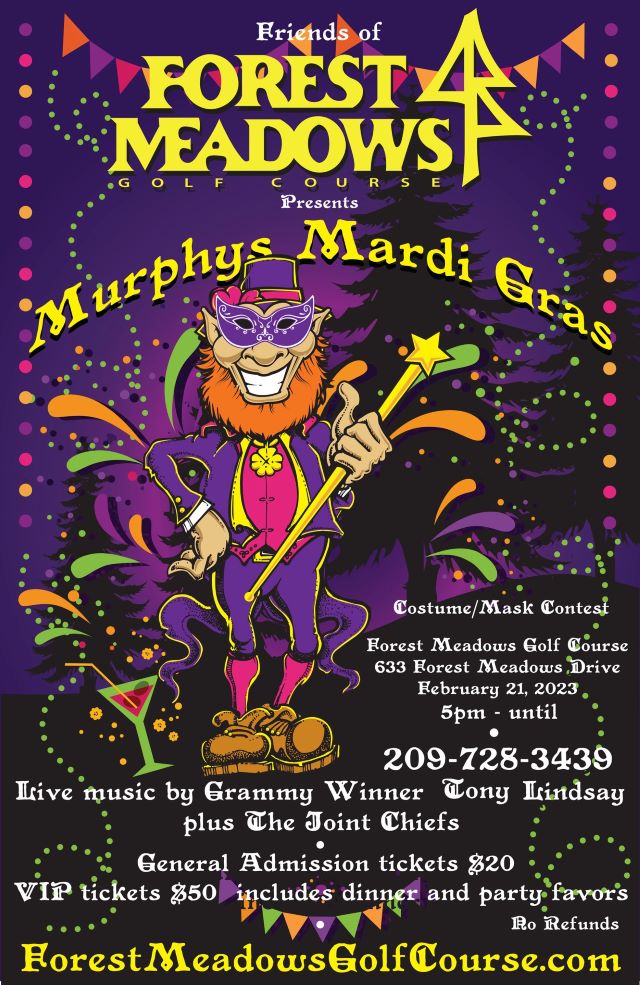 Tony Lindsay, 11-time Grammy award winner and former lead vocalist for Santana, will be our entertainment for the Murphys Mardi Gras. Joining him special guests The Joint Chiefs, will be bringing you the best in blues, soul and New Orleans music.

General Admission Tickets: $20, VIP: $50. Tickets Include Dinner & Party Favors, No Refunds.
---
02/21/2023
Starts at 05:00 PM