Coming Soon...
Friday, Jun 2
All Day
Join The Calaveras Winegrape Alliance on June 2, for Their Annual Wine Industry Vineyard Tour
All Day
The Blue Mountain Players Present "The Foreigner"
Saturday, Jun 3
09:00 AM
Wildfire Evacuation Planning Town Hall for Greater Arnold Set for Saturday, June 3
12:00 PM
Explore The Best of Calaveras County at the 14th Annual Taste of Calaveras!
12:00 PM
The 34th Annual Chicken in a Barrel is June 3rd!
04:00 PM
Double Take @ Italian Picnic
05:30 PM
Soroptimist International of Calaveras County Wine & Whimsy
06:00 PM
The Bistro Espresso Summer Concert Series! Live Music at Taco Tuesdays & Peddlers Fair Saturdays!
06:30 PM
"The Shakesperience" One Cast, Two Plays, Four Nights Only
07:00 PM
Saturday Night Live Music!
Sunday, Jun 4
All Day
Our Sunday Edition with Local Features, Local Specials & More Every Sunday All Day Long!
Monday, Jun 5
11:00 AM
Miwuk Cultural Museum Groundbreaking Ceremony
Tuesday, Jun 6
06:00 PM
The Bistro Espresso Summer Concert Series! Live Music at Taco Tuesdays & Peddlers Fair Saturdays!
Thursday, Jun 8
05:00 PM
The Watering Hole 2023 Summer Concert & Brewery Schedule
06:00 PM
West Point Area Emergency Preparedness Meeting on June 8th
06:00 PM
Wino Bingo Night at The Game Room
Saturday, Jun 10
06:00 PM
The Bistro Espresso Summer Concert Series! Live Music at Taco Tuesdays & Peddlers Fair Saturdays!
06:30 PM
"The Shakesperience" One Cast, Two Plays, Four Nights Only
07:00 PM
Saturday Night Live Music!
Sunday, Jun 11
All Day
Our Sunday Edition with Local Features, Local Specials & More Every Sunday All Day Long!
Tuesday, Jun 13
06:00 PM
The Bistro Espresso Summer Concert Series! Live Music at Taco Tuesdays & Peddlers Fair Saturdays!
Wednesday, Jun 14
06:30 PM
The Calaveras Arts Council's Music in the Parks 2023
Thursday, Jun 15
05:00 PM
The Watering Hole 2023 Summer Concert & Brewery Schedule
Calendar
The Ebbetts Pass Moose Lodge Free Thanksgiving Dinner
Arnold, CA...The 2022 Ebbetts Pass Moose Lodge Free Thanksgiving Dinner is November 24th from 1pm to 4pm at the Ebbetts Pass Moose Lodge at 1965 Blagen Road in Arnold.  Deliveries are available for the homebound.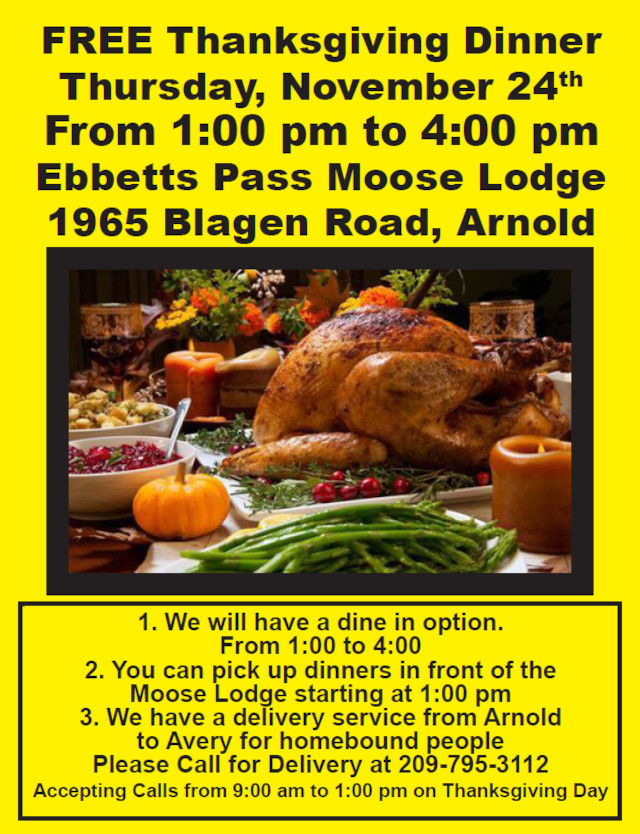 The Moose is about celebrating life together, serving those within our local communities, supporting children in need who deserve a second chance, and standing by our senior members as they enter their twilight years.

The Moose Fraternity's presence is felt in over 1,400 communities across nearly 50 states and four Canadian provinces, plus Great Britain. As a primary mission of the Moose, our members support Mooseheart Child City & School. Mooseheart cares for children in need who deserve a second chance at life, from infants through high school. Another mission of the Moose is the care of senior members of the Fraternity. Moosehaven, located in Florida, is a five-star rated retirement community completely funded by the men and women of the Moose. Additionally, in support of the areas in which our lodges reside, the Moose organization contributes between $75 to $100 million worth of community service annually.

Within our local lodges, you will find a wide array of activities in which to participate both as an individual and as a family. From holiday parties, dances, sports, themed dinners and live entertainment, the Moose has much to offer.
---
01:00 PM - 04:00 PM
11/24/2022