Coming Soon...
Friday, Sep 22
05:00 PM
Angels Camp Farmers Market
05:30 PM
Mt. Aloha Shop Rides, Every Friday at 5:30pm!
Saturday, Sep 23
All Day
The 27th Annual Ironstone Concours d' Elegance is Sept. 23rd (Last Year's Photos & Video)
All Day
Spence Ranch Has Savings for You This Saturday for Neighborhood Pet Store Day!!
All Day
The 10th Annual Seasons in the Woods Craft Fair is Sept. 23rd & 24th
03:00 PM
Jazz Cellars Live Summer Music Series
06:00 PM
The Bistro Espresso Summer Concert Series! Live Music at Taco Tuesdays & Peddlers Fair Saturdays!
07:00 PM
Saturday Night Live Music!
Sunday, Sep 24
All Day
The 10th Annual Seasons in the Woods Craft Fair is Sept. 23rd & 24th
All Day
Our Sunday Edition with Local Features, Local Specials & More Every Sunday All Day Long!
09:00 AM
The Murphys Farmers Market
Tuesday, Sep 26
06:00 PM
The Bistro Espresso Summer Concert Series! Live Music at Taco Tuesdays & Peddlers Fair Saturdays!
Wednesday, Sep 27
01:00 PM
Fellowship Wednesdays at VFW San Andreas
Thursday, Sep 28
04:00 PM
West Point Farmers Market, Every Thurs Through Oct 12th
05:00 PM
The Watering Hole 2023 Summer Concert & Brewery Schedule
06:00 PM
Wino Bingo Night at The Game Room
Friday, Sep 29
05:00 PM
Angels Camp Farmers Market
05:30 PM
Mt. Aloha Shop Rides, Every Friday at 5:30pm!
Saturday, Sep 30
07:00 AM
Mark Twain Medical Center's Fall Health+ Community Resources Fair is September 30th!
03:00 PM
Jazz Cellars Live Summer Music Series
06:00 PM
The Bistro Espresso Summer Concert Series! Live Music at Taco Tuesdays & Peddlers Fair Saturdays!
Sunday, Oct 1
All Day
Our Sunday Edition with Local Features, Local Specials & More Every Sunday All Day Long!
09:00 AM
The Murphys Farmers Market
03:00 PM
Sonora Bach Festival Announces Four Classical Music Events for Festival's 47th year.
Tuesday, Oct 3
06:00 PM
The Bistro Espresso Summer Concert Series! Live Music at Taco Tuesdays & Peddlers Fair Saturdays!
Wednesday, Oct 4
01:00 PM
Fellowship Wednesdays at VFW San Andreas
Thursday, Oct 5
04:00 PM
West Point Farmers Market, Every Thurs Through Oct 12th
05:00 PM
The Watering Hole 2023 Summer Concert & Brewery Schedule
06:00 PM
Wino Bingo Night at The Game Room
Calendar
Calaveras Winegrape Alliance Bubbles & Bites Holiday Party!
Murphys, CA...In memory of our dear friend Steve Collum and his love of bubbles, we are bringing back our Annual Bubbles Party this holiday season! Explore five bubbles - brown bag style for a fun and friendly competition. Small bite pairings will be prepared by the Murphys Hotel team. Gather your family and friends for a festive event that includes holiday music and a photo booth. 21 and over only event.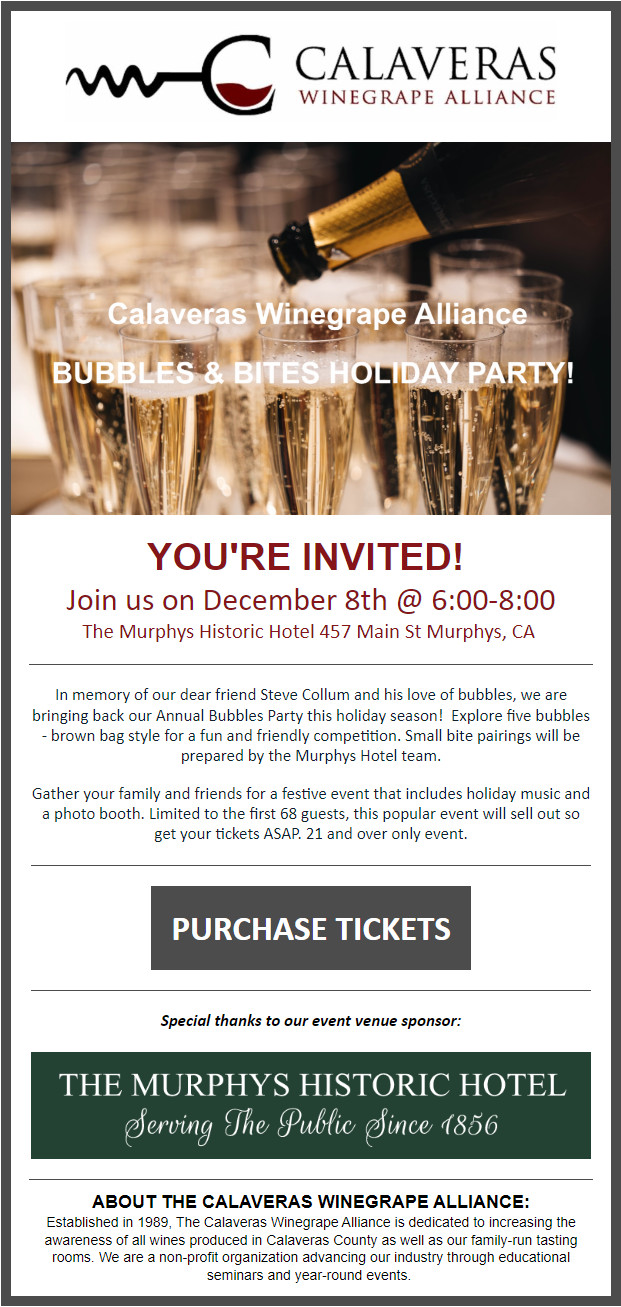 Join us on December 8th @ 6:00-8:00 - the Murphys Historic Hotel, 457 Main Street Murphys, CA. Limited to the first 68 guests, this popular event will sell out so get your ticket ASAP. Special thanks for our event venue sponsor:

ABOUT THE CALAVERAS WINEGRAPE ALLIANCE:
Established in 1989, The Calaveras Winegrape Alliance is dedicated to increasing the awareness of all wines produced in Calaveras County as well as our family-run tasting rooms. We are a non-profit organization advancing our industry through educational seminars and year-round events.
---
06:00 PM - 08:00 PM
12/06/2022