Coming Soon...
Tuesday, Sep 27
All Day
Soles 4 Souls for Shoe Drive 2022 is On! Donate Today!
01:30 PM
Calaveras Community Foundation (CCF) Sponsors Vitalant Blood Drive on Tuesday, September 27, 2022
06:00 PM
VFW Post 2600 Dinner
06:00 PM
Angels Camp Candidates Night on September 27th!
Wednesday, Sep 28
All Day
Soles 4 Souls for Shoe Drive 2022 is On! Donate Today!
Thursday, Sep 29
All Day
Soles 4 Souls for Shoe Drive 2022 is On! Donate Today!
Friday, Sep 30
All Day
Soles 4 Souls for Shoe Drive 2022 is On! Donate Today!
05:00 PM
The Angels Camp Farmers Market is Every Friday Through September!
Saturday, Oct 1
All Day
Soles 4 Souls for Shoe Drive 2022 is On! Donate Today!
All Day
The 29th Annual Calaveras Grape Stomp, The Oldest & Largest in California Hosted by The Calaveras Wi
07:00 AM
Lumberjack Day 47th annual Parade & Logging Show
03:00 PM
Live Music at Jazz Cellars all Summer Long
Sunday, Oct 2
All Day
Soles 4 Souls for Shoe Drive 2022 is On! Donate Today!
All Day
Our Sunday Edition with Local Features, Local Specials & More Every Sunday All Day Long!
Monday, Oct 3
All Day
Soles 4 Souls for Shoe Drive 2022 is On! Donate Today!
All Day
Caltrans To Begin Culvert Project on State Route 49 Near Angels Camp
Calendar
Ribbon Cutting and Tours of Murphys Sanitary District's New Treatment Plant!
Murphys, CA...Ever wonder where it goes! Down your drain isn't the end of the line! Why? Should we keep the wipes out of our pipes? Grease out of the sink? Murphys Sanitary District would like to invite you to join us on September 16, 2022 11:00 am - 2:00 pm for a tour of our new Treatment Plant Facility! 735 Six Mile Rd Murphys, CA..For your safety & protection all we ask is… Please, no-one under 18, we care about the safety of your children and please wear closed toed shoes. We hope to see you there!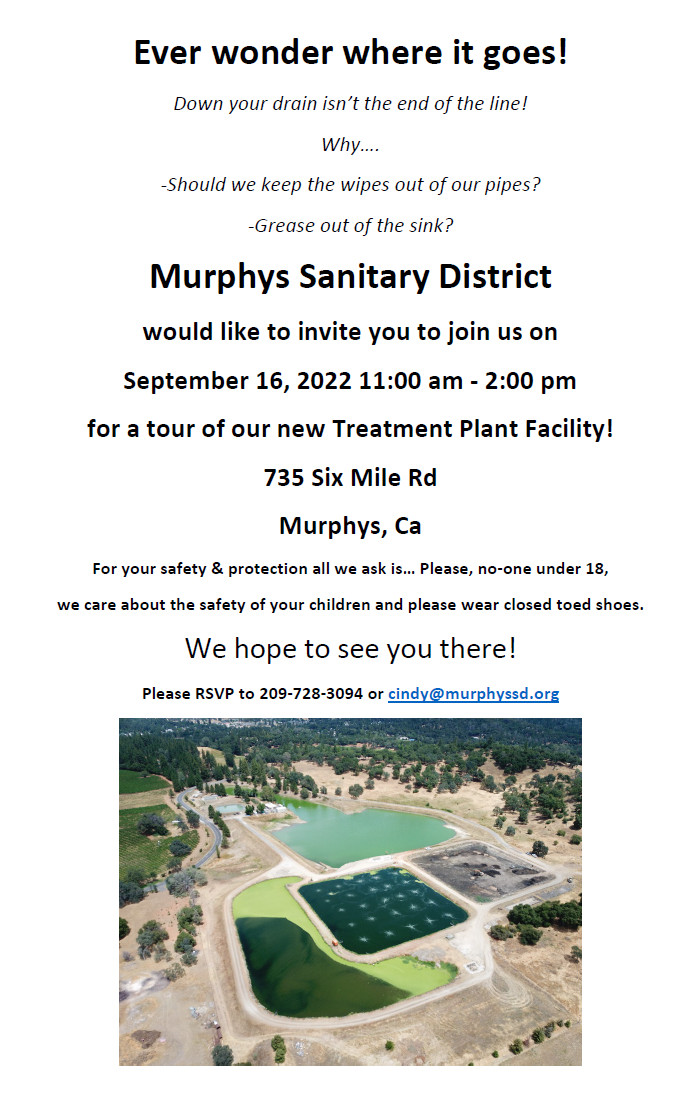 About Murphys Sanitary District

Murphys Sanitary District, (MSD) provides sewer collection and treatment services to residential and commercial businesses within the MSD boundaries. Murphys Sanitary District was organized in 1959 under Division VI of the California Health and Safety Code. The District covers an area of approximately 4 square miles and has a population of approximately 2,200 people.

The district maintains 63,000 linear feet, (11.9 miles) of sewer collection lines. These range from the largest diameter of 10 inches down to 4 inches, with the most common size being 6 inch. An average dry weather flow of 135,000 gallons per day of raw wastewater is treated to an advanced secondary level with a combination pond and filtration Wastewater Treatment Plant. Treated effluent is utilized for irrigation at the neighboring Hay Station Ranch vineyards.

MSD is considered a "Special District" with governing board consisting of five Directors The District operates on an approximately $1,000,000 annual budget.
---
11:00 AM - 02:00 PM
09/16/2022