Coming Soon...
Tuesday, Sep 27
All Day
Soles 4 Souls for Shoe Drive 2022 is On! Donate Today!
01:30 PM
Calaveras Community Foundation (CCF) Sponsors Vitalant Blood Drive on Tuesday, September 27, 2022
06:00 PM
VFW Post 2600 Dinner
06:00 PM
Angels Camp Candidates Night on September 27th!
Wednesday, Sep 28
All Day
Soles 4 Souls for Shoe Drive 2022 is On! Donate Today!
Thursday, Sep 29
All Day
Soles 4 Souls for Shoe Drive 2022 is On! Donate Today!
Friday, Sep 30
All Day
Soles 4 Souls for Shoe Drive 2022 is On! Donate Today!
05:00 PM
The Angels Camp Farmers Market is Every Friday Through September!
Saturday, Oct 1
All Day
Soles 4 Souls for Shoe Drive 2022 is On! Donate Today!
All Day
The 29th Annual Calaveras Grape Stomp, The Oldest & Largest in California Hosted by The Calaveras Wi
07:00 AM
Lumberjack Day 47th annual Parade & Logging Show
03:00 PM
Live Music at Jazz Cellars all Summer Long
Sunday, Oct 2
All Day
Soles 4 Souls for Shoe Drive 2022 is On! Donate Today!
All Day
Our Sunday Edition with Local Features, Local Specials & More Every Sunday All Day Long!
Monday, Oct 3
All Day
Soles 4 Souls for Shoe Drive 2022 is On! Donate Today!
All Day
Caltrans To Begin Culvert Project on State Route 49 Near Angels Camp
Calendar
The 25th Annual Sierra Nevada Logging Museum Logging Jamboree!
Arnold, CA...Friends of Sierra Nevada Annual Logging Jamboree. Sepetember 3rd, Saturday of Labor Day Weekend. 9am-5pm; $8 entrance fee (children under 12 free).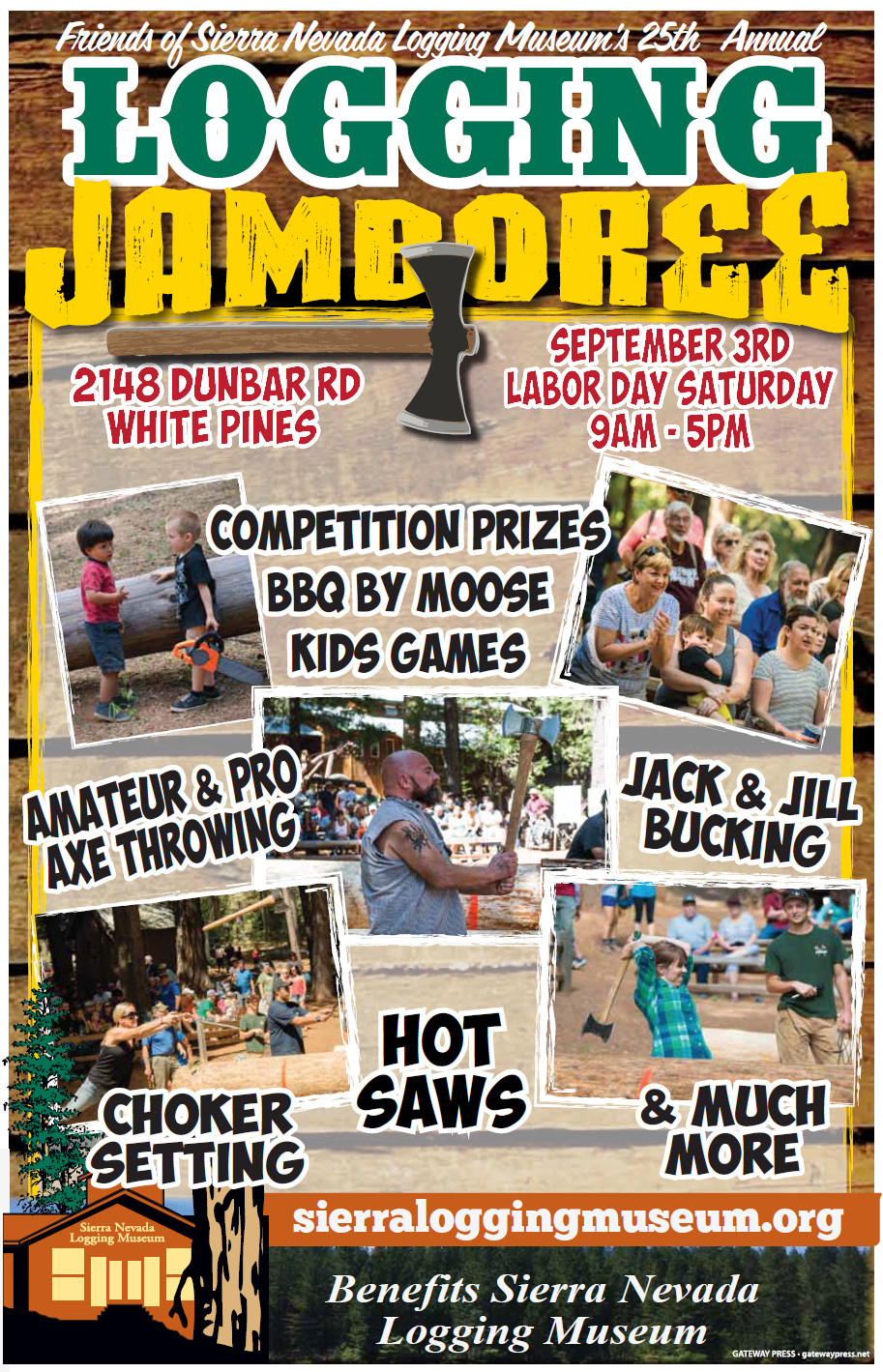 -Logging Competition

-Axe Throwing

-Jack and Jill Bucking

-Choker Setting

-Hot Saw

-and more!

Barbeque by Moose Lodge

Contact museum for more information.

Hope to see you there!
(209) 795-6782
loggingmuseum3@gmail.com
2148 Dunbar Rd, Arnold, CA 95223
Friday - Sunday: 12:00 PM - 4:00 PM
Mailing address: PO Box 3619, Arnold, CA, 95223-3619

WHERE'S THE MUSEUM?
Sierra Nevada Logging Museum is located in the heart of the Sierras in the community of White Pines, near the town of Arnold on California State Highway 4. Our seven-acre site sits on a property originally occupied by the historic logging and mill workers' camp of the Blagen Lumber Company (1938-1962). The museum sits on a heavily forested hillside above White Pines Lake with an elevation of 4,000 feet.
---
09/03/2022
All Day Event