Coming Soon...
Tuesday, Sep 27
All Day
Soles 4 Souls for Shoe Drive 2022 is On! Donate Today!
01:30 PM
Calaveras Community Foundation (CCF) Sponsors Vitalant Blood Drive on Tuesday, September 27, 2022
06:00 PM
VFW Post 2600 Dinner
06:00 PM
Angels Camp Candidates Night on September 26th!
Wednesday, Sep 28
All Day
Soles 4 Souls for Shoe Drive 2022 is On! Donate Today!
Thursday, Sep 29
All Day
Soles 4 Souls for Shoe Drive 2022 is On! Donate Today!
Friday, Sep 30
All Day
Soles 4 Souls for Shoe Drive 2022 is On! Donate Today!
05:00 PM
The Angels Camp Farmers Market is Every Friday Through September!
Saturday, Oct 1
All Day
Soles 4 Souls for Shoe Drive 2022 is On! Donate Today!
All Day
The 29th Annual Calaveras Grape Stomp, The Oldest & Largest in California Hosted by The Calaveras Wi
07:00 AM
Lumberjack Day 47th annual Parade & Logging Show
03:00 PM
Live Music at Jazz Cellars all Summer Long
Sunday, Oct 2
All Day
Soles 4 Souls for Shoe Drive 2022 is On! Donate Today!
All Day
Our Sunday Edition with Local Features, Local Specials & More Every Sunday All Day Long!
Monday, Oct 3
All Day
Soles 4 Souls for Shoe Drive 2022 is On! Donate Today!
All Day
Caltrans To Begin Culvert Project on State Route 49 Near Angels Camp
Calendar
Patrice Pike & Wayne Sutton at Brice Station's Hilltop Concert Series July 16th.
Murphys, CA...Patrice Pike burst onto the music scene as the electric frontwoman for the seminal Austin jam band Sister Seven Patrice effortlessly moves from tightly woven rhythm guitar to percussion, to drum kit on stage never dropping a beat of her fierce but silky lead vocals. Over the past decade, she has independently released five acclaimed solo records, showcasing her socially astute, literate lyrics alongside her powerful vocals. She has toured relentlessly, both in the U.S. and overseas, building an impressive grassroots fan base. In 2007 she became the youngest member of the Austin/Texas Music Hall of Fame, inducted alongside Lucinda Williams.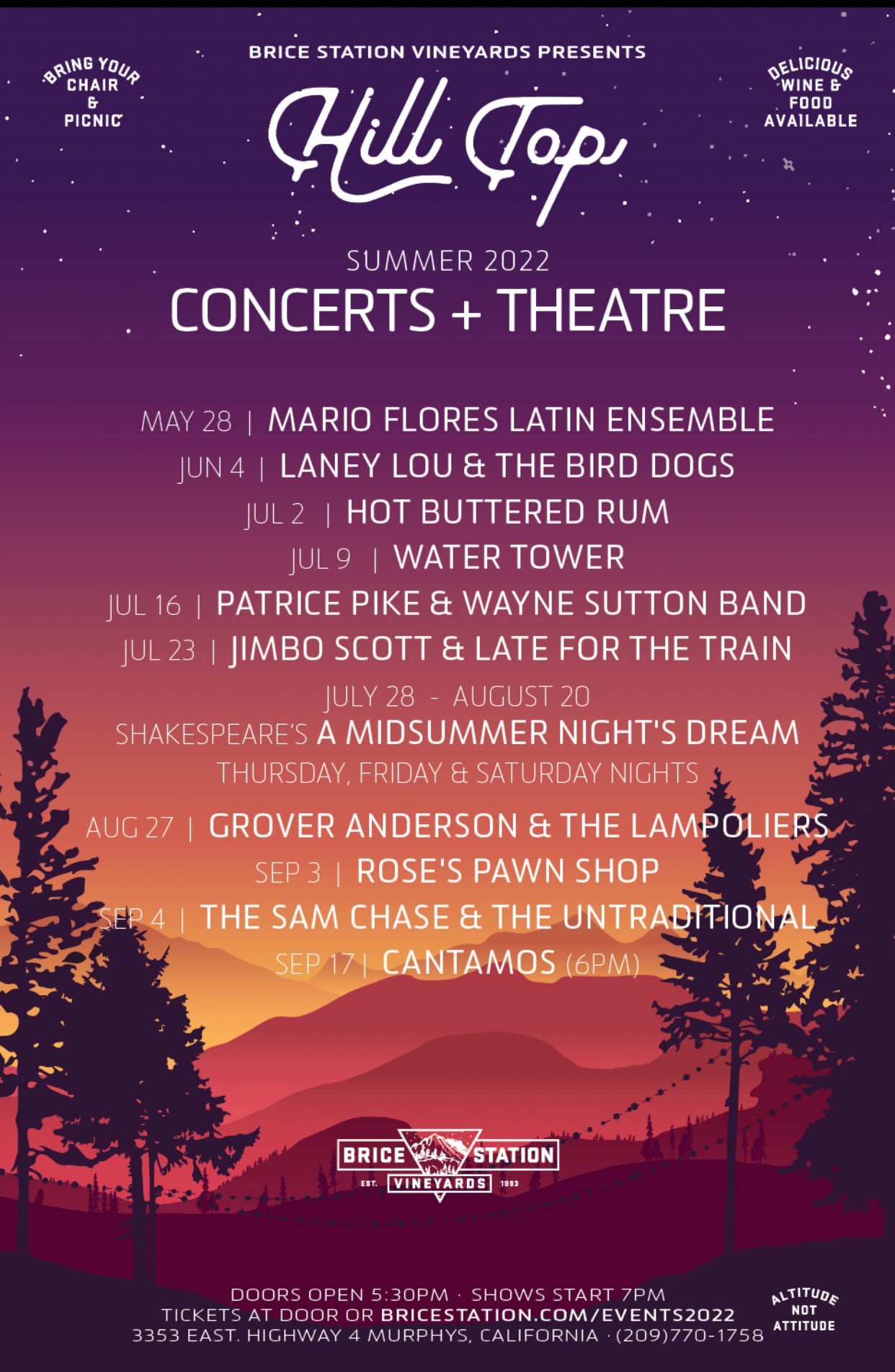 Patrice Pike & Wayne Sutton – July 16, 2022 @ 7pm
VENDOR
BRICE STATION VINEYARDS
Regular price
$25.00

Brice Station Vineyards
We are a small, family owned winery in the Sierra Nevada Foothill town of Murphys. Since 1993 we have built a reputation for producing exceptional red wine from our seven acre vineyards. We host summer concerts, theater, weddings, and other events.
---
07/16/2022
Starts at 07:00 PM