The Calaveras Ragin Cajun Festival is April 30th! Get Your Tickets Today!
San Andreas, CA...The Calaveras Ragin Cajun Festival is back! After two years of Covid, we now have the go ahead for this year, Saturday April 30th, 11 - 5 on Main Street in San Andreas. In our first attempt in 2019 we got caught off guard, being a first time event and supposed to rain all day, we expected around 600 attendees, to our amazement we got over 2000 and quickly ran out of food. Not this year, this year we are prepared to handle whatever is thrown at us, rain or shine.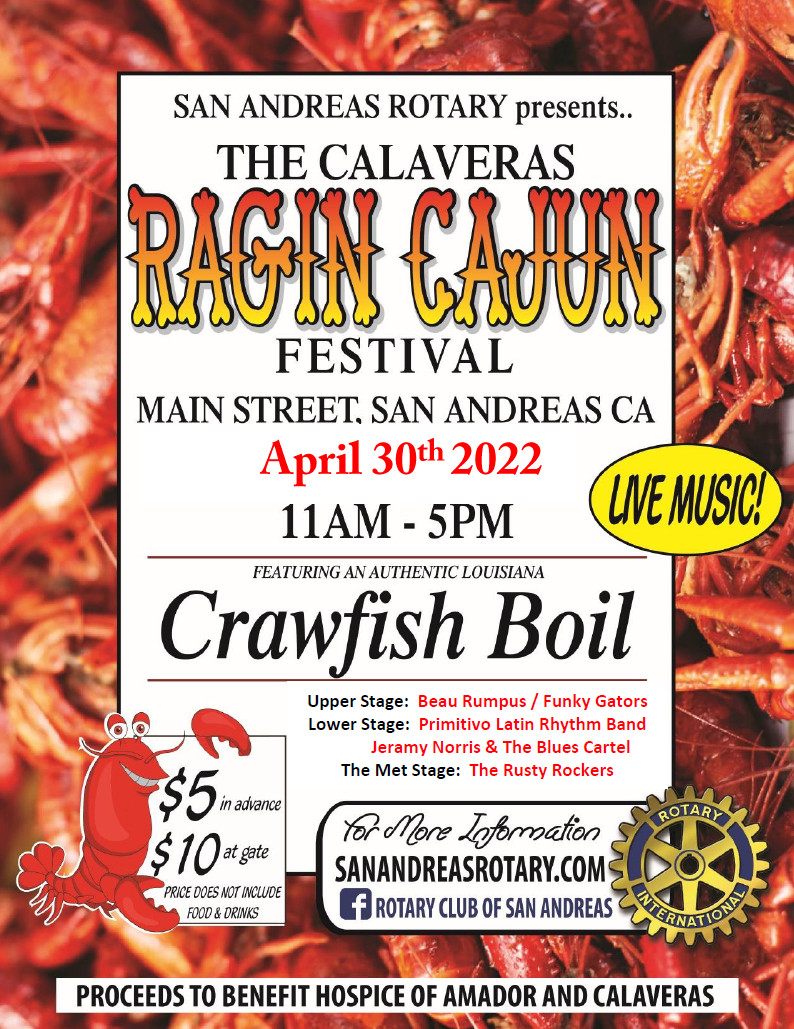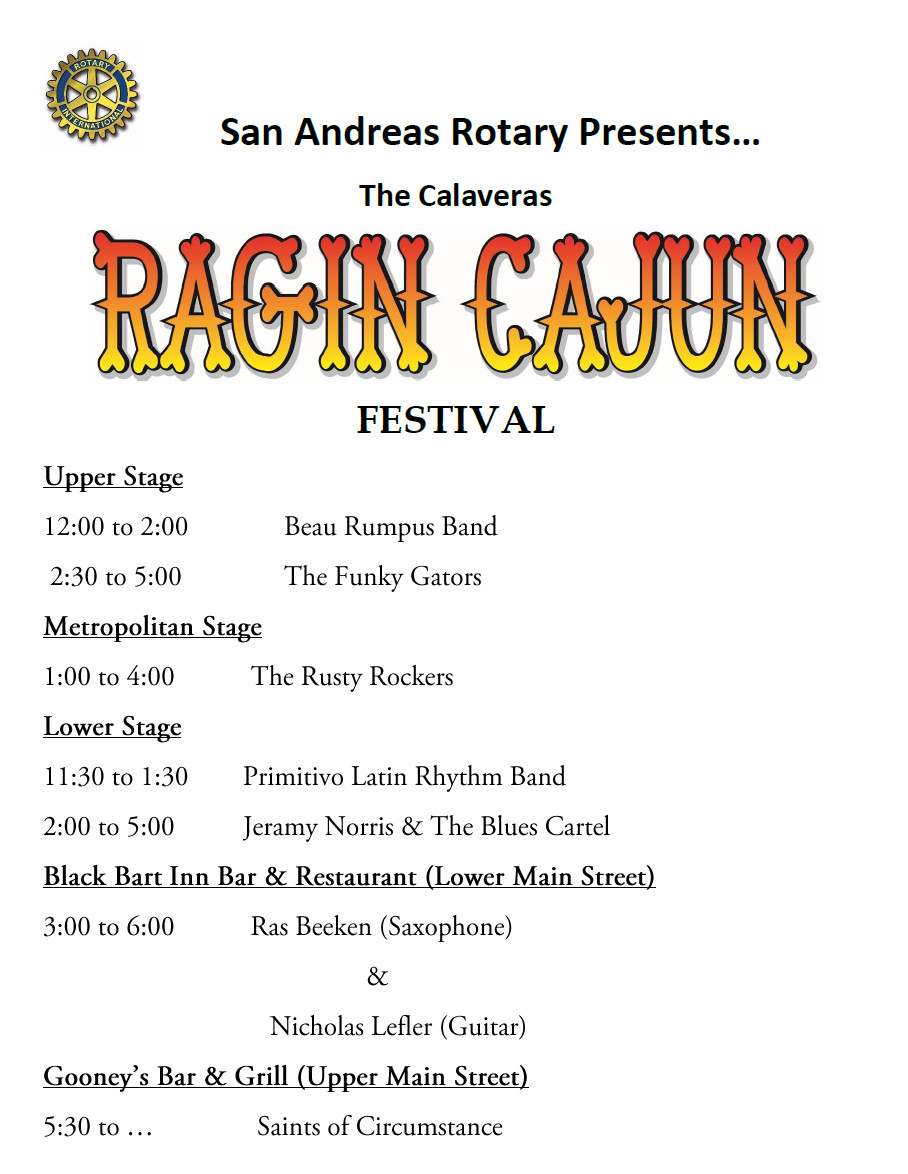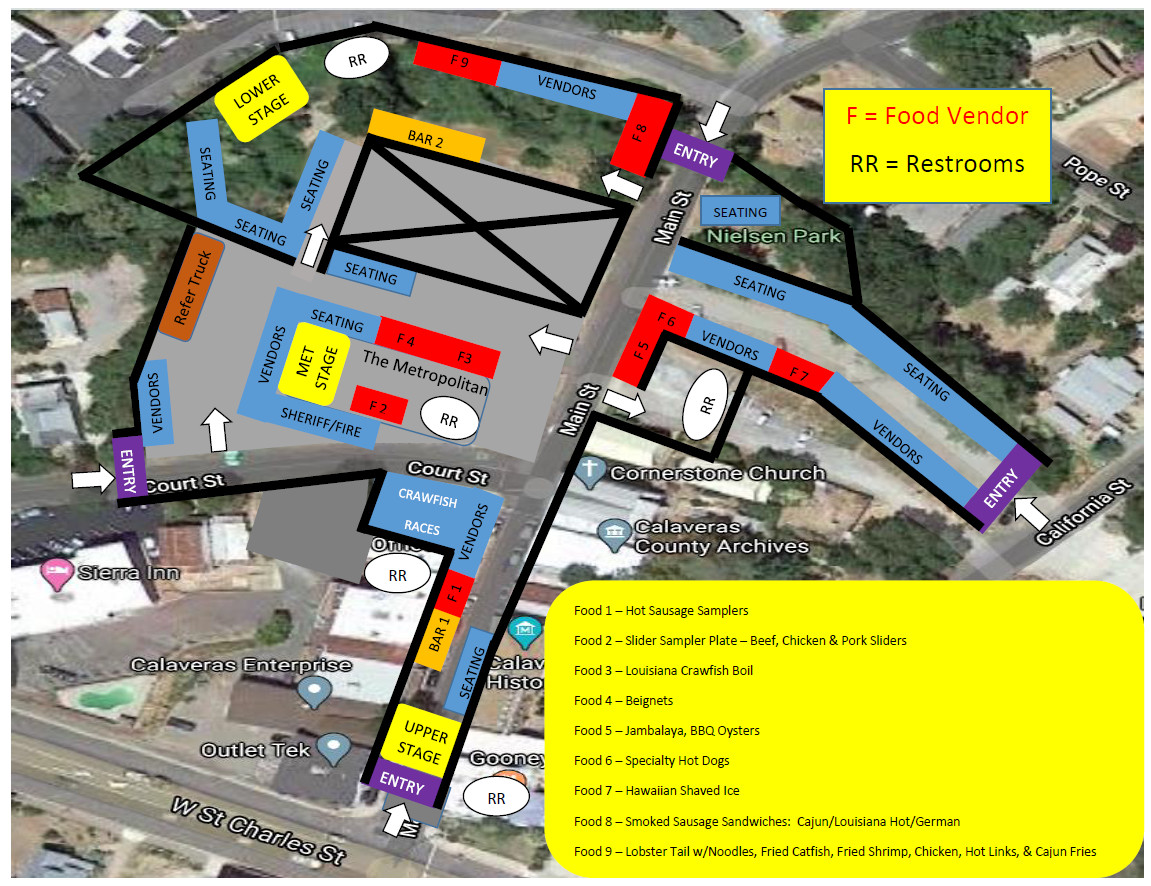 Instead of two food locations we now have nine. We have three music stages with incredible bands including Beau Rumpus, the Funky Gators, Primitivo Latin Rhythm Band, Jeramy Norris & the Blues Cartel and the Rusty Rockers as well as Ras Beeken on Saxophone & Nicholas Lefler on Guitar at the Black Bart Inn from 3:00 to 6:00 and the Saints of Circumstance immediately following our Festival playing at Gooney's Bar & Grille at 5:30 all included for the advance ticket price of $5 or $10 at the gate. The Festival stretches the length of Main Street, into the Metropolitan Theater, around the Metropolitan Theater Parking Lot, down into the Field below and across Main St. into Nielsen Park and Parking Lot.

We now have acquired two High Capacity Commercial Crawfish Boilers for the Louisiana Crawfish being flown in the night before. Other food includes but not limited to: Crawfish, Beignets, Lobster Tails w/Noodles, Cajun Catfish, Hawaiian Shaved Ice, Jambalaya, Cajun Hot Links, BBQ Oysters, Beef/Chicken/Pork Sliders, Cajun Shrimp, Cajun Fries, Cajun Chicken, Cajun Dogs, Sausage Sandwiches and much more.

Tickets are now on sale in San Andreas at Gooney's Bar & Grill, The Metropolitan Theater and the Chamber of Commerce Office and in Valley Springs at The Parlour Pub, online at www.sanandreasrotary.com or Eventbrite and as always, any San Andreas Rotarian you may come across. If you have tickets from the 2020 festival that we had to cancel because of Covid please take those tickets to any of the four locations that are selling tickets and have them replaced with tickets for this year's event. Free parking at Calaveras High School. See You There!
---
04/30/2022
All Day Event