Posted by: thepinetree on 09/07/2023 10:25 AM Updated by: thepinetree on 09/07/2023 10:40 AM
Expires: 01/01/2028 12:00 AM


A Bit of Wisdom from Grandma Moses

Hoosick Falls, NY...Anna Mary Robertson Moses, September 7, 1860 – December 13, 1961 or Grandma Moses, an iconic American folk artist who didn't start her painting career until she was 78.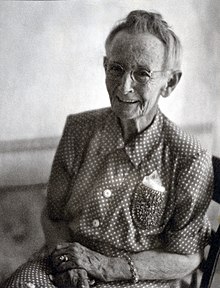 "A strange thing is memory, and hope; one looks backward, and the other forward; one is of today, the other of tomorrow. Memory is history recorded in our brain, memory is a painter, it paints pictures of the past and of the day."

"I look back on my life like a good day's work, it was done and I am satisfied with it."

"If I hadn't started painting, I would have raised chickens."

"Life is what we make it, always has been, always will be."
Comments - Make a comment
The comments are owned by the poster. We are not responsible for its content. We value free speech but remember this is a public forum and we hope that people would use common sense and decency. If you see an offensive comment please email us at news@thepinetree.net
No Subject
Posted on: 2023-09-07 10:56:53   By: Anonymous
 

Remarkable and Inspirational.
This reminds me of another artist, none other then our presidents son, Hunter Biden. Hunter too started his artistic career just recently and has already sold some of his Artwork. Some say that it may make these individuals Ten's of Millions of Renminbi if not more.


[Reply ]
President Biden securing our future to be a third world country
Posted on: 2023-09-07 11:07:33   By: Anonymous
 

President Biden was heavily criticized by Republicans and Democrats alike for his administration's actions Wednesday, significantly curbing fossil fuel drilling in an oil-rich region of Alaska.
" I can't explain to the American people why we would willingly become more dependent on foreign oil imports, eliminate good paying American jobs and drive up the cost of our electric bills and gas prices across the country," Sen. Joe Manchin, D-W.Va., said. "This is yet another example of this administration caving to the radical left with no regard for clear direction from Congress or American energy security."

"Let's be clear — this is another attempt to use executive action to circumvent a law to accomplish what this administration does not have the votes to achieve in Congress," he added. "Canceling valid leases, removing acreage from future sales, and attempting to reduce production in Alaska while taking steps to allow Iran and Venezuela to produce more oil — with fewer environmental regulations — makes no sense and is frankly embarrassing"

See what happens when you vote for a senile, weak, old, idiot? We still use oil, we just buy it from our Adversaries to enrich them while America Is
Last . That's the Biden Administrations plan. Maybe that's why today the Shell station is selling diesel at $6.09 a gallon now, do you think those drivers bringing in everything to our state, to our cities and towns every...single...thing we need won't raise their rates?
Thank to the Dumbacrats, prices will continue going up.




[Reply ]
Biden Derangement Syndrome
Posted on: 2023-09-07 12:08:26   By: Anonymous
 
Life is what we make it.
If Hunter Biden committed a crime he should be punished.
Donald J Trump is a Traitor. He should be punished.
The best candidate won the 2020 election. Trump lost. Get over it.

[Reply ]




Re: Biden Derangement Syndrome
Posted on: 2023-09-07 12:54:04   By: Anonymous
 
2024 coming sucker

[Reply ]




Re: Biden Derangement Syndrome
Posted on: 2023-09-07 12:57:57   By: Anonymous
 
Are you better off today than 2 years 9 months ago! Hahahahahahahahaha Hohohohohohohoho Hehehehehehehehrhe...,,,

[Reply ]




Re: Biden Derangement Syndrome...2.9years ago.
Posted on: 2023-09-07 14:57:07   By: Anonymous
 
Yeah, I lost 3 friends to Covid. They believed in Trump.

[Reply ]




Re: Biden Derangement Syndrome
Posted on: 2023-09-08 07:52:18   By: Anonymous
 
Your right moron, 2024 is coming and Don will be going. TO JAIL!! Bubba is drooling!

HAHAHAHAHAHAHAHAHAHAHAHAHAHAHAHAHAHAHAHAHA

[Reply ]




Re: President Biden securing our future to be a third world country
Posted on: 2023-09-07 15:46:06   By: Anonymous
 
Yeah, f *ck Alaska!

[Reply ]




Re: President Biden securing our future to be a third world country
Posted on: 2023-09-08 07:50:58   By: Anonymous
 
Grandma Moses looks like Joes twin!

[Reply ]




Re: President Biden securing our future to be a third world country
Posted on: 2023-09-08 19:37:19   By: Anonymous
 
She had a brain and common sense. joe lacked both. Just watch.

[Reply ]



What's Related
These might interest you as well
Local News