Posted by: thepinetree on 09/01/2023 11:39 AM Updated by: thepinetree on 09/01/2023 11:51 AM
Expires: 09/01/2033 12:00 AM


The Community Taco Competition at The Town Square at Copper Valley!

Copperopolis, CA...Join us in the Town Square at Copper Valley on September 2nd from 1-5 pm for a community taco competition! We want to see who can make the best tacos in town. If you want to compete, please email Allison Contreras at gatewayadventureco@yahoo.com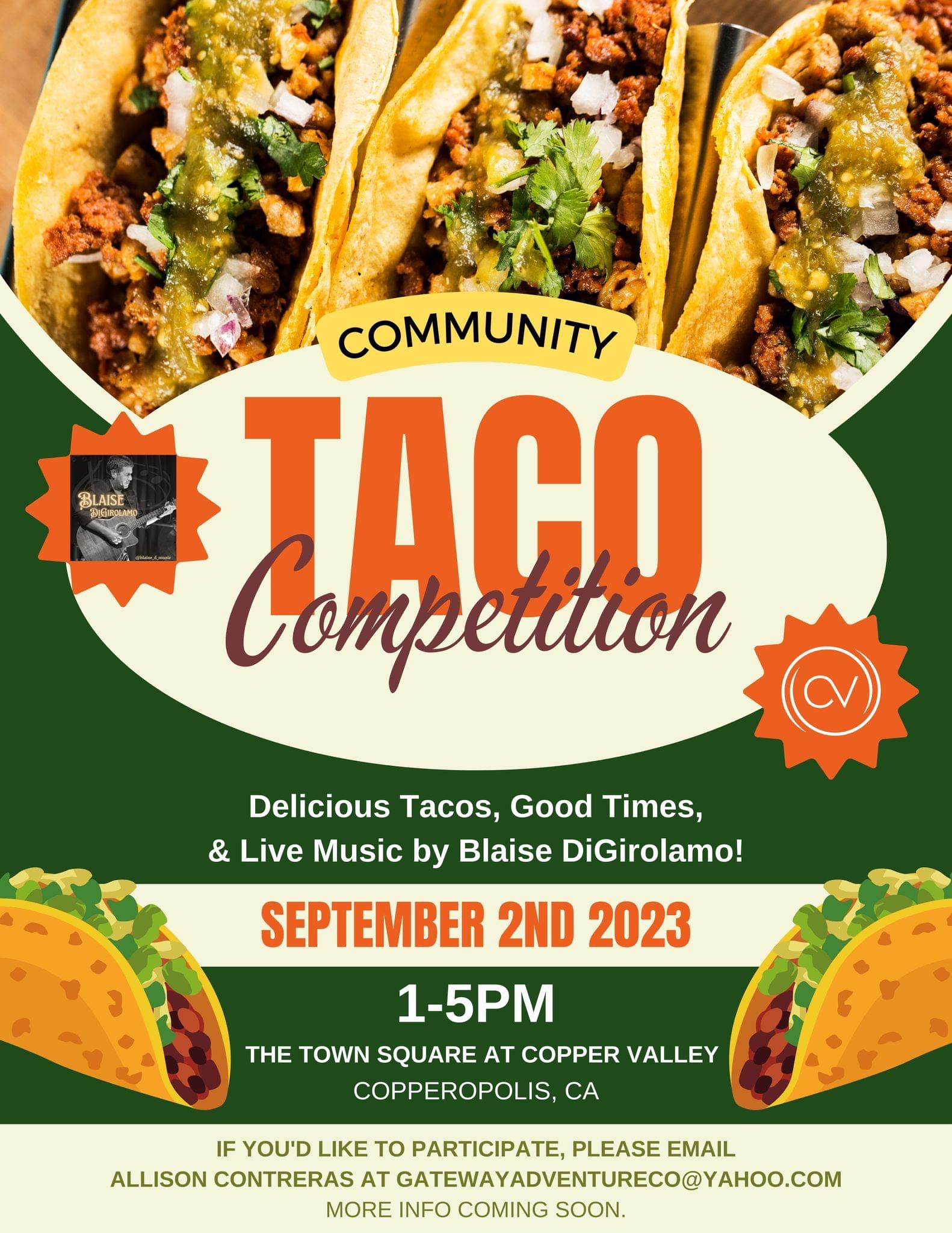 The Town Square at Copper Valley
The heartbeat of Copper Valley, the area now known as the Town Square, was originally founded in 1861. Our renowned copper mining town witnessed the last stand of California's most infamous stage coach robber, Black Bart, and a memorial service for fallen President Abraham Lincoln. Today The Square is lined with shops, restaurants, day spas, wine tasting rooms, and plenty of festivals, concerts and special events.

We also have a Tesla Super Charger station with 12 individual chargers, giving you a convenient stop to charge your car as well as grab some lunch or shop around!

Plan Your Stay
There is so much to do in Copper Valley, ranging from horse back trails to white water rafting. We want to help you plan your trip so you can enjoy the many sides of Copper Valley. The experiences we have developed are made to be family friendly, and we encourage all ages to experience these together. Our goal is provide you, your family, and your friends an opportunity to enjoy life through fun and adventurous experiences.

Below you will see different types of experiences for you to enjoy. Feel free to click on each experience to learn more and book for your trip!


Event occurs on 09/02/2023 from 01:00 PM to 05:00 PM.



What's Related
These might interest you as well