Coming Soon...
Thursday, Sep 21
04:00 PM
West Point Farmers Market, Every Thurs Through Oct 12th
05:00 PM
Sip, Savor and Style Fashion Show
05:00 PM
The Watering Hole 2023 Summer Concert & Brewery Schedule
06:00 PM
Wino Bingo Night at The Game Room
Friday, Sep 22
05:00 PM
Angels Camp Farmers Market
05:30 PM
Mt. Aloha Shop Rides, Every Friday at 5:30pm!
Saturday, Sep 23
All Day
The 27th Annual Ironstone Concours d' Elegance is Sept. 23rd (Last Year's Photos & Video)
All Day
Spence Ranch Has Savings for You This Saturday for Neighborhood Pet Store Day!!
All Day
The 10th Annual Seasons in the Woods Craft Fair is Sept. 23rd & 24th
03:00 PM
Jazz Cellars Live Summer Music Series
06:00 PM
The Bistro Espresso Summer Concert Series! Live Music at Taco Tuesdays & Peddlers Fair Saturdays!
07:00 PM
Saturday Night Live Music!
Sunday, Sep 24
All Day
The 10th Annual Seasons in the Woods Craft Fair is Sept. 23rd & 24th
All Day
Our Sunday Edition with Local Features, Local Specials & More Every Sunday All Day Long!
09:00 AM
The Murphys Farmers Market
Tuesday, Sep 26
06:00 PM
The Bistro Espresso Summer Concert Series! Live Music at Taco Tuesdays & Peddlers Fair Saturdays!
Wednesday, Sep 27
01:00 PM
Fellowship Wednesdays at VFW San Andreas
Thursday, Sep 28
04:00 PM
West Point Farmers Market, Every Thurs Through Oct 12th
05:00 PM
The Watering Hole 2023 Summer Concert & Brewery Schedule
06:00 PM
Wino Bingo Night at The Game Room
Friday, Sep 29
05:00 PM
Angels Camp Farmers Market
05:30 PM
Mt. Aloha Shop Rides, Every Friday at 5:30pm!
Saturday, Sep 30
07:00 AM
Mark Twain Medical Center's Fall Health+ Community Resources Fair is September 30th!
03:00 PM
Jazz Cellars Live Summer Music Series
06:00 PM
The Bistro Espresso Summer Concert Series! Live Music at Taco Tuesdays & Peddlers Fair Saturdays!
Sunday, Oct 1
All Day
Our Sunday Edition with Local Features, Local Specials & More Every Sunday All Day Long!
09:00 AM
The Murphys Farmers Market
Tuesday, Oct 3
06:00 PM
The Bistro Espresso Summer Concert Series! Live Music at Taco Tuesdays & Peddlers Fair Saturdays!
Wednesday, Oct 4
01:00 PM
Fellowship Wednesdays at VFW San Andreas
Posted by: thepinetree on 04/14/2023 01:01 PM Updated by: thepinetree on 04/14/2023 01:01 PM
Expires: 01/01/2028 12:00 AM


A Bit of Wisdom from Thomas Jefferson

Washington, DC...Thomas Jefferson April 13, 1743 – July 4, 1826 a Founding Father & third President of the United States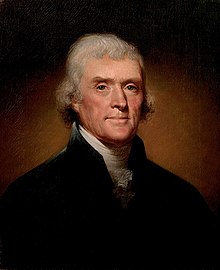 "Rightful liberty is unobstructed action according to our will within limits drawn around us by the equal rights of others. I do not add 'within the limits of the law' because law is often but the tyrant's will, and always so when it violates the rights of the individual."

"We hold these truths to be self-evident, that all men are created equal, that they are endowed by their Creator with certain unalienable Rights, that among these are Life, Liberty and the pursuit of Happiness"

"Nothing can now be believed which is seen in a newspaper. truth itself becomes suspicious by being put into that polluted vehicle."

"Nothing gives one person so much advantage over another as to remain always cool and unruffled under all circumstances."

"Our liberty depends on the freedom of the press, and that cannot be limited without being lost."

"Do you want to know who you are? Don't ask. Act! Action will delineate and define you."

"Timid men prefer the calm of despotism to the tempestuous sea of liberty."

"Whenever you do a thing, act as if all the world were watching."

"One man with courage is a majority."
Comments - Make a comment
The comments are owned by the poster. We are not responsible for its content. We value free speech but remember this is a public forum and we hope that people would use common sense and decency. If you see an offensive comment please email us at news@thepinetree.net
No Subject
Posted on: 2023-04-14 13:03:12   By: Anonymous
 
The first quote sums it all up in a nutshell

[Reply ]
No Subject
Posted on: 2023-04-14 13:14:05   By: Anonymous
 
Please don't tear down the statues of me, I only owned 200 slaves.

[Reply ]
Re:
Posted on: 2023-04-14 13:20:10   By: Anonymous
 
When you destroy your past you burn down your future as well

[Reply ]




Re:
Posted on: 2023-04-14 14:45:49   By: Anonymous
 
I've known a few drinkers who destroyed their alcoholic past and done quite well by it. There's lots of behavior that belongs in our past, not in our future. The events of January 6th are a good example.

[Reply ]



What's Related
These might interest you as well
Local News