Posted by: News_Desk on 08/09/2022 06:43 PM Updated by: thepinetree on 08/10/2022 07:07 AM
Expires: 08/09/2032 12:00 AM


Sierra Repertory Theatre: Sh-Boom! Life Could Be A Dream

Sonora, CA... Event lasts July 28, 2022 through August 27th, 2022 starting at 12:00 pm on August 10th, 2022 but times do vary per showing on Sundays, Wednesdays, Thursdays, Fridays, Saturdays. Tickets required. Location: 13891 Mono Way, Sonora, CA 95370. View Website 209-532-3120.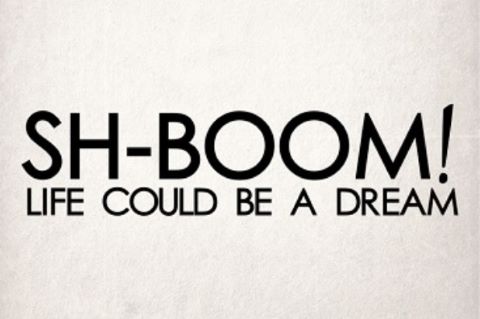 Sierra Rep is proud to continue our 2022 43rd Anniversary Season with Roger Bean's enchanting jukebox musical, Sh-Boom! Life Could Be A Dream.

Meet Denny and the Dreamers, a fledgling doo-wop singing group preparing to enter the Big Whopper Radio contest to realize their dreams of making it to the big time! Trouble comes in the form of Lois, who arrives to put some polish on the boys. Denny falls in love, Wally falls in line, Eugene falls apart, and along comes handsome heartthrob Duke to send the whole situation spinning. The '60s hits say it all: "Fools Fall in Love," "Tears on my Pillow," "Runaround Sue," "Earth Angel," "Stay," "Unchained Melody," "Lonely Teardrops," and "The Glory of Love." Winner of the Los Angeles Drama Critics Circle Best Musical Award, Sh-Boom! Life Could Be A Dream will leave you laughing, singing, and cheering— let's hear it for the boys!

The musical stars Kabir Gandhi, Chris Carranza, Derik Lawson, Deja Fields, and Troy D. Wallace. The understudies are Thaddeus Piett and Jerry Lee.

Sh-Boom! Life Could Be A Dream is directed and choreographed by Keenon Hooks, with musical direction by Sarah Wussow. Scenic design by Christopher Scott Murillo, costume design by Austin Blake Conlee, lighting design by Minjoo Kim, sound design by Tatiana Covington-Parra, hair and make-up design by Brenda O'Brien, and the stage manager is Maggie Braun.



Event occurs on 08/10/2022 from All Day to .