Coming Soon...
Wednesday, Jun 29
All Day
SR4 - Wagon Trail Realignment Project June 27, 2022 - June 30, 2022 Traffic Delays
06:30 PM
Summer Starts with the Calaveras Arts Council's Music in the Parks
Thursday, Jun 30
All Day
SR4 - Wagon Trail Realignment Project June 27, 2022 - June 30, 2022 Traffic Delays
Friday, Jul 1
All Day
Calaveras Community Foundation (CCF) Announces Annual Competitive Grants Period for 202
05:00 PM
The Angels Camp Farmers Market is Every Friday Through September!
Saturday, Jul 2
All Day
The 2022 Ironstone Vineyards Independence Day Celebration!
All Day
Calaveras Community Foundation (CCF) Announces Annual Competitive Grants Period for 202
09:30 AM
The Firecracker Mile Returns Better Than Ever After Covid Slumber! Register Today!
10:00 AM
The 2022 GABA Arnold Independence Day Parade is Back on Hwy 4 & Better Than Ever
03:00 PM
Live Music at Jazz Cellars all Summer Long
Sunday, Jul 3
All Day
Calaveras Community Foundation (CCF) Announces Annual Competitive Grants Period for 202
All Day
Our Sunday Edition with Local Features, Local Specials & More Every Sunday All Day Long!
Monday, Jul 4
All Day
Calaveras Community Foundation (CCF) Announces Annual Competitive Grants Period for 202
Tuesday, Jul 5
All Day
Calaveras Community Foundation (CCF) Announces Annual Competitive Grants Period for 202
Wednesday, Jul 6
All Day
Calaveras Community Foundation (CCF) Announces Annual Competitive Grants Period for 202
06:30 PM
Summer Starts with the Calaveras Arts Council's Music in the Parks
Thursday, Jul 7
All Day
Calaveras Community Foundation (CCF) Announces Annual Competitive Grants Period for 202
Friday, Jul 8
All Day
Calaveras Community Foundation (CCF) Announces Annual Competitive Grants Period for 202
05:00 PM
The Angels Camp Farmers Market is Every Friday Through September!
Saturday, Jul 9
All Day
Calaveras Community Foundation (CCF) Announces Annual Competitive Grants Period for 202
10:00 AM
Spring Up In The Hills: Celebration Of Independence
01:00 PM
Gold Rush Days in Columbia are the 2nd Saturday Every month – 1:00pm – 4:00pm
03:00 PM
Live Music at Jazz Cellars all Summer Long
05:00 PM
2nd Saturday Art Nights Continue on in 2022
Sunday, Jul 10
All Day
Calaveras Community Foundation (CCF) Announces Annual Competitive Grants Period for 202
All Day
Our Sunday Edition with Local Features, Local Specials & More Every Sunday All Day Long!
Monday, Jul 11
All Day
Calaveras Community Foundation (CCF) Announces Annual Competitive Grants Period for 202
Tuesday, Jul 12
All Day
Calaveras Community Foundation (CCF) Announces Annual Competitive Grants Period for 202
Posted by: thepinetree on 05/14/2022 08:54 AM Updated by: thepinetree on 05/15/2022 09:06 AM
Expires: 05/14/2032 12:00 AM


The High Sierra Bikeapalooza is May 14th! Make Plans Now!

Arnold, CA...High Sierra Bikeapalooza: May 14th. Proudly sponsored by the Arnold Rim Trail Association. Come join our first ever High Sierra Bikepalooza featuring: Kids fun zone, Mechanic station, Guided mountain bike rides along the Arnold Rim Trail – route options available for a variety of ability and speed! Local representatives from the Arnold Rim Trail Association and Bear Valley Trail Stewardship – find out how you can contribute to these great organizations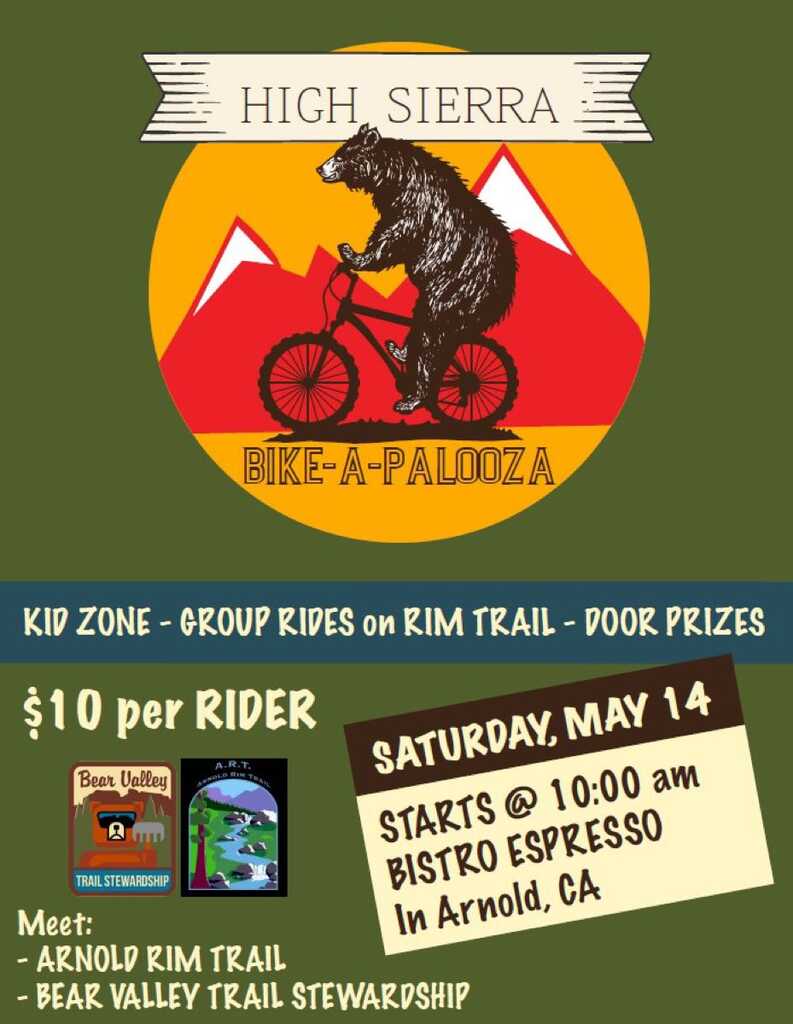 Lucky Door Prizes
Hosted at The Bistro Espresso, their backyard BBQ will be open to serve our hungry riders in the afternoon.
This family-friendly event is a great opportunity to explore our backyard with the guidance of local ride leaders and businesses invested in the outdoor community! Bring your bike (and helmet) and join the growing mountain biking nation!

Saturday May 14, 2022, 10:00AM – 2:00PM, Entry fee: $10 per rider


Event occurs on 05/14/2022 from All Day to .



What's Related
These might interest you as well