Posted by: thepinetree on 11/04/2017 10:28 PM Updated by: thepinetree on 11/04/2017 10:29 PM
Expires: 01/01/2022 12:00 AM


Angels Camp's TJ Dillashaw Regains Title as He Takes Garbrandt's Belt in UFC 217



New York, NY...(UFC.com) After nearly two years in the wilderness as he attempted to regain his UFC bantamweight title, 

TJ Dillashaw

 finally got his chance Saturday against a former teammate in 

Cody Garbrandt

 and made the most of it, stopping the previously unbeaten Ohio native in the second round of their UFC 217 co-main event at Madison Square Garden.  The win was Dillashaw's third since he lost the belt to 

Dominick Cruz

, and he expects this time his reign will be even longer than the first one from 2014 to 2016.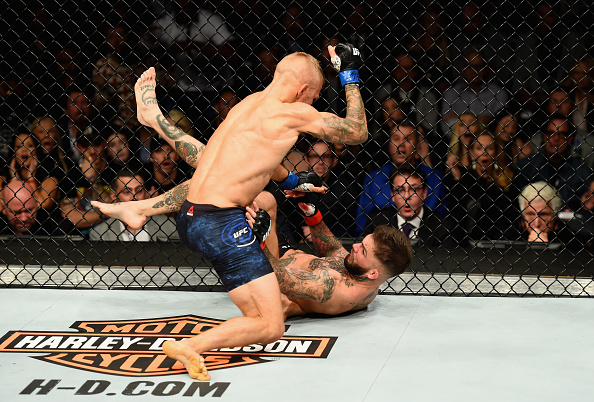 "This is my belt," said Dillashaw, who had to get through some significant firepower to defeat his heated rival from the Team Alpha Male squad he used to call home.
Standing mere inches away from each other for most of the first five minutes, Garbrandt and Dillashaw almost dared each other to throw caution to the wind, and while there weren't too many wild exchanges, when they did decide to throw down, it was Garbrandt holding the edge over the California native, who also got dropped hard to the mat just before the horn. After taking some follow-up shots, Dillashaw rose and tried to laugh off the knockdown, but his legs were still wobbly as he walked to his corner.Trying to press his advantage, Garbrandt went on the attack early in round two, but when he saw Dillashaw's legs were back, he settled down, only to suffer a flash knockdown from a left kick to the head. Garbrandt appeared to be unhurt, but a right hand moments later hurt him and sent him to the deck. Dillashaw pounced, and after a series of unanswered strikes, referee Dan Miragliotta stopped the fight at 2:41 of the second round.

There were still some tension in the Octagon immediately after the bout, but the two ultimately shook hands, with Dillashaw saying of his foe, "He's a helluva fighter, he'll be back and I'll see him again."