Driving down the top of Glory Hole Point there are island tops exposed to the right and you can see the spillway off in the distance.
As you get down to the parking lot there are hundreds of well marked parking spaces.  The road leading down is a well maintained gravel road and can be easily accessed with a 2WD vehicle.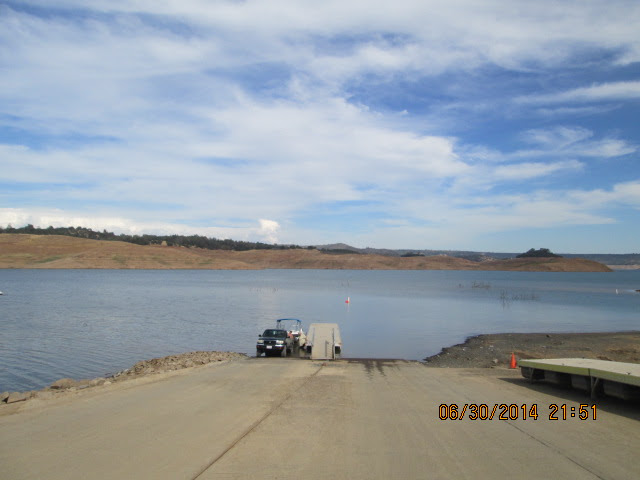 There is currently a two lane concrete launch with one courtesy dock.
Off to the right hand side of the boat launch we can see the next parking starting to emerge.  This lot is the aproximate size of a football field.  To the far right side of it will be the next boat launch which is a big, four lane launch (currently underwater, but will be exposed in the next few days).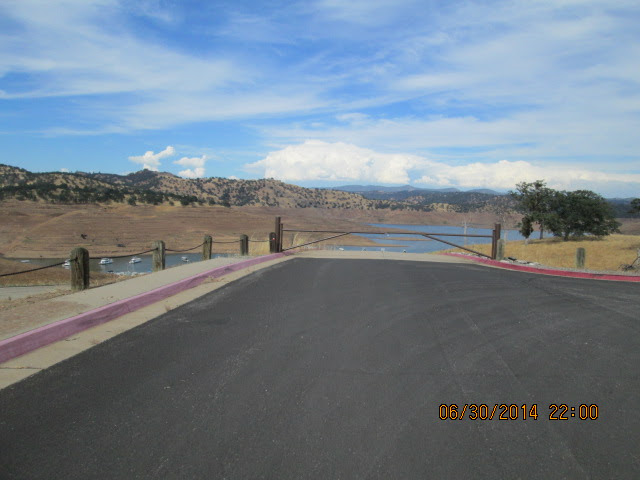 Here is the gate that leads to the middle ramp (well out of the water).  This gate will be opened 
tomorrow
.  At the bottom is a large parking lot that can be used for overflow parking or general day use.
Here is the middle ramp parking lot (view from above).  Those are the houseboats off to the left.
A hot tip to avoid the congestion on the main ramp:
If there are two or more of you in the boat, drop the boat in the water on the main ramp, have one person drive around and park on the middle ramp, and have another person idle around to the bank near this lot to pick up the driver.  Same can be done in reverse after a day of boating.  Drop the driver off a this lot and meet them at the dock.
Keep your sense of humor- it is great entertainment to watch a ramp during the busy times- have a cold beverage in hand,  turn on some good music, and rate the trailer driving- you will  be on the water soon enough!
Do not load your boat at the dock- do it at the top of the ramp.
Be courtious, patient and offer to help others- especially by offering rides up or down the ramp. This will make the loading and unloading quick and painless for everyone.
Be careful- watch for unmarked islands humps and trees that are becoming exposed as the water level drops.
As far as the fishing is concerned, this is a great time to see all the stucture that is normally underwater.  All those trees that were left standing when they filled Melones up are why the fishery is so healthy.
The fishing was extremely good the last time it was this low and should be again.
 Have fun!